New Minimum-Wage Law in Massachusetts: A Chance or a Hurdle for Au Pairs?
By Pietro Rossini
Maria Camila Luna, an au pair from Colombia, was joyfully taking care of two children in a wealthy family in Massachusetts.
She came to the U.S. in 2019 and embraced the new culture and environment.
"I was happy with that family, and I had always dreamed of living in the U.S.," Luna said.
Luna was paid just $4 per hour and worked for 40 hours a week.
When in December 2019, the U.S. Court of Appeals for the First Circuit decided that au pairs in Massachusetts should be paid with the minimum wage of $13.50 per hour, Luna was over the moon.
But unfortunately, her host family didn't have the same reaction. They contacted their agency and decided to leave the au pair program.
Luna feared she would be deported. "I was scared. I had to find another family as soon as possible," she said.
Her agency didn't help with the research. She had to rely on her new American boyfriend who put her in touch with a new host mom who had just finished a two-year term with another au pair.
However, not everyone has been as lucky as Luna.
Some au pairs had to change state or even leave the country before their terms expired because they were not able to find another family to host them.
"The same day that the new law was approved, my host family had a meeting with my agency. That same night, my family told me they would leave the program," said Jeimmy Fandiño, an au pair from Colombia, "They practically kicked me out!"
This law was made to give more protection and rights to au pairs living in Massachusetts. However, is it helping or disadvantaging them? Are au pairs happy with this decision? What about the families? Why do other states not consider au pairs as regular workers?
"For what I know, many au pairs are making an informal agreement with their families without involving their agencies," said Maria Semmelroth, a former au pair from Brazil.
According to the official Massachusetts Government website, "Au pairs have the right to minimum wage, overtime, time off from work, and other protections."
The minimum wage in Massachusetts is $13.50 per hour, and an au pair can work up to 45 hours per week.
That means with the new law, an au pair working full-time should be paid around $2,430 per month.
"I remember that when the new law came, everybody was shocked," said Vanessa Caballero, an au pair from Colombia. "I have friends that still get a low wage. They made an informal agreement with their families."
"My host family told me that they would pay me the same wage as our previous agreement or I had to find another family," said Guillermo Dragon, a former au pair from Spain.
All the au pairs interviewed for this report share the same experience — nobody received the news of the changing law from their agencies.
"I knew that law changed through social media," Caballero said. "I think the agencies didn't make an official statement to be not in trouble and lose customers."
According to a recent article on politico.com, there are 17,500 au pairs in the U.S. Around 2,000 of them work and study in Massachusetts.
No statistics have been published yet about how many au pairs have left Massachusetts since the approval of the law.
And these numbers are likely to fall precipitously because of the expenses that a family in Massachusetts has to face with an au pair.
According to the au pair agency Cultural Care, in addition to the au pair salary, families have to pay $9,195 in processing fees plus provide medical insurance, room and board, and a contribution for their studies up to $500.
No one of the dozen families contacted for an interview has agreed to talk about this change of law.
"The law tries to favor us as au pairs," said Yesica Sanchéz, an au pair from Colombia, "But since it was approved, it's not easy to find a family in Massachusetts anymore!"
---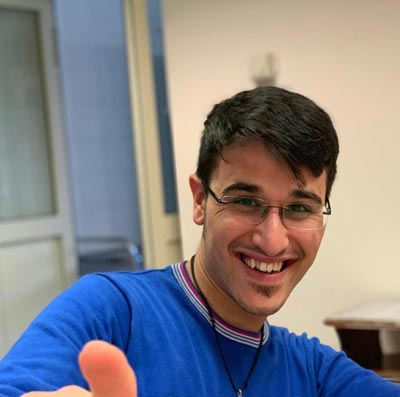 Pietro Rossini is a Xaverian Missionary and ESL student at Framingham State University. He came to the U.S. in January 2020 with the purpose of studying for a master of arts in journalism at Boston University. His dream is to collect and share stories of humanity around the globe, making the world a single family.
Written by
Pietro Rossini
Get matched to the best program for you
Let us know what you're looking for so we can find the best school for you.
$5,000—$10,000 Semester
Undergraduate
2yr/Community College - 2+2 Programs
Certificate/Short Term
$10,000 — $15,000 Year
Bachelor Degree
2yr/Community College - 2+2 Programs
Certificate/Short Term
$10,000 — $15,000 Semester
Secondary/Boarding
Certificate/Short Term
2yr/Community College - 2+2 Programs
Start your U.S. adventure with Study in the USA
What's your dream? We can guide, advise, and connect you with your perfect U.S. school. We can also help you with the application process.
Partner Services
Learn About U.S. education financing, housing, and more
MPOWER Financing is the top-rated lender offering international student loans without cosigners, collateral, or credit history for global citizens, PLUS international student scholarships & career coaching! Fully online application, 96% customer...
TestDEN's Online TOEFL Test Prep is just what you need to quickly and effectively prepare for the TOEFL test. Since 1998, TestDEN has helped tens of thousands of students raise their TOEFL scores.
Study in the USA's advisors can work with you to navigate the requirements to study abroad in the USA, UK, Canada, and Australia. We help you find the right school and apply.
Resources
Learn about American culture and education direct from our experts at Study in the USA. Read more