Student blogger Indira - The Holiday Season in the U.S.
[caption id="attachment_2411" align="aligncenter" width="681"] Ice skating in New York City[/caption]
Thanksgiving, Christmas, New Year … Ah, I can already hear the sound of kids singing Christmas carols and see the fireworks in the sky. Thanksgiving just passed, Christmas is in less than a month, and New Year is just a month away. Without realizing it, the holiday season is just around the corner!
This is a great time of the year—a call for celebration. For college students alike, it's a time to look forward to as it marks the end of the fall semester. It's time to take a break and relax after putting in months of studying. However, I think the best thing about the holiday season is being able to meet your family. Although I will not be home for the holidays, it still warms my heart to see other people spending time with their loved ones. I guess for international students, the most interesting American holiday is Thanksgiving, since it's unique to the U.S., and Canada too. Long story short, it's an annual celebration held every fourth Thursday of November to commemorate the harvest festival celebrated by the Pilgrims back in 1621 when they first came to America. It has since become a tradition to serve stuffed, roasted turkey during Thanksgiving dinners. Why turkey? It's said that the Native American Wampanoag tribe introduced wild turkeys to the Pilgrims.
Macy's New York[/caption] Also associated with Thanksgiving is Black Friday. Black Friday is the day after Thanksgiving and major retailers (such as Macy's, Nordstrom, etc.) offer ridiculous discounts on items, like 60-70% off. I remember going to the shopping mall for Black Friday and people were queuing outside Macy's in the cold. As the store opened, you could see a hoard of people rushing into the store. It was a sight to behold, really. It seems pretty ridiculous, but I understand the appeal for people. If you're eyeing a $500 coat, you could save up to $250 by purchasing it during Black Friday. That's not bad … not bad at all! Although not everyone indulges in Black Friday, it's a pretty big thing here in the U.S. It has, however, received negative publicity. Because there are so many people, sometimes accidents happen and people have been injured. Christmas tree at Rockefeller Center[/caption] Right after Thanksgiving, it's all about Christmas. I personally don't celebrate Christmas, but sometimes I can't help but get in the Christmas spirit. It really is nice to see everyone in good spirits. I went to the shopping mall about five weeks ago and I saw a gigantic Christmas tree there—and that was exactly two months before Christmas!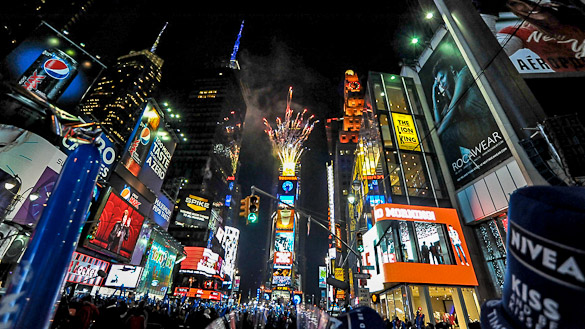 New Years Eve at Times Square[/caption] The New Year's celebration is another joy to behold. It's a time for happiness and celebration. New York City has arguably the most famous New Year celebration in the U.S. There are performances by famous singers and entertainers, and at midnight, a ball drops in Times Square. If you're more of the sitting down type like me, you'll be happy to hear that they broadcast it live in TV.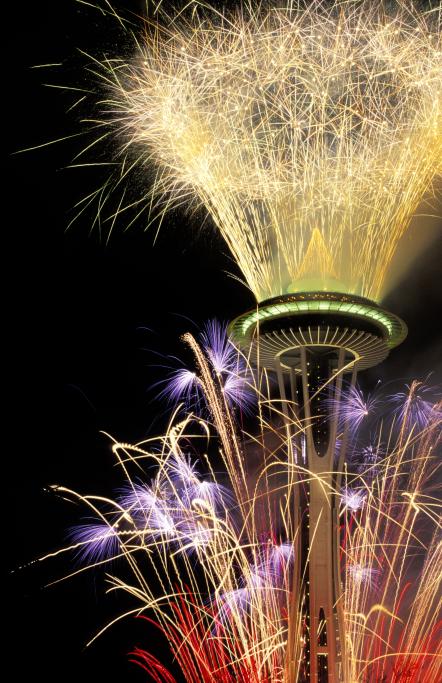 . I celebrated my first ever New Year in the U.S. with my family last year (they happened to be visiting me in the States). We were in Seattle and thought it would be a good idea to watch the firework display at the Seattle Space Needle. Despite the cold, it turned out to be an amazing experience. Before they started the firework display, everyone was counting down together: "10, 9, 8, 7, 6, 5, 4, 3, 2, 1!" The fireworks shot into the air! After, you could hear celebratory shouting, screaming and singing. There were some drunken people on the street, and although I found them rather annoying, drinking is a common way to celebrate. The holiday season in the U.S. is definitely one of the times of the year I look forward to the most. It marks the end of a year and the start of a new one. With that being said, I hope everyone had a great Thanksgiving, and all the best with your final exams! Post by Indira Pranabudi, an international student alumna of Green River Community College. Study in the USA congratulates Indira on her new position as Student Contributor for U.S. News & World Report.
Get matched to the best program for you
Let us know what you're looking for so we can find the best school for you.
$5,000—$10,000 Semester
Undergraduate
2yr/Community College - 2+2 Programs
Certificate/Short Term
$10,000 — $15,000 Year
Bachelor Degree
2yr/Community College - 2+2 Programs
Certificate/Short Term
$5,000—$10,000 Year
Summer
2yr/Community College - 2+2 Programs
Undergraduate
Start your U.S. adventure with Study in the USA
What's your dream? We can guide, advise, and connect you with your perfect U.S. school. We can also help you with the application process.
Partner Services
Learn About U.S. education financing, housing, and more
MPOWER Financing is the top-rated lender offering international student loans without cosigners, collateral, or credit history for global citizens, PLUS international student scholarships & career coaching! Fully online application, 96% customer...
TestDEN's Online TOEFL Test Prep is just what you need to quickly and effectively prepare for the TOEFL test. Since 1998, TestDEN has helped tens of thousands of students raise their TOEFL scores.
Study in the USA's advisors can work with you to navigate the requirements to study abroad in the USA, UK, Canada, and Australia. We help you find the right school and apply.
Resources
Learn about American culture and education direct from our experts at Study in the USA. Read more