Santa Fe University of Art and Design: Studio Arts Shows
SFUAD students are showing in professional art galleries!
This spring, Santa Fe University of Art and Design's Studio Arts students are invading the real world of art galleries! Partnered with Wade Wilson Gallery in downtown Santa Fe, New Mexico, our students will get a chance to understand how showing in an art gallery works – from the very start to the very finish. Over the course of three gallery shows, our students will work to create the gallery space, host gallery openings, and maintain visiting hours for the public to tour their work. Not only is this an important opportunity for a student artist – it's great bragging rights! Showing your work in a professional, public gallery before you graduate is a once-in-a-lifetime chance, and we try and make it happen for every one of our Studio Arts students before they graduate. Our students are excited to get off campus and into the public eye!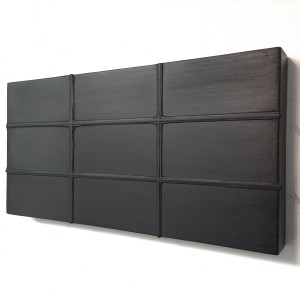 "Wade Wilson's generous invitation to Santa Fe University of Art and Design is both a tangible statement of support for the university and a gesture of confidence in the education of young artists," said Linda Swanson, dean of SFUAD's School of Visual and Communication Arts. SFUAD@Wade Wilson Art will also present events from across other artistic mediums that span the breadth of SFUAD programs, including musical performances, readings, artist talks and screenings. See more work from Santa Fe University of Art and Design Studio Arts students.

Get matched to the best program for you
Let us know what you're looking for so we can find the best school for you.
$5,000—$10,000 Semester
Summer
English Programs
Bachelor Degree
$1,000—$5,000 Quarter
Online
Secondary/Boarding
English Programs
Start your U.S. adventure with Study in the USA
What's your dream? We can guide, advise, and connect you with your perfect U.S. school. We can also help you with the application process.
Partner Services
Learn About U.S. education financing, housing, and more
Career Premium Offers Virtual Internships for International Students. You can now apply for a virtual internship and prepare for the global workforce from anywhere in the world. Internships are extremely flexible and run throughout the year, so you c...
Most U.S. apartments come unfurnished. Make your move easy with a student furniture rental package from CORT. Flexible lease terms. Delivered before you arrive. Starting at $99 per month.* *with a 12-month lease
Kaplan International Languages is one of the world's largest and most diverse education providers, we've been helping students to achieve outstanding language results for over 80 years. Students can learn English, French, and German.
Testimonials
StudyUSA.com is informative website for me. I used it to analise information about universities in the USA to choose one of them. This site was useful for me to define my future education.
Aiman Ussenkul Kazakhstan
I read about many blogs and student experiences on Study in the USA's website that helped me make sure that I wanted to study in the USA.
Nicole Winter Ramos Pereira Brazil
I was looking for some colleges to suit me, and I loved watching the international students' experiences on the Study in the USA website.
Resources
Learn about American culture and education direct from our experts at Study in the USA. Read more