5 Reasons Why I Would Love to Visit Iowa Again
By Hamdiatu Yakubu
This is my first time being really far away from home to an almost different world. I found myself in the Midwest USA state, Iowa. Yes, one of the coldest states in the U.S. I actually do not like the cold freezing weather, but I do like other things about this countryside-like state. I may not like Iowa that much, but let me contradict myself by telling you 5 reasons why I would still love to come back sometime in the future.
Beginning with the fifth reason is the African feel I get from the vast farmlands in Iowa. I do not know who knows this, but just like many African countries Iowa is known for agriculture and farm produce. The world-known Quaker Oats is produced in Iowa, alongside other farm produce such as corn, soybeans, rye, wheat, and fruits like apples. Well, I would love to come back to place since it feels like home and that made me think "some part of America is just like Africa in a way."
My next reason would be my school, Kirkwood Community College (KCC). I love Kirkwood. Wait, who does not love their school? You do not? Well, I do, a lot. Kirkwood is the largest community college in Iowa with many campuses across the state. It is home to hundreds and thousands of international students like myself with various courses, departments, clubs, halls, scholarship programs, etc. Its main campus is located in Cedar Rapids. I would love to come back to Kirkwood to study if I want another AA. Kirkwood has great resources for students, ranging from counselling services, writing center, financial services, technical support, practicing studios etc. Lecturers are open for communication, clarification, help, extra tuition. The campus environment is pleasant and calming. It makes me go like, "Now this is a learning environment."
Enough of Kirkwood, let's talk about the beautiful historical towns in Iowa. Cedar Rapids — my favorite — Dubuque, Iowa City, Des Moines (have not been there yet though), Kalona, Amana Colonies, Coral Ridge, etc. I love these towns, I mean all except Des Moines, the capital, for their beautiful and amazing buildings. They have the historic feel, and the buildings make you feel like you are in the olden days. Very nice architectural buildings with detailed lines of bricks and vibrant colors. Dubuque is my favorite place in Iowa because of its buildings and another thing I would mention later. Admiring the buildings gives me the feeling of getting my own house built with the same designs someday if possible.
This reason contributes to how I have survived during my stay here, Nature. When I say nature, I mean the sky, rivers, animals, unpredictable weather, trees, flowers, sounds of the birds, the vibrant green grass, the not-so-burning sun all making this place calm and quiet. Yes, I love a quiet environment, my residence is very calm, serene, and cool which helps me to recuperate when I am overwhelmed. I love the rivers because I love water that is why I love Dubuque more. Why? Because it brought me to meet the Mississippi on its way to Chicago. The sky is magnificent with its super cool blue-ness, the trees vibrant green, pink, white, lavender, wine etc. Animals, I may fear but love a couple like the meerkats in the zoo, the camels, giraffes, cockatoos, deer, squirrels, bobcat, etc. I guess nature is amazing no matter where you are, that is why I love Iowa even more.
Now to the most important reason why I would love to visit Iowa over and over and over again — my host/mentor family. Lauri and Richard aka Butch are the best things that happened to me here in Iowa. These guys took me into their homes, family, lives, then into their hearts and have since treated me like their very own. Who said Americans are not family oriented, well not all of them? They make me miss yet do not miss home, they have made Iowa a home away from home. The hugs, dinners, trips, time spent, drives with Butch (my favorite), and all the other unknown plans they have for me. I would always come to Iowa at least just for them.
Well, I guess these reasons are only subjective to me, so what are your reasons for visiting that one place you have been to before? And, if possible why not to Iowa and find your own reasons like I have.
---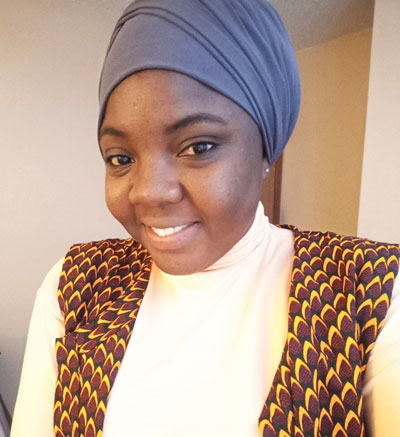 Hamdiatu Yakubu from Ghana, West Africa, is currently studying journalism at Kirkwood Community College in Cedar Rapids, Iowa. She loves nature, cooking, watching movies, languages, writing, and photography.
Written by
Hamdiatu Yakubu
Get matched to the best program for you
Let us know what you're looking for so we can find the best school for you.
$5,000—$10,000 Semester
2yr/Community College - 2+2 Programs
Undergraduate
Bachelor Degree
$10,000 — $15,000 Year
Certificate/Short Term
2yr/Community College - 2+2 Programs
Undergraduate
$50,000—$60,000 Year
Bachelor Degree
Masters
Undergraduate
Start your U.S. adventure with Study in the USA
What's your dream? We can guide, advise, and connect you with your perfect U.S. school. We can also help you with the application process.
Partner Services
Learn About U.S. education financing, housing, and more
MPOWER Financing is the top-rated lender offering international student loans without cosigners, collateral, or credit history for global citizens, PLUS international student scholarships & career coaching! Fully online application, 96% customer...
Follow your dreams with the TOEFL iBT® test, which has helped millions of students study abroad.
Most U.S. apartments come unfurnished. Make your move easy with a student furniture rental package from CORT. Flexible lease terms. Delivered before you arrive. Starting at $99 per month.* *with a 12-month lease
Resources
Learn about American culture and education direct from our experts at Study in the USA. Read more