My Journey as an Architecture Student and My Mission as a Future Architect
By Alejandra Salas
When I was a child, I remember walking by the historic center of Lima with my family and being mesmerized by the old colonial buildings and churches around us. Those old yet fascinating structures made me feel happy and confused at the same time because I wanted to know who built them and how, which aroused my curiosity in a particular sense — I wanted to do the same, I wanted to create something that will last through time. Playing with watercolors and clay at a young age allowed me to express and explore my creativity in arts and crafts. Yet, when I was ten years old, I felt comfortable drawing utopical cities in my sketchbook just for fun, then I turned my funniest hobby into a real commitment — I decided to become an architect. My parents were beyond happy to hear that from their youngest daughter because I was the first one choosing an artsy career, coming from a family full of economists, accountants, and engineers, so my journey started there.
While enjoying my high school journey, I quickly realized I had to prepare myself for my next big step — apply to an architecture school. I had to do a lot of research about schools in my city of Lima, Peru, and also think about the possibilities of studying abroad. Before deciding what would be a five-year commitment, I re-thought all my available options regarding career hunting, and once again I ensured myself that architecture was my thing.
The art of design and creating something that comes out of your creativity and imagination is beyond crazy yet fascinating. I decided to pursue architecture as a career because it allows you to express your thoughts through spaces, design with fun and precision, and more importantly, it is rewarding to develop a project and watch it turn into a human-scale reality. An architect's duty is to design and create a physical environment for human beings, but more than just the built environment, it's also a part of our culture that somehow evokes different emotions in people.
Nobody told me that university life was easy; I learned myself that surely it is not. Studying at the Peruvian University of Applied Sciences (UPC) gave me an amazing experience; through their classes and instructors, I was able to learn from the best architects of Lima. From long nights, few hours of sleep, to hectic project deadlines, that was my daily basis as an architecture student and I embraced it. Moreover, architecture school taught me strength, patience, and resilience; yet, it also gave me the best colleagues and friends that I have in life. Overall, design school was fine, but I wanted to emphasize my career in sustainable architecture, and that is when I decided to study abroad and pursue my studies in environmental design; afterall, sustainable design is the future approach to housing development for future generations.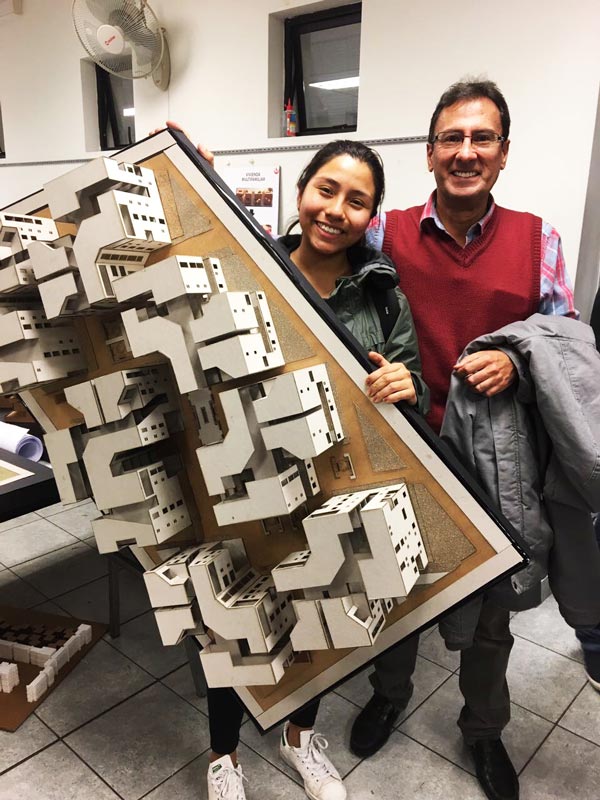 (At my final project presentation with Instructor Hugo Iberico)
My inspiration, when it comes to design came from famous architects like Frank Lloyd Wright, Le Corbusier, and Tadao Ando. These architects applied a naturalistic concept in their designs, which is the balance between human habitation and the natural world. Sustainability is important in every sense, which is why I believe that creating a balance between craftsmanship and nature is key for a better future. In my designs, my main goal is to be aware of the environmental impact; therefore, design with climate is the smartest way to approach climate change. The orientation of the sun and wind are helpful tools when designing that will provide natural solutions regarding heating and cooling without electricity. Even though the world's technology is advancing in a colossal way, there is not much innovation on how to reduce gas emissions, which is the main factor of climate change. This is why it is important to create awareness on how to enhance the use of our natural resources for housing development among growing communities. I believe we all came to this world with a purpose and I've found mine — design with nature and build a world without environmental damage or at least do my best to make it that way.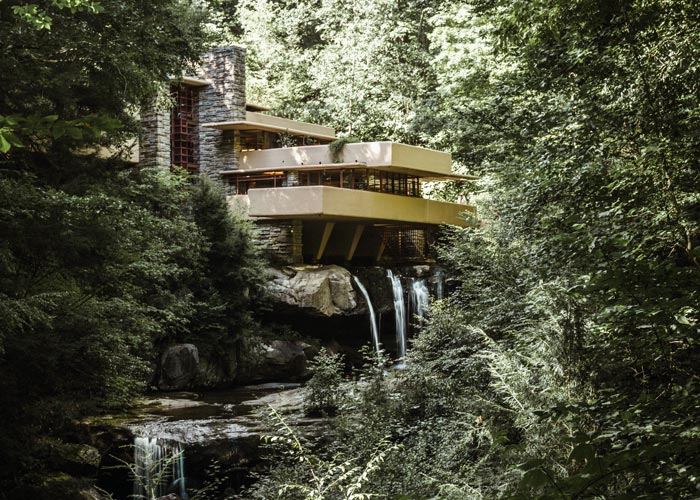 (Fallingwater House by Frank Lloyd Wright)
---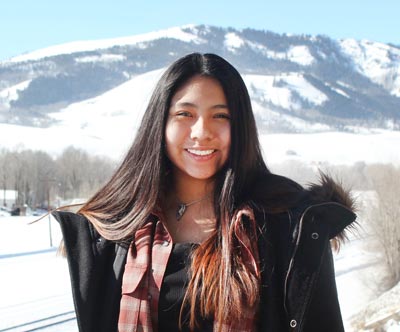 A
Alejandra Salas from Lima, Peru, is an architecture student and new International Peer Mentor at Truckee Meadows Community College.
Written by
Alejandra Salas
Get matched to the best program for you
Let us know what you're looking for so we can find the best school for you.
$1,000—$5,000 Session
Masters
Bachelor Degree
English Programs
$5,000—$10,000 Semester
2yr/Community College - 2+2 Programs
Masters
Bachelor Degree
$25,000—$30,000 Year
Bachelor Degree
Masters
English Programs
Start your U.S. adventure with Study in the USA
What's your dream? We can guide, advise, and connect you with your perfect U.S. school. We can also help you with the application process.
Partner Services
Learn About U.S. education financing, housing, and more
Develop the portfolio and skills you need for your future! Embrace meaningful projects while collaborating with expert mentors and expanding your professional network.
Career Premium Offers Virtual Internships for International Students. You can now apply for a virtual internship and prepare for the global workforce from anywhere in the world. Internships are extremely flexible and run throughout the year, so you c...
Choose an entire apartment, a studio, a shared room, or a private room, with 24x7 assistance from Personal Student Advisors. Book Now!
Testimonials
I had a dream, but I needed to have a project and a plan to achieve that. StudyUSA.com directed me in all of this journey…StudyUsa.com was fundamental in all the process. They showed me the ways and helped me to make the best decisions.
Study in the USA has helped me speak with various schools and know more about schools in the united states. A foundation to my dream
StudyUSA.com has brought me a lot of ideas about USA. Thanks a lot!
Kallol Kumar Bhattacharyya India
Resources
Learn about American culture and education direct from our experts at Study in the USA. Read more