Enroll in a College-Level English Course for Just US$50
By Katie E. Van Wyk
Have you ever wanted to simply "try out" a college or university in the United States? With tuition costs often in the thousands, making the leap to study in the United States can often be a scary one. What if there were a way to enroll for just a few weeks? Well, now there is!
Tacoma Community College is offering students the chance to join a three-week online course this April called "A Trip to Tacoma." The class is geared towards English language learners who want to experience what it's like to enroll in an online class at a U.S. college or university.
Plus, students can expect to improve their English language skills in just three short weeks!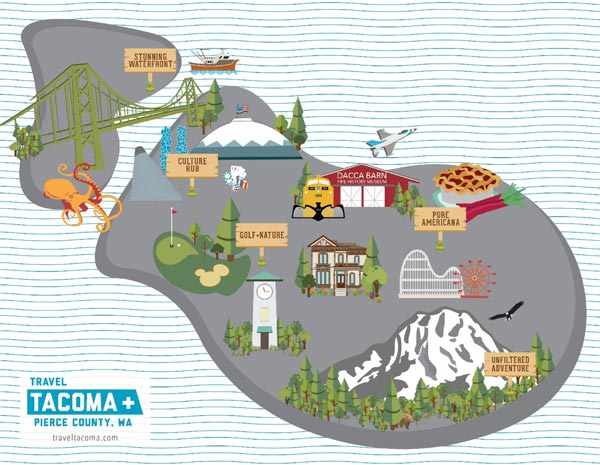 So, what is this course about? There are many fun and interesting things about the city in which our college is located. Many people have heard of Seattle, the tech hub to our north, but very few have heard of the beautiful City of Destiny: Tacoma! We'll take a virtual trip to Tacoma to learn about the sites, sounds, and people of Tacoma, Washington State.
And, what will students learn? The course focuses on improving four English language skills:
Reading: Weekly reading assignments with vocabulary review

Writing: Improve your grammar and understand paragraph/essay structure

Speaking: Vocabulary and pronunciation assignments submitted with video

Listening: Twice per week meetings with the instructor and classmates to listen and respond in the English language
This course was offered for the first time in the fall of 2020, and Bolivian student Elmer shared the following about his experience, "I learned to analyze [English] words for greater grammatical understanding, go deeper into the language in addition to knowing new places, cultures, and people."
---
| | |
| --- | --- |
| | Just like any U.S. college classroom, the professor of this class is a highly competent and educated instructor. Professor Emilie Coates-White been teaching English as a Second Language (ESL) since 1993 and is the faculty director of Tacoma Community College's English for Academic Purposes program. |
As a native of the Northwest USA, she's excited to take this journey to Tacoma with prospective students and teach them about the place that she calls home.
---
Tacoma Community College Course Details:
Dates: April 5-23, 2021

Course Time: LIVE Meetings every Monday & Thursday at 16:00 PST (0:00 UTC).

Course Fee: $50 USD

Course fee includes:

Highly skilled English for Academic Purposes faculty from Tacoma Community College

Three weeks of course instruction (~15-hour time commitment in total)

2-3 hours of LIVE class time per week

2-3 hours of coursework to be completed on one's own time per week

English skill development in reading, writing, speaking and listening

FREE application fee ($50 value) for admission to Tacoma Community College to study full-time in the coming academic year

Certificate of program completion

Eligibility: Students must be age 16 or older to participate

Applications due no later than: March 26, 2021

Apply Here: https://tccinternational.wufoo.com/forms/a-trip-to-tacoma/

Questions? Contact Katie E. Van Wyk (assistant director of Global Outreach, Marketing, and Admissions at Tacoma Community College) at kvanwyk@tacomacc.edu or via WhatsApp +1 253 209 1123
Written by
Katie E. Van Wyk
Get matched to the best program for you
Let us know what you're looking for so we can find the best school for you.
$5,000—$10,000 Semester
Certificate/Short Term
2yr/Community College - 2+2 Programs
Undergraduate
$10,000 — $15,000 Year
Bachelor Degree
Undergraduate
Certificate/Short Term
$1,000—$5,000 Session
Summer
English Programs
Online
Start your U.S. adventure with Study in the USA
What's your dream? We can guide, advise, and connect you with your perfect U.S. school. We can also help you with the application process.
Partner Services
Learn About U.S. education financing, housing, and more
Get international student medical insurance for as low as $1.12 USD per day. Our plans are available to any student studying outside their home country and include coverage for Covid-19. Get your free quote and enroll today!
SURE offers hassle-free renters insurance that'll protect your clothes, furniture, and even yourself from unexpected damages and injuries. The SURE team will get you set up with a free quote and the correct coverage that you need!
BetterHelp is the world's largest therapy service, and it's 100% online. You get the same professionalism and quality you expect from in-office therapy, but with access to a huge network of therapists, more scheduling flexibility, and at a more affor...
Resources
Learn about American culture and education direct from our experts at Study in the USA. Read more