Pace ELI International Student Interview: Min-A from South Korea on studying English at Pace ELI in New York City
1. Please tell us your name, where you are from, and how long you studied at the English Language Institute. My name is Min-A, I'm from South Korea, and I have studied in the ELI for 8 months. 2. How did you first hear about the English Language Institute? I first heard about ELI form my teacher who graduated from Pace University. She told me that ELI in Pace University has good faculty and curriculum. 3. Which level of English did you start at and which level are you in now? Is there a class you liked/helped you the most? Why? I started at 070 level and I am in 090 level now. I think that 070 level was helpful because It helped me adjust new system and learn basic skills. (If you take high level at first, it can be hard for you to study. The reason is that new life and system makes you nervous. Therefore, I recommend basic level to start even though you can take high level.) 4. Which areas of English did you want to improve in our program? How do your teachers help you? How is the ELI Program helping you reach your goals with your English? I wanted to improve my listening and speaking. When I came here, nobody understood my speaking because of my pronunciation. Moreover, I couldn't listen to people's speaking because it was fast to listen. Now, I can communicate people and understand their speaking. My teacher let me listen to lectures of various fields and write down lectures (dictation). Also, if I speak wrong pronunciation, my teachers always fix my pronunciation. ELI Program helps me reach my goals. In addition, ELI office gives me many conveniences of studying, such as Conversation Partner program. 5. Please tell the audience what you like about the English Language Institute Program. Think about the teachers, your classmates, the activities, the extra services (language lab, writing center, etc.) I like my teachers because they try to help me sincerely. Furthermore, I like to join activities because I can spend great time with my classmates. Moreover, I can get a ticket which is difficult to get, such as Yankee's game. Finally, I can use language lab which help me improve my pronunciation and get writing reviews through writing center. 6. Why did you decide to stay at the English Language Institute after your first session? After my first session, I decided to stay at ELI. I met many new friends who came from different countries. Also, as passing level, I can see my improved English gradually. 7. Please share with us your favorite place near the Pace University campus. Why do you like to spend time here? My favorite place is Brooklyn Bridge because I can enjoy great views! Also, if I have some agonies, I can take a walk to think about those. And then, my feeling is always better. 8. What makes NYC a great place to study and learn English? NYC is a great place to study and learn English. Actually, there are different ethnic in NYC so you can experience variety culture at the same time! Also, you will understand English various people say. In addition, there are many great museums and sightsees to enjoy. 9. If there is anything else you would like to share about your experience in NYC or studying at the ELI that you think is important for students to know, please feel free to write it here. I want to tell you one thing. Studying at the Pace is a great opportunity to study English. However, some of students didn't do their homework or was absent. At that time, I felt sorry about that. My point is just this; don't miss any opportunities to study!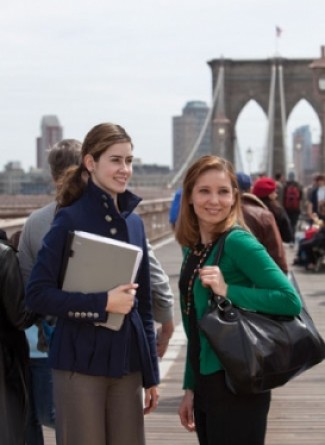 Information on Pace English Language Institute #StudyUSA
Get matched to the best program for you
Let us know what you're looking for so we can find the best school for you.
$1,000—$5,000 Semester
Summer
Bachelor Degree
Certificate/Short Term
Start your U.S. adventure with Study in the USA
What's your dream? We can guide, advise, and connect you with your perfect U.S. school. We can also help you with the application process.
Partner Services
Learn About U.S. education financing, housing, and more
The JOB+ Career Accelerator gives you the work experience, career coaching and professional network you need to get a great graduate job.
IELTS is the world's most popular English language proficiency test for higher education and global migration. It is accepted by more than 3,400 institutions in the US. If you want to study in the US, IELTS can help you get there!
Uniplaces is an accommodation provider with a large choice of verified rooms, entire flats and residences. The platform offers an easy, fast and safe way of booking a place to live. Check out the thousands of properties in the best cities and book a...
Testimonials
The first time I met with StudyUSA was when I was searching which college I should attend. StudyUSA helped me out in some ways. I was able to review a lot of detailed college information in your website. That included not only just about colleges, but also many of real voices from the students in the US. The real information helped me to make decision where I should go for studying. I'm sure that StudyUS would help much more students who are trying to start adventures in the US all over the world!
At first, I don't know how to begin and I found StudyUSA.com. I didn't hesitate to mail questions and they replied me very fast… They always ask me about my study. I felt like I have best friend to find school and bring me to study in USA.
Study in the USA has helped me speak with various schools and know more about schools in the united states. A foundation to my dream
Resources
Learn about American culture and education direct from our experts at Study in the USA. Read more