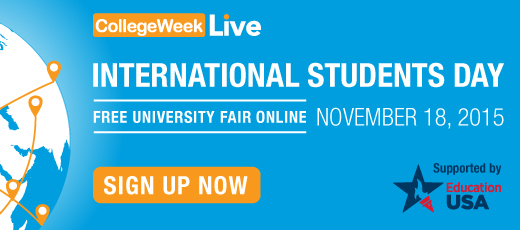 In our effort to bring good content to as many people as possible the text in this blog post has been machine translated so please excuse any mistakes. Thank you!
Want to study in the U.S.?
Sign up for CollegeWeekLive's International Students Day fair to meet with 125+ university representatives including New York University (NYU) and University of California, Los Angeles (UCLA).
Study in the USA will have a booth at the fair. Stop by and chat with our U.S. education experts!
Cost: Completely FREE!
Where: Online - access from your computer
Date: Wednesday November 18, 2015
Time: 4:00 AM – 4:00 PM Eastern Time
Register here.