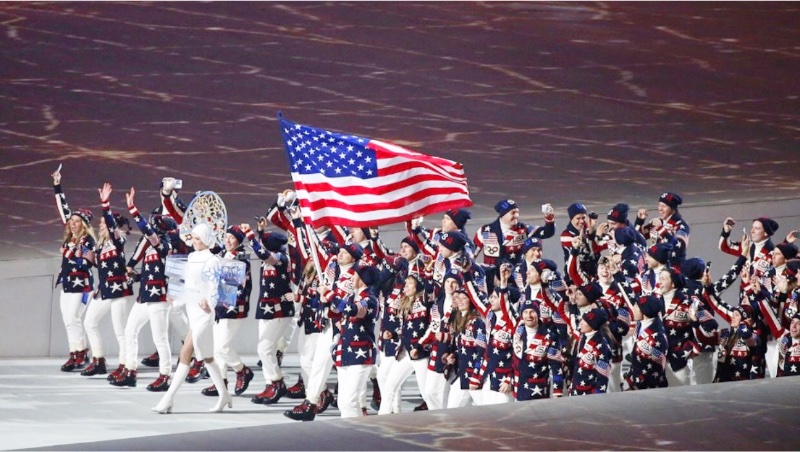 In our effort to bring good content to as many people as possible the text in this blog post has been machine translated so please excuse any mistakes. Thank you!
Today is the opening ceremony for the Winter Olympics and what better way to celebrate than sporting your colors and look sharp while doing it. Wear your red, white, and blue to cheer on U.S.A. The Olympic Winter Games is a major international sporting event held once every four years, for sports practiced on snow and ice.
Nearly 3,000 athletes from 93 countries are set to compete for a record of 102 medals across 15 different sports from February 9-25.
To date, U.S. athletes have won 96 gold medals at the Olympic Winter Games, or 10 percent of all gold medals won since the first Winter Games in 1924. In total medals, the U.S. has collected 284, or just under 10 percent of the total available in the 22 editions of the Winter Olympics to date.
It will be cold and colorful, dramatic and dangerous, exciting and emotional -- the 2018 Winter Olympics is set to burst into life in South Korea.
Some events have already begun, but an opening ceremony full of pride, passion, tradition and most probably a bit of politics will get the PyeongChang Games officially underway Friday.
Fun Facts
2018 U.S. Olympic Team Fun Facts
Thirty-one states are represented, including 31 athletes from Colorado, 22 from California, 20 from Minnesota, 19 from New York and 16 from Utah. Park City, Utah, is the highest producing city with eight athletes, while six are from Steamboat Springs, Colorado; five are from Anchorage, Alaska and five are from Duluth, Minnesota.
The oldest and youngest Olympians on the 2018 U.S. Olympic Team – ice hockey player Brian Gionta, 39, and figure skater Vincent Zhou, 17 – are separated by 22 years, while the average age is 26.5 years. Zhou will be one of six 17-year-olds on the team and one of eight with a 2000 birth year.
The tallest member of the 2018 U.S. Olympic Team is Bryce Bennett (alpine skiing), who stands 6 feet, 7 inches tall. Figure skater Karen Chen and short track speedskater Jessica Kooreman, who both stand 5 feet tall, are the shortest members of Team USA.
Women's ice hockey players Jocelyne Lamoureux-Davidson and Monique Lamoureux-Morando return as the sole set of twins on Team USA. There are six additional sets of siblings, including cross-country skiers Erik and Sadie Bjornsen, Logan and Reese Hanneman, and Caitlin and Scott Patterson; curlers Becca and Matt Hamilton; figure skaters Alexand Maia Shibutani; and Nordic combined athletes Bryan and Taylor Fletcher.
Pairs figure skaters Alexa Scimeca-Knierim and Chris Knierim are the only married couple on Team USA (and the first since 2006).
Twenty-one members of Team USA have children; there are 20 fathers and one mother (Kikkan Randall).
Thirty-six athletes have Olympic family ties, including seven with parents who competed at the Olympic Games.
Thirty-eight athletes speak at least one language in addition to English, including Clare Egan (biathlon), Thomas Hong (short track speedskating) and Chloe Kim (snowboarding), who all speak Korean.
More than three-quarters of Team USA (76 percent) has attended college, at a total of 87 schools. Of those athletes, more than one-third competed collegiately at 48 institutions; sports with heavy collegiate footprints include hockey, bobsled and cross-country skiing.
Seven athletes serve in the U.S. Army's World Class Athlete Program – including men's bobsled athletes Nick Cunningham, Chris Fogt, Justin Olsen and Nathan Weber; and luge athletes Taylor Morris, Matt Mortensen and Emily Sweeney.
Sixteen athletes on the U.S. roster have competed at the Winter Youth Olympic Games:
Aaron Blunck (freestyle skiing, 2012)
Summer Britcher (luge, 2012)
Patrick Caldwell (cross-country skiing, 2012)
Sean Doherty (biathlon, 2012)
Ben Ferguson (snowboarding, 2012)
Arielle Gold (snowboarding, 2012)
Alex Hall (freestyle skiing, 2016)
Thomas Hong (short track speedskating, 2012)
Chloe Kim (snowboarding, 2016)
Hailey Langland (snowboarding, 2016)
Casey Larson (ski jumping, 2016)
Ben Loomis (Nordic combined, 2016)
Jake Pates (snowboarding, 2016)
Will Rhoads (ski jumping, 2012)
Tucker West (luge, 2012)
Codie Bascue (bobsled, 2012)
Go TeamUSA, For more information, here.