Inside you'll find articles, interviews, tips and programs exclusively featured in the annual print editions of Study in the USA. It is the guide to education in the USA. Even better, there are e-magazines in multiple languages.
Want to take a hardcopy of a magazine home? Check local fairs, EducationUSA offices, advising centers, and embassies for copies.
2021
Chinese Edition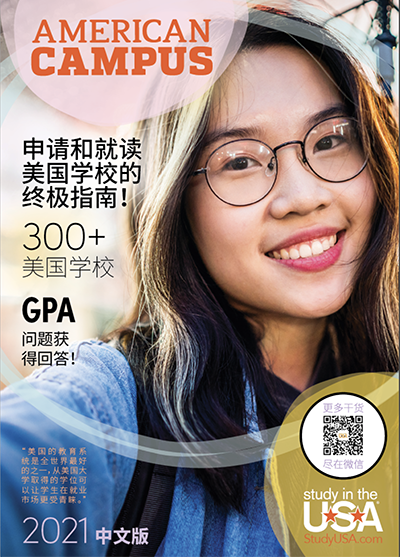 Indian Edition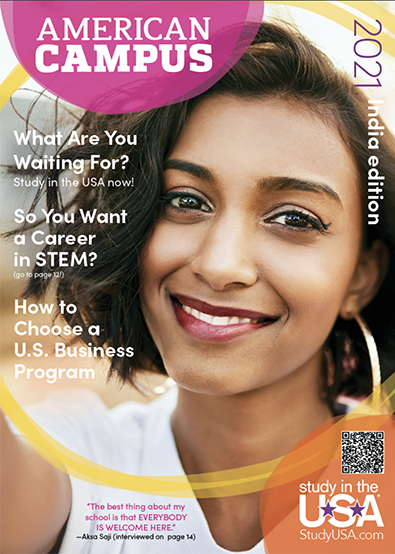 Global Edition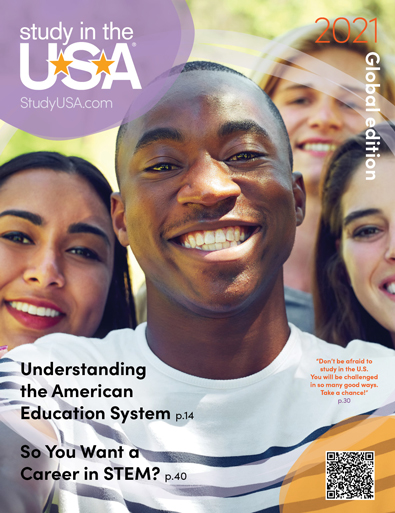 Spanish Edition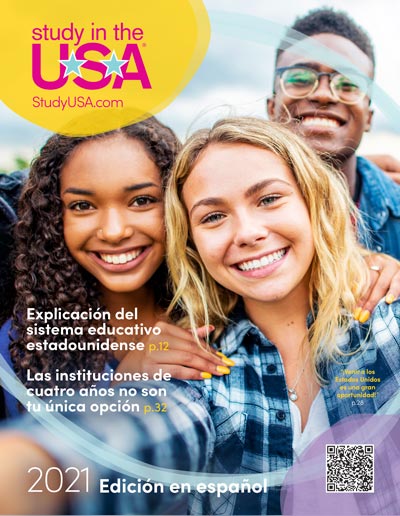 Portuguese edition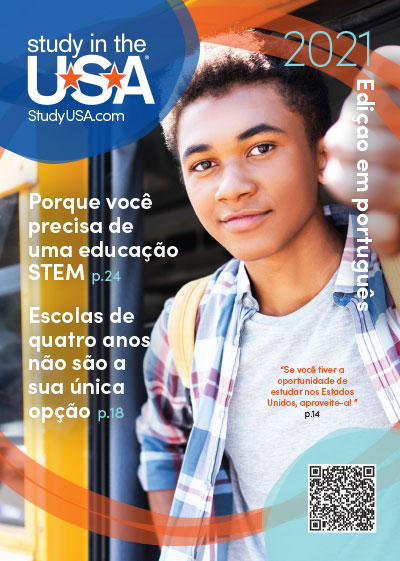 Vietnamese Edition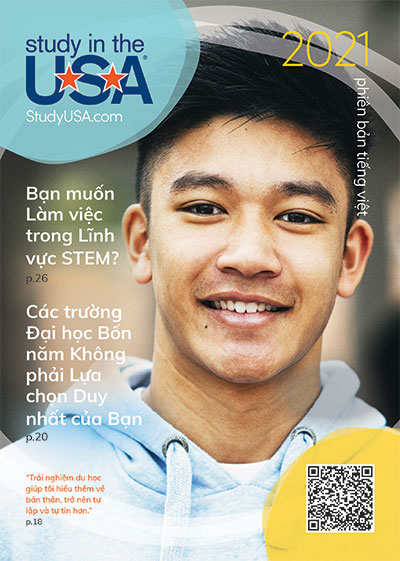 Written by
Study in the USA®
Get matched to the best program for you
Let us know what you're looking for so we can find the best school for you.
Start your U.S. adventure with Study in the USA
What's your dream? We can guide, advise, and connect you with your perfect U.S. school. We can also help you with the application process.
Partner Services
Learn About U.S. education financing, housing, and more
Join The MBA Tour Canada to speak directly with Harvard, Wharton, UCLA & more, attend interactive presentations to compare various programs, get exclusive GMAT™ Exam tips from the exam creators, improve your application and more! Register FREE
Explore the American Dream with the 'My Deals' app from Student Advantage - save on car rentals, hotel rooms, and everyday essentials!
campusSIMS helps students get connected with mobile phone service in the US. Get a US phone number while in your home country so you have service that's ready as soon as you land. Plans start as low as $15/month.
Testimonials
Thanks for studyUSA! Throughout this excellent website I found the right college from thousands of schools in America and I got it eventually! This website helped my college dream being come true and helping me build my future career a lot! Especially the employees over there always email to me to ask my process of applying and so friendly, Thanks so much!
Ting Wang China
StudyUSA has been helping me getting my dream through giving info about schools, choice my best option, calculating costs including staying and food. Thank for all the support StudyUSA
Miguel Angel Marquez Leon Mexico
I am always checking study USA to keep me updated on any important changes and how schools treat international students.
Eduardo Rodrigues Brazil
Resources
Learn about American culture and education direct from our experts at Study in the USA. Read more