East Los Angeles College
ELAC is conveniently located in a quiet and safe multi-ethnic suburb city of Monterey Park within reasonable distance of downtown Los Angeles, the southern California beaches, the snow mountains and many cultural and entertainment attractions.
Overview of East Los Angeles College
East Los Angeles College (ELAC) is a comprehensive transfer community college that serves the San Gabriel Valley region of Los Angeles, California. ELAC is fully accredited by the Western Association of Schools and Colleges. The college has a tradition of over sixty years of commitment to providing a quality education in a safe and comfortable academic learning environment. East Los Angeles College serves over 25,000 students on an 82 acres site which was one of the sites for the 1984 Olympics. The campus is facilitated with air condition classes with the latest technology, full research library, free internet access for students, bookstore, university transfer center, police department, fitness center, student parks, student entertainment center, performing arts center, indoor swimming pool, men's and women's gymnasium.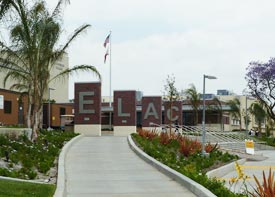 Southern California Location and Ideal Climate
ELAC is conveniently located in a quiet and safe multi-ethnic suburb city of Monterey Park within reasonable distance of downtown Los Angeles, the southern California beaches, and many cultural and entertainment attractions. The college is surrounded by restaurants, fast food places, coffee shops and shopping locations, all within walking distance of the campus. Southern California is famous for its wonderful weather and beautiful landscape. The region has near year-round sunny skies and mild temperature range. The summer months temperatures peak around 30 degrees C and winters cool to around 21 degrees C.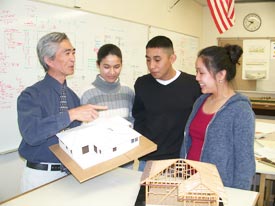 Outstanding Academic and University Transfer Programs
ELAC is renowned as one of the leading two-year community college in California and the United States, with a top international student transfer rate to prestigious universities, such as UCLA, UC Berkeley and USC. The college offers the first two years of general education at an affordable tuition rate, an Associate of Arts or Science degree and students complete the last two years at a university for their four year Bachelor degree. The college has a special HONORS program designed for advance students to receive priority acceptance to UCLA and other top universities. The college University Transfer Center has on-campus representatives to all universities, transfer preparation assistance and field trips to top universities. The college offers over sixty majors including Engineering, Business Administration, Register Nurse (RN) and Computer Science. All transfer majors can be taken at East Los Angeles College.
English as a Second Language (ESL) Program
Students may enroll in ESL Classes based upon campus assessment placement results. ELAC offers diverse ESL courses in writing, oral communication and reading skills. The ESL program is designed to help new international students to develop strong English skills for further academic success.
International Student Campus Activities
ELAC has over 800 international students from over 40 countries including China, Hong Kong, Taiwan, Japan, Vietnam and Korea. The college provides free comprehensive support services for international students, including tutoring, counseling, housing referral and campus employment opportunities. The college also supports many inter-collegiate men's and women's sports teams. All college students are eligible for hundreds of continuing student and transfer scholarships based upon academic merit.
International Student Admission and Housing Accommodations
ELAC allows for year round admissions to our primary fifteen week semesters, Fall (August – December) and Spring (February – June). The college also offers optional enrollment for Winter (January) and Summer (July) Sessions. For the Academic Program, ELAC requires 450 (45 IBT) TOEFL or 5.0 IELTS score or 3.5 iTEP or Official Eikent 2A grade or higher. Tuition is less than $6,000 US a year and living expenses are affordable in the City of Monterey Park. The majority of international student lives in affordable apartments surrounding the college rent rooms or participates in a Home stay with American families. All are within walking distance or reasonable commuting time by public transportation.
Student Testimonies
Shogo Okuma (Japan) When I first came to study in America, I knew if I improved my communication and writing skills, I will have good opportunity for jobs and success in my homeland. The support and friendship I received made me very successful in my classes and I have transferred with a high grade point average to California State University of Los Angeles. Dominguez Hill.

Leung Ching Hei (Hong Kong) My parents really wanted me to go to a University of California (UC) campus in America. I went through the Honors program at East Los Angeles College, I was accepted at three UC campuses, including UC Berkeley, UCLA and UC Irvine.
Contact for Further Information
Address:
East Los Angeles College International Student Program
1301 Avenida Cesar Chavez
Monterey Park, CA 91754 U.S. A.
Tel:
1-323-265-8796 or 1-323-265-8650, ext 5203 Fax: 1-323-260-8192
Visit us on the website:
http://www.elac.edu
Contact us via email:
ELAC_iso@elac.edu
Read more
Read less
Tuition
$5,000—$10,000 Semester
Fast facts
Affiliation
Public
Top Programs
Type of School
2yr/Community College
---
---
School Size

Large

Student Body Gender

Co-ed

Religious Affiliation

No Affiliation

Scholarships for International Students

Yes

Conditional Admission Available

No

Setting

City, Suburban

Type of Housing

Homestay, Apartment

Test Scores

IELTS: Band 5+
---
Visit us
1301 Avenida Cesar Chavez Monterey Park, CA