Read Study in the USA India Magazine
Inside you'll find articles, interviews, tips and programs exclusively featured in the annual print editions of Study in the USA. It is the guide to education in the USA. Even better, there are e-magazines in multiple languages.
Want to take a hardcopy of a magazine home? Check local fairs, EducationUSA offices, advising centers, and embassies for copies.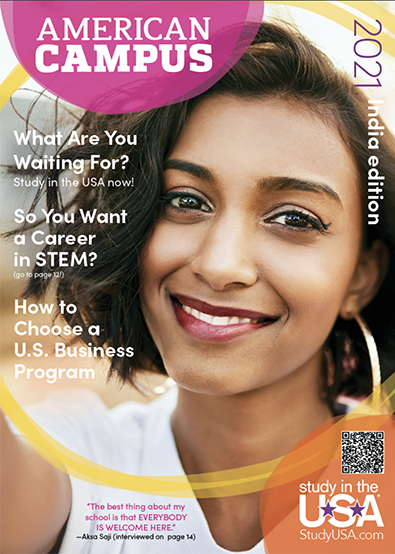 Written by
Study in the USA
Get matched to the best program for you
Let us know what you're looking for so we can find the best school for you.
$10,000 — $15,000 Semester
$30,000—$35,000 Year
Masters
Summer
English Programs
$35,000—$40,000 Year
English Programs
Summer
Bachelor Degree
Typical cost per Semester: $5,000—$10,000
Bachelor Degree
Certificate/Short Term
English Programs
Typical cost per Year: $5,000—$10,000
Bachelor Degree
Certificate/Short Term
English Programs
Typical cost per Semester: $5,000—$10,000
2yr/Community College - 2+2 Programs
Start your U.S. adventure with Study in the USA
What's your dream? We can guide, advise, and connect you with your perfect U.S. school. We can also help you with the application process.
Partner Services
Learn About U.S. education financing, housing, and more
Most U.S. apartments come unfurnished. Make your move easy with a student furniture rental package from CORT. Flexible lease terms. Delivered before you arrive. Starting at $99 per month.* *with a 12-month lease
Get international student medical insurance for as low as $1.12 USD per day. Our plans are available to any student studying outside their home country and include coverage for Covid-19. Get your free quote and enroll today!
MPOWER Financing is the top-rated lender offering international student loans without cosigners, collateral, or credit history for global citizens, PLUS international student scholarships & career coaching! Fully online application, 96% customer...
Testimonials
I wish I had found Study in the USA earlier. They have such a presence and strive to help anyone make their dreams come true.
Boa Astrid Haegg Wass Sweden
You are an excellent guide to know the study process and have a successful results. Thanks for everything!
Alberto Luzardo Venezuela
Through StudyUSA I was able to chat with several different schools and I was able to choose which one suits me academically, financially and application procedures. Thank you StudyUSA!
Resources
Learn about American culture and education direct from our experts at Study in the USA. Read more