The 2014 World Cup kicked off on Thursday, June 12, with a Brazil v. Croatia match at Arena Corintheans in Sao Paulo, Brazil.
On Friday, June 13, the World Cup headlines were: Brazil begins World Cup with win over Croatia!
Accompanying the story were accounts of a controversial call by Japanese referee Yuichi Nishimura that led to Neymar's go-ahead penalty kick in the 71st minute.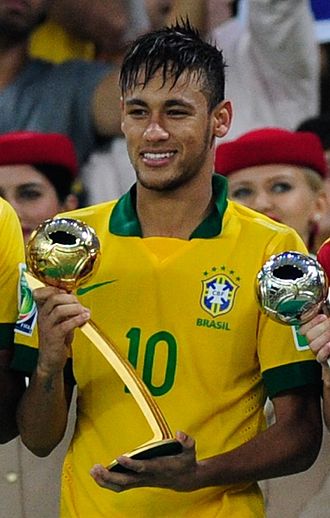 Photo above: Neymar da Silva Santos Júnior
Next up is Mexico v. Camaroon at Estadio das Dunas, Natal. At the time of this writing and according to FIFA.com, the score of this in-progress game was 1-0.
Also scheduled for today: 16:00 Spain v. Netherlands at Arena Fonte Nova in Salvador 18:00 Chile v. Australia at Arena Pantanal in Cuiaba Saturday's schedule:
Who will you be supporting in the coming games?
Tell us in comments.
Find out the complete World Cup Brazil 2014 schedule

Get matched to the best program for you
Let us know what you're looking for so we can find the best school for you.
$5,000—$10,000 Semester
2yr/Community College - 2+2 Programs
Undergraduate
Certificate/Short Term
$5,000—$10,000 Semester
Certificate/Short Term
Bachelor Degree
2yr/Community College - 2+2 Programs
$15,000—$20,000 Semester
Undergraduate
Bachelor Degree
Masters
Start your U.S. adventure with Study in the USA
What's your dream? We can guide, advise, and connect you with your perfect U.S. school. We can also help you with the application process.
Partner Services
Learn About U.S. education financing, housing, and more
Prove your English and achieve your goals with the Michigan English Test – widely recognized and available on your own schedule at a test center or from home.
Ready to make your MBA dreams a reality? Register now for a virtual or in-person event with The MBA Tour! Don't miss your chance to speak directly with leading business schools, such as Harvard University, Boston University, Columbia University, UC...
Follow your dreams with the TOEFL iBT® test, which has helped millions of students study abroad.
Resources
Learn about American culture and education direct from our experts at Study in the USA. Read more