The 2014 World Cup kicked off on Thursday, June 12, with a Brazil v. Croatia match at Arena Corintheans in Sao Paulo, Brazil.
On Friday, June 13, the World Cup headlines were: Brazil begins World Cup with win over Croatia!
Accompanying the story were accounts of a controversial call by Japanese referee Yuichi Nishimura that led to Neymar's go-ahead penalty kick in the 71st minute.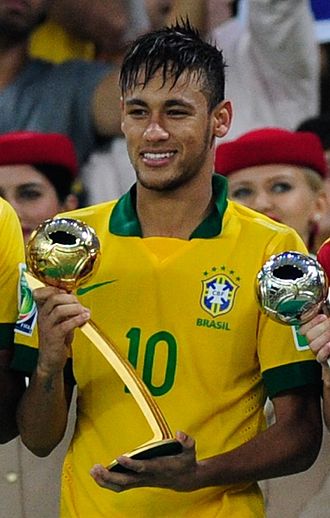 Photo above: Neymar da Silva Santos Júnior
Next up is Mexico v. Camaroon at Estadio das Dunas, Natal. At the time of this writing and according to FIFA.com, the score of this in-progress game was 1-0.
Also scheduled for today: 16:00 Spain v. Netherlands at Arena Fonte Nova in Salvador 18:00 Chile v. Australia at Arena Pantanal in Cuiaba Saturday's schedule:
Who will you be supporting in the coming games?
Tell us in comments.
Find out the complete World Cup Brazil 2014 schedule

Get matched to the best program for you
Let us know what you're looking for so we can find the best school for you.
$10,000 — $15,000 Year
Secondary/Boarding
Certificate/Short Term
English Programs
$1,000—$5,000 Session
English Programs
Masters
Certificate/Short Term
$5,000—$10,000 Quarter
Certificate/Short Term
2yr/Community College - 2+2 Programs
Secondary/Boarding
Start your U.S. adventure with Study in the USA
What's your dream? We can guide, advise, and connect you with your perfect U.S. school. We can also help you with the application process.
Partner Services
Learn About U.S. education financing, housing, and more
Career Premium Offers Virtual Internships for International Students. You can now apply for a virtual internship and prepare for the global workforce from anywhere in the world. Internships are extremely flexible and run throughout the year, so you c...
Choose an entire apartment, a studio, a shared room, or a private room, with 24x7 assistance from Personal Student Advisors. Book Now!
Follow your dreams with the TOEFL iBT® test, which has helped millions of students study abroad.
Testimonials
Study in the USA showed details such as a wide range of categories and programs that suit my purpose. They are provided in an easy-to-understand manner. It is a very good site.
When I registered to apply at StudyUSA.com, it has really helped me a lot in getting closer to my dreams, where in I have already been accepted to study and also received my documents, now am only waiting for my visa. Thank you StudyUSA.com for everything and I know there are a lot of other students out there that has and will benefit from this website.
JENNEH CONTEH SIERRA LEONE
Study in the USA supports my dream and lets me know how to achieve my dreams more generally. They suggest not the fastest way but the most helpful way for my future.
Resources
Learn about American culture and education direct from our experts at Study in the USA. Read more