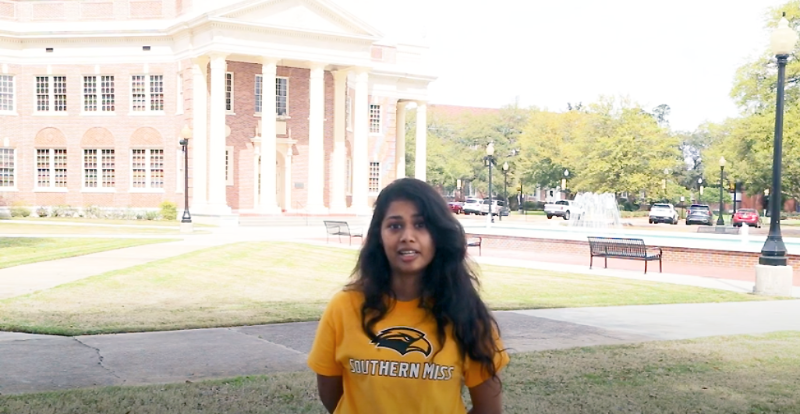 In our effort to bring good content to as many people as possible the text in this blog post has been machine translated so please excuse any mistakes. Thank you!
Sudiksha Kumar is majoring in biology and forensic science with a minor in chemistry at the University of Southern Mississippi (USM).
Why did you choose the University of Southern Mississippi?
It was really by accident. I was looking for biology programs. I found that people here were friendly, had a great program, and offered very competitive scholarships. Also, communication was key during the process of admission.
How is your life as an international student?
It hasn't been a huge impact being an international student because there is a very strong support for international students on campus. For instance, international students go to orientation together, and then, there are other activities and organizations where we meet with other internationals.
What challenges did you face as an international student?
There haven't been major challenges really. Maybe one of them was explaining my culture to other students or learning about different cultures.
What surprised you the most when you first arrived?
Hattiesburg is surprisingly small from what I expected. However, I thought the USM campus area was kind of large for a small city like Hattiesburg. Campus is very nice and has lots of buildings and places to go for a walk.
What opportunities did you have at USM?
I personally had many opportunities at Southern Miss. Regarding employment, I was resident assistant and senior assistant at the dorms on campus. I was also involved in different extracurricular activities and student organizations. That helped me connect with other American and international students as well as to travel all over the country and do research.
Is there someone on campus who helped you a lot?
I couldn't mention just one person. A lot of my professors and staff at the international center have helped me since the very beginning.
Any words of advice to new students coming to USM?
It may be more comforting to stay with students who share your same background, but I recommend you to branch out and meet different groups of locals and other internationals. I know it may be difficult at first, but that way you will get new friends and unforgettable memories that will help you feel part of the university community.
What are your future plans?
I will apply to a research assistant position for maybe one or two years, and then, I'd like to pursue a Ph.D. in biomedical sciences.
Watch the full interview.