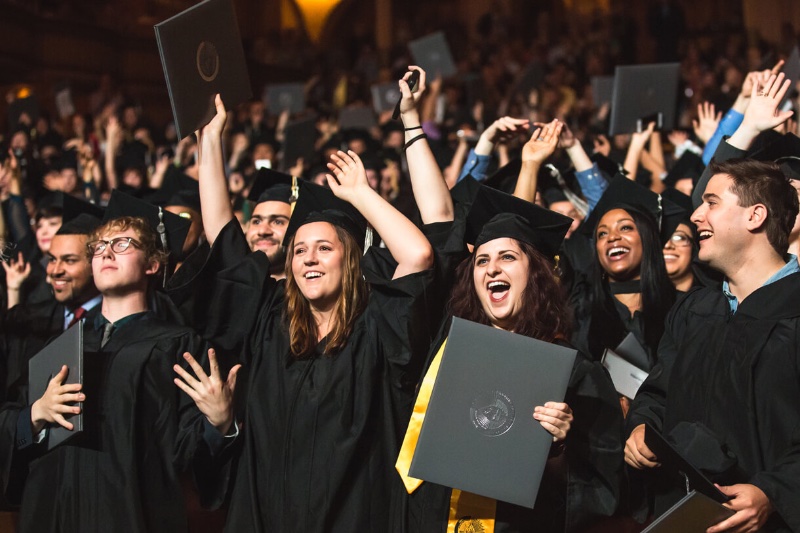 In our effort to bring good content to as many people as possible the text in this blog post has been machine translated so please excuse any mistakes. Thank you!
Located in downtown Chicago's Cultural Mile, Columbia College Chicago is a private, nonprofit college offering a distinctive curriculum that blends creative and media arts, liberal arts, and business for nearly 7,000 students. The college is dedicated to academic excellence and long-term career success, creating a dynamic, challenging and collaborative space for students.
If you see the world through a creative lens and want to further your education in one of the world's most vibrant cities, Columbia College Chicago might be the right spot for you!
See the Windy City: You'll never be bored in Chicago – not with countless parks, museums, galleries, music venues, boutiques and so much more at your disposal. Chicago is the laboratory and the playground for Columbia students, allowing them to sink their teeth into the vast cultural and professional opportunities that abound in this world-class city. You'll find everything you need within walking distance: classes, cultural destinations, grocery stores, restaurants and more. Check out the school's website guide for more tips on things to do near campus.
Get your Degree: Columbia College offers more than 60 undergraduate and graduate degree programs designed to provide a solid foundation in the liberal arts and sciences that are essential to any creative career. Columbia alumni go on to shape and reshape industries in fields as varied as cinema and finance, music and video game design, journalism and fashion.
Prepare for a Career: Columbia's curriculum is built around competencies that are most sought-after in today's workplace, including complex problem-solving, critical thinking and of course creativity. Students have the opportunity to jump into their chosen work and learn from faculty members who are leaders in those same fields. Columbia students graduate prepared for careers they never imagined entering as well as professions that may not have even existed just a couple years ago.
Use your Resources: Your creative career starts long before you graduate. That's why Columbia students are encouraged to take advantage of the college's Career Center: a one-stop shop that can help you navigate the path from college to career. From your first day on campus to graduation and beyond, the center will work with you to increase your employability and help you find meaningful work and internship opportunities. By utilizing resources like the Career Center, nearly 90 percent of Columbia graduates report being employed within a year of earning their degrees.
Find a Home: When searching for a place to live, many students living off-campus rely on ApartmentSearch.com. The website allows you to search for an apartment based on distance from campus, while also showing the cost of living, local restaurants, the length of your commute and more. If your apartment is unfurnished, furniture rental is an economical and convenient way to furnish your home. CORT, the leading provider of furniture rental in the U.S., furnishes thousands of student apartments with everything from beds and sofas to housewares and electronics – all with affordable rental package options.
Columbia College Chicago students are creatively charged and looking to kickstart their careers in one of the world's most exciting cities. If you're driven by pursuits or passions in the creative field, consider making Columbia the next stop on your educational journey. Take a look through the college's website to learn more about their programs and services that could help you achieve your goals.
Rob Johnson is an experienced international traveler and Director of Higher Education Sales at CORT Furniture Rental, where he works directly with students and higher education institutions.