Inside you'll find articles, interviews, tips and programs exclusively featured in the annual print editions of Study in the USA. It is the guide to education in the USA. Even better, there are e-magazines in multiple languages.
Want to take a hardcopy of a magazine home? Check local fairs, EducationUSA offices, advising centers, and embassies for copies.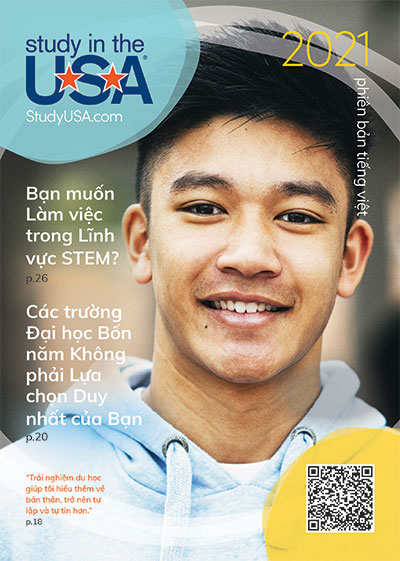 Written by
Study in the USA
Get matched to the best program for you
Let us know what you're looking for so we can find the best school for you.
$5,000—$10,000 Semester
Certificate/Short Term
Summer
Online
$1,000—$5,000 Session
Certificate/Short Term
English Programs
Online
$20,000—$25,000 Year
Certificate/Short Term
2yr/Community College - 2+2 Programs
Online
Start your U.S. adventure with Study in the USA
What's your dream? We can guide, advise, and connect you with your perfect U.S. school. We can also help you with the application process.
Partner Services
Learn About U.S. education financing, housing, and more
BetterHelp is the largest online counseling platform worldwide. We change the way people get help with facing life's challenges by providing convenient, discreet and affordable access to a licensed therapist. Promo code 10% off "susa"
Let us help you through your U.S. visa application process. GET STARTED NOW!
Study in the USA's advisors can work with you to navigate the requirements to study abroad in the USA, UK, Canada, and Australia. We help you find the right school and apply.
Testimonials
I liked reading about information that helped me understand what the experience would be like and reading other students' experiences on the Study in the USA website.
Study in the USA's Instagram introduced various colleges in the USA. They interviewed actual students on there, so it was helpful to know the real-life of an American college student.
StudyUSA.com has helped me study in the USA in the most practical way. I am thankful for what this website has given me.
Hye Seung Lee South Korea
Resources
Learn about American culture and education direct from our experts at Study in the USA. Read more