Read Study in the USA Vietnamese Magazine
Inside you'll find articles, interviews, tips and programs exclusively featured in the annual print editions of Study in the USA. It is the guide to education in the USA. Even better, there are e-magazines in multiple languages.
Want to take a hardcopy of a magazine home? Check local fairs, EducationUSA offices, advising centers, and embassies for copies.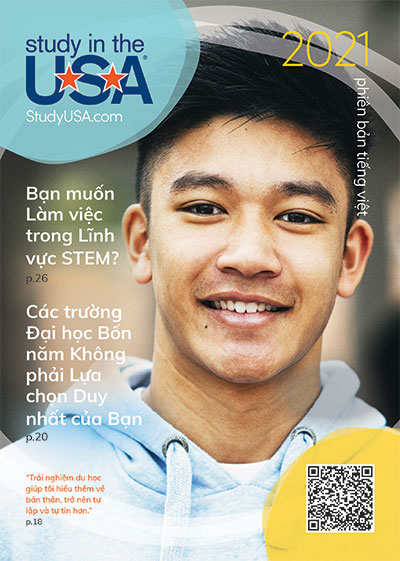 Written by
Study in the USA
Get matched to the best program for you
Let us know what you're looking for so we can find the best school for you.
$10,000 — $15,000 Year
2yr/Community College - 2+2 Programs
English Programs
Summer
Typical cost per Year: $40,000—$45,000
Secondary/Boarding
Summer
English Programs
Typical cost per Semester: $5,000—$10,000
Bachelor Degree
Certificate/Short Term
English Programs
Typical cost per Semester: $5,000—$10,000
Bachelor Degree
Summer
English Programs
Start your U.S. adventure with Study in the USA
What's your dream? We can guide, advise, and connect you with your perfect U.S. school. We can also help you with the application process.
Partner Services
Learn About U.S. education financing, housing, and more
BetterHelp is the world's largest therapy service, and it's 100% online. You get the same professionalism and quality you expect from in-office therapy, but with access to a huge network of therapists, more scheduling flexibility, and at a more affor...
Uniplaces is an accommodation provider with a large choice of verified rooms, entire flats and residences. The platform offers an easy, fast and safe way of booking a place to live. Check out the thousands of properties in the best cities and book a...
TestDEN's Online TOEFL Test Prep is just what you need to quickly and effectively prepare for the TOEFL test. Since 1998, TestDEN has helped tens of thousands of students raise their TOEFL scores.
Testimonials
Study USA helped me a lot. It guided and provided fruitful information time to time. Showing really practical and useful courses including on campus and different types.
By Using StudyUSA.com, I came to know about various universities in the USA. The website is very informative and has all the details for scholarships. Thank you!
Sai Yaswanth Sai Yaswanth India
StudyUSA helped me by proving numerous information, articles and explanation about studies and life in the United States.
Resources
Learn about American culture and education direct from our experts at Study in the USA. Read more