By Aanchal Tangri
FaceTiming your family can never be enough when you live 8,431 miles away from them. Moving out from my homeland was a hard decision. There is enthusiasm for going and exploring a foreign land and at the same time there is the distance that keeps you apart from your loved ones. Having the opportunity to study abroad is a chance most students are excited about. The chance to explore life through new experiences along with attaining a world class education all sounds fantastic. However, this thrilling experience comes with a bit of a downer — homesickness.
Every place has its own vibe. We make new friends and develop new hobbies. But missing home, missing your culture often makes you feel aloof in an entirely different setup. Living in a foreign country that has its own norms and unfamiliar practices may be challenging to adjust to. In addition, the elevated stress of assignments could also add to the difficulty. But keeping all this at bay, I can share some of my ideas that I explored so as to feel the home vibe here in the U.S. where I've lived for the past 3 and a half years.
Food
Every city has restaurants that offer diverse cuisines. I am always on a hunt to look for great Asian cuisines, especially Indian. The flavours and the aura of the restaurants create a warmness and relatability. You not only feel welcomed but also experience an atmosphere similar to the one back home. Also, you can try cooking the meals that you would usually eat back home. Trust me, the aroma of the spices itself will take you back down your memory lane and bring a smile to your face. I loved eating a potato rice crepe with lentil soup and coconut chutney; I tried cooking the same here by looking at a recipe online, and honestly, I relished the flavours. I am now consistent with cooking my Indian meals at home and feel proud of my cooking skills, as I am almost matching the authentic flavours passed on to me by my grandmother and mother.

Festivals
Being an Indian, I grew up celebrating an array of festivals back home. There are festivals of colors, lights, worship, fasting and so on. When I celebrate these festivals here and have my family join me on a video call, I feel excited for the day, and I make all the possible arrangements to live up to the festive spirit. I would get sweets, play the festival song, and dress in my traditional outfit. I also tried visiting the nearest Indian temple where I could offer my prayers and also meet with fellow Indian community members and exchange greetings in my own language. This not only brings a change of mood but also generates prosperity in my own heart.

Events and weddings
It may not always be possible to get a chance to attend your cultural wedding or a big event in a foreign country, but I was fortunate to celebrate my school friend's wedding here in the United States. She married an Indian guy from the city of Reno, and the wedding was followed by the customary week-long celebration. I was so happy to be a part of all the wedding ceremonies that they organized. Folk dance, spicy Indian food, traditional outfits, application of henna, accentuating jewellery, and exchanging gestures summed up this auspicious wedding event. I felt like I was in India. The fervour of the Indian wedding and the associated entertainment always made me so excited, and now since I haven't visited home in 3.5 years, this wedding truly gave me an enchanting experience.

Exchange of culture
Henna culture is very popular in India. It is a temporary tattoo usually applied on the palms and then washed off. It leaves a deep red stain, and the design looks marvellous. It is usually applied during weddings, festivals, or for fasting ceremonies. Sharing this culture far away from home fosters integrity and generates happiness with the promotion of its existence. I always love to draw henna on my friends' hands. Not only that, I offered to display the henna drawings at my college's international festival. The responses were great, and I was amazed how everyone came forward in appreciation of my art and also very enthusiastically adored the henna designs on their bodies.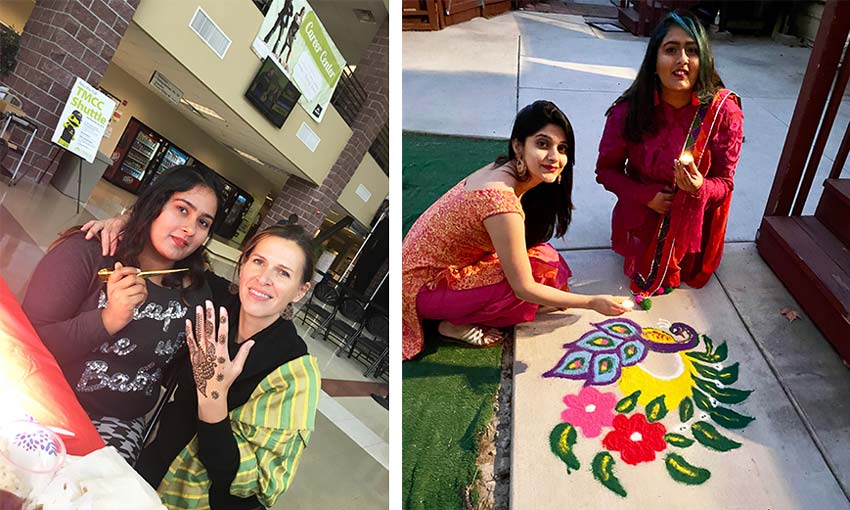 Travelling around the globe, moving, and experiencing new cultures are constant aspects of life in a world of globalization. You may not find a real home, but you can create your "home vibe" wherever you go. I believe that we leave pieces of ourselves everywhere we go, and each place we visit leaves its marks on us. So when you plan your journey, prepare yourself to create a home for yourself amidst a brand new culture. And while finding your home away from home might be a challenge, if you do find it, it is also one of the most exciting and enriching experiences of life.
---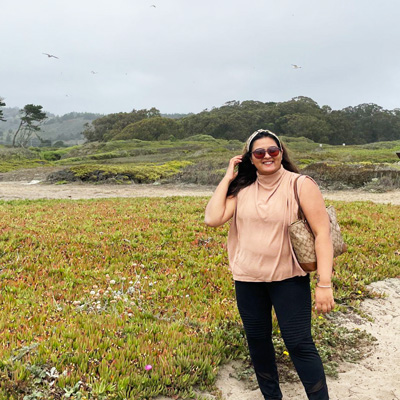 Aanchal Tangri from India is working towards an associate's degree in Communication Studies at Truckee Meadows Community College in Reno, Nevada.
Written by
Aanchal Tangri
Get matched to the best program for you
Let us know what you're looking for so we can find the best school for you.
$10,000 — $15,000 Quarter
$5,000—$10,000 Year
Certificate/Short Term
2yr/Community College - 2+2 Programs
English Programs
Start your U.S. adventure with Study in the USA
What's your dream? We can guide, advise, and connect you with your perfect U.S. school. We can also help you with the application process.
Partner Services
Learn About U.S. education financing, housing, and more
Explore the American Dream with the 'My Deals' app from Student Advantage - save on car rentals, hotel rooms, and everyday essentials!
Ready to make your MBA dreams a reality? Register now for a virtual or in-person event with The MBA Tour! Don't miss your chance to speak directly with leading business schools, such as Harvard University, Boston University, Columbia University, UC...
Follow your dreams with the TOEFL iBT® test, which has helped millions of students study abroad.
Testimonials
I found a lot of useful articles on StudyUSA.com, especially under the Student Voices section. I have been recommending the website to my friends back at my home country who are interested in coming to America to study.
I have had the opportunity to peruse the Study in the USA website. As a result, I can attest to it as a very useful resource. The MatchMe tool that helps match students with programs in the USA fascinates me the most.
I hadn't used Study in the USA before but I'm grateful that I now know a good source for my student life here. I hope there are more scholarships and opportunities for international students like this.
Resources
Learn about American culture and education direct from our experts at Study in the USA. Read more