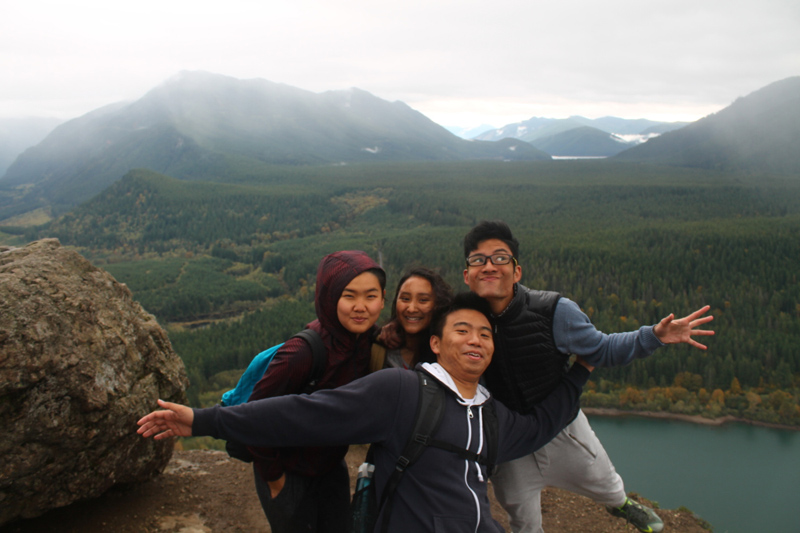 In our effort to bring good content to as many people as possible the text in this blog post has been machine translated so please excuse any mistakes. Thank you!
By Nita Thirza
Hola people!
Today I'm going to show you the beauty of Washington State. I went hiking with my schoolmates last week, and it was the second time I went hiking in America. This is one of the reasons why I like Green River College a lot; they provide so many activities and opportunities to try new stuff.
We gathered in school at 8.45 am on Saturday, and departed around 9 am. I had a hard time dragging my body from the bed that morning. It was like trying to escape from a sucking mud, but comfier. Anyway, I made it to the assembly point. We started our journey to the Rattlesnake Ledge which is located in the south of North Bend, Washington.
I got to see the mountain from afar before we arrived there, and at that moment, I knew that my thighs would lose its size after I finished the hiking. We started to walk through the trail, and with each step we took, the view got even better. The length of the trail was about 4 miles round trip (or 6.4 km). Thanks to the dogs I saw during the hike; they encouraged me to enjoy my hike, even though I was drained. After 1 hour of walking, we finally reached the edge.
I stood up on a big rock, and let me tell you something. IT WAS SO BEAUTIFUL! I could see other mountains from there, and everything looked green. I spent about 40 minutes enjoying the view, until the time we had to head back....
You can read the full post and watch Nita's cool video on the Green River College blog.
See below for more great photos.
Nita Thirza is a business major at Green River College. She is from Indonesia.