The Faculty at St. Francis College Have Been Transformative for Me
By Maria Eduarda Tarré
I do believe that everything happens when needed — this final blog post could not be any different. I don't really know why I left this topic to the end but looking back to all I have lived these past few months; I could not be more inspired to write about St. Francis College's transformative faculty.
It is not any surprise that I have been experiencing some difficulties as I try to get my F-1 visa during the pandemic. The embassies in Brazil were closed so I decided to travel to Portugal, where I am also a citizen, so I could get my visa there but as I do not reside in Portugal full time, they did not let me issue it. The whole experience has tested my limits. At the moment they rejected my request for a student visa, I just did not know how to react, but as soon as I left the embassy in Lisbon I realized that I needed to talk to my school. During my first year online, I had this whole support team from St. Francis College (SFC), which included professors, staff members, students, and even the president and the vice-president of my school, so I knew that whenever I had an emergency, I could count on them.
When I think about the connections I have developed through my first year of school I always end up surprised considering that I have never seen any of them in person. If it were years ago, most people would have considered it very dangerous to trust in people you have only met online. Nowadays, when most of our social interactions are online, I feel really glad that I could find the right ones to be by my side and I can't thank SFC enough for helping me stand up all the times I was knocked down.
Truth being said, the faculty at St. Francis College is really transformative, as once you get to know all the staff members and students, you feel like you really have someone who is looking out for you. Personally, I believe that this value is extremely important when choosing the perfect school fit for you. Going to school is not only about having classes, but it actually encompasses a broader experience. When you are about to choose where you want to study, you have to consider that this is going to be the place where you will spend most of your time in the next four years, so it must be a place where you feel comfortable with the ones surrounding you and where you have as much support as you can. The school experience can be challenging, especially when you are an international student – spoiler: you will be homesick, you may find it hard to make friends, and you may undergo a lot of bureaucratic processes. However, when it comes about that, I can guarantee that SFC will not let you down!
Transformative faculty is about having staff members who will be more than common school employees, but who will be able to make you feel at home even when you are not and who will do everything in their power to make sure you have a great college experience. So far, I am glad I can say that this is exactly what I have been experiencing at SFC!
---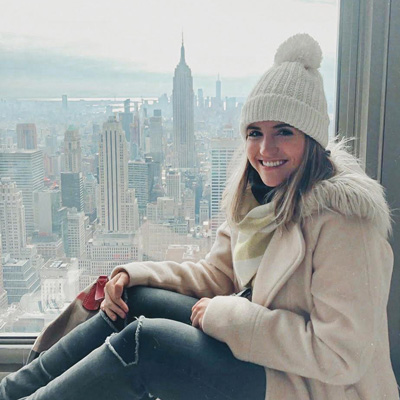 Maria Eduarda Tarré is an international student from Brazil at St. Francis College. Currently, her major is undecided, but she is leaning towards political science. She also participates in the Amnesty International Chapter USA at SFC.
Written by
Maria Eduarda Tarré
Get matched to the best program for you
Let us know what you're looking for so we can find the best school for you.
$5,000—$10,000 Semester
Undergraduate
Bachelor Degree
English Programs
$5,000—$10,000 Semester
Undergraduate
Bachelor Degree
Certificate/Short Term
$10,000 — $15,000 Year
Online
Undergraduate
Certificate/Short Term
Start your U.S. adventure with Study in the USA
What's your dream? We can guide, advise, and connect you with your perfect U.S. school. We can also help you with the application process.
Partner Services
Learn About U.S. education financing, housing, and more
IELTS is the world's most popular English language proficiency test for higher education and global migration. It is accepted by more than 3,400 institutions in the US. If you want to study in the US, IELTS can help you get there!
Nomad Credit helps international students search for and compare education loan (student loan) options, including options for students with a US cosigner or those pursuing a graduate degree. The Nomad team will personally help you with your education...
Get international student medical insurance for as low as $1.12 USD per day. Our plans are available to any student studying outside their home country and include coverage for Covid-19. Get your free quote and enroll today!
Testimonials
Study in the USA's Instagram account encouraged me. I understood that all of this wasn't impossible. I'm so happy to study here and learn more about a different culture.
Marina Avdonina Kazakhstan
I checked their website to search for scholarships and find answers to some frequently asked questions.
Study in the USA helped me understand how education in the USA works. I really wanted to know how they are making classes work during COVID.
Laura Alejandra Reyes Herreño Colombia
Resources
Learn about American culture and education direct from our experts at Study in the USA. Read more