Working for the First Time in the USA
By Nicole Abel Fouad Awad
When I first arrived in the U.S., I had the goal of working on campus in addition to my main objective, which was to be a student, of course. I wanted to gain more experience through a job and to be able to help my family pay the tuition. The currency in Brazil is generally more undervalued than the dollar, but now the Brazilian "real" is facing its worst price due to the pandemic, besides a political and economic crisis that the country is facing. Up until that time, I never actually had a job where I was officially registered as an employee and earned a salary. I have only worked as a volunteer in a few different places before. Now that I am working as an international ambassador for Hillsborough Community College (HCC), I can say that I am gaining much experience when it comes to working with people, being more involved within the community, and developing my leadership abilities. I once worked as a teacher's assistant in a day care where some kids stayed while their parents spent the whole day out working. At the daycare, we played activities, games, and we taught some Portuguese, and once in a while I taught them a few words in English. Also, there was another time where I worked in the presidential and government elections in 2018 in Brazil. I basically assisted voters in the voting process and checked their voting documents.
I really like working with people, therefore my chosen career is psychology, which is in the human services sector. I love to help people and have the feeling that I impacted someone's life in some way. When I first knew about the opportunity of working as an international ambassador, I was confident that this would be the best job for me. I was excited that I would be able to share my experience with other students and assist them in one of the most complicated phases faced by a foreigner: the adaptation. Adapting is not easy for sure, I felt that in my own skin when I first came here, and it takes some time to process this new environment. It is normal for foreign students experiencing a new culture and a new place to feel uncertain. Being there for those students when they need me and sharing a little more about what I have learned in these past few semesters means a lot to me. Participating in some clubs and organizations inside the community was actually what prepared me to learn more about the college and student life. I got to know many students because of that and learned a lot about academics and the social environment, so I am very grateful. Moreover, I have to say that our team of ambassadors make working a real delight, and my team advisors were fundamental for my growth. With that being said, I wanted to be an ambassador because I was hoping to give back the support that was given to me when I was a new student.
As a F-1 student, I am only able to work on campus. So, I remember that I started my job applications journey in fall 2019. There are some work options that the college offers, such as working in the bookstore, in the career resources center, as an international student ambassador, an honors ambassador and resident assistant, which is actually offered by the student housing complex. I applied a couple of times before starting to work as an international student ambassador. When I finally got the job, I felt so fulfilled and excited to start another new journey in my life. This experience is helping me to grow so much in many ways; I am learning more about how to work with people and exercise skills such as empathy, communication, teamwork, solving problems, and social media. I am able to give other students advice because I have experienced so much, but I am also learning a lot with each student that crosses my way. Additionally, I had the opportunity to interview amazing students and know a little more about their background and how their experience studying in the U.S. has been so far. Communicating with different students shows me that international students are more similar to each other than they realize, and despite having different experiences, it seems that we all go through the same processes. This job is also constantly challenging me and opening the door for me to get out of my comfort zone and try new things every week. I have participated in an international recruitment fair, organized all kinds of events and workshops, completed social media postings on behalf of the college, and I have even run our bi-weekly meetings. Furthermore, writing at a blog like this was something that actually never crossed my mind, but I am being able to do that and exercise my creativity and always bring valuable tips and stories for you, readers and students like me.
Finally, looking back to when I came here, I can say that I have evolved so much, and I am grateful to be working as an international student ambassador and helping students to feel settled within the community and be a trusting source for when they need someone to rely on. I am happy that my first job in life has a significant value for me, especially remembering everything I went through in my first semester at HCC. I can say I know how hard coming to a new environment can be, especially when you actually realize you came here alone in this insane adventure that studying abroad is. My experiences, involvement within the community and the people that I met during my time here prepared me and gave me the knowledge I needed to be ready for this job. My previous jobs as a volunteer also contributed to prepare me to have this position as an international student ambassador. I feel closer to other students, more mature, proactive, and even more certain about my passion about working with people. I really hope that I am able to bring some sort of comfort and impact students who ask for help, and I can guarantee that I will always put a lot of love and effort to be the best ambassador for students.
---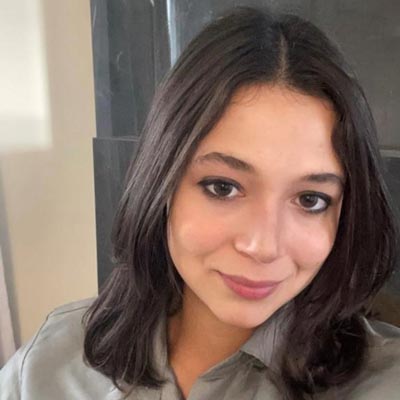 Nicole Abel Fouad Awad is currently studying at Hillsborough Community College, and she is also working as an International Student Ambassador there. She is from Brazil and she is now completing her last semester at HCC.
Get matched to the best program for you
Let us know what you're looking for so we can find the best school for you.
$15,000—$20,000 Year
Masters
Certificate/Short Term
Bachelor Degree
$45,000—$50,000 Year
English Programs
Online
Bachelor Degree
Start your U.S. adventure with Study in the USA
What's your dream? We can guide, advise, and connect you with your perfect U.S. school. We can also help you with the application process.
Partner Services
Learn About U.S. education financing, housing, and more
Uniplaces is an accommodation provider with a large choice of verified rooms, entire flats and residences. The platform offers an easy, fast and safe way of booking a place to live. Check out the thousands of properties in the best cities and book a...
Follow your dreams with the TOEFL iBT® test, which has helped millions of students study abroad.
Nomad Credit helps international students search for and compare education loan (student loan) options, including options for students with a US cosigner or those pursuing a graduate degree. The Nomad team will personally help you with your education...
Testimonials
Studyusa.com helps me by the e-mails which I receives every day concerning the possibility of study in the USA
Benewende Amed Wilfried Dipama Burkina Faso
StudyUSA did help me a lot. Because they always try their best to answer my questions and give me great suggestions. Also, they always concern me and ask me about my application. They are the best.
The first time I met with StudyUSA was when I was searching which college I should attend. StudyUSA helped me out in some ways. I was able to review a lot of detailed college information in your website. That included not only just about colleges, but also many of real voices from the students in the US. The real information helped me to make decision where I should go for studying. I'm sure that StudyUS would help much more students who are trying to start adventures in the US all over the world!
Resources
Learn about American culture and education direct from our experts at Study in the USA. Read more