Spring 2013 International Education Fairs
The spring 2013 International Education Fair season has already begun! International student education fairs are a great way to learn about U.S. schools and universities. They give you a chance to speak directly with representatives of U.S. universities, language programs and summer schools. You can visit each school's booth, talk with people who teach and work there, and take home brochures and applications from U.S. schools to review with your parents. The fairs usually include special conferences and workshops. Students can also learn about scholarship opportunities and financial aid assistance programs at the fairs and expos. In short, you can have all of your questions answered by knowledgeable and reliable professionals at international education fairs. You can even apply to American schools on site! There are generally no special requirements for a student to participate in the fairs. In most cases, you just need to register online for free, print out the registration form and present it at the entrance of the hall. Below is a list of fairs where Study in the USA will be present and handing out copies of our 2013 Study in the USA magazines. The magazine is published in 7 different languages for your convenience! Mexico
South America
[caption id="attachment_1393" align="aligncenter" width="500"]
South America Fair[/caption]  
| | | |
| --- | --- | --- |
| Location | Event Date | Name of Event |
| Salvador, Brazil | March 10, 2013 | Salão do Estudante 2013 |
| Vitoria, Brazil | March 12, 2013 | Salão do Estudante 2013 |
| Brasília, Brazil | March 14, 2013 | Salão do Estudante 2013 |
| São Paulo, Brazil | March 16 & 17, 2013 | Salão do Estudante 2013 |
| Recife, Brazil | March 19, 2013 | Salão do Estudante 2013 |
| B. Horizonte, Brazil | March 21, 2013 | Salão do Estudante 2013 |
| Curitiba, Brazil | March 23, 2013 | Salão do Estudante 2013 |
| Rio de Janeiro, Brazil | March 25, 2013 | Salão do Estudante 2013 |
| Rio de Janeiro (Barra), Brazil | March 26, 2013 | Salão do Estudante 2013 |
| | | |
| --- | --- | --- |
| São Paulo, Brazil | April 27, 2013 | 1st Latin American STEM Fair Circuit |
| Recife, Brazil | April 29, 2013 | 1st Latin American STEM Fair Circuit |
| Rio de Janeiro, Brazil | May 4, 2013 | 1st Latin American STEM Fair Circuit |
| Santiago, Chile | May 6, 2013 | 1st Latin American STEM Fair Circuit |
| Bogota, Colombia | May 8, 2013 | 1st Latin American STEM Fair Circuit |
Middle East
[caption id="attachment_1392" align="aligncenter" width="500"]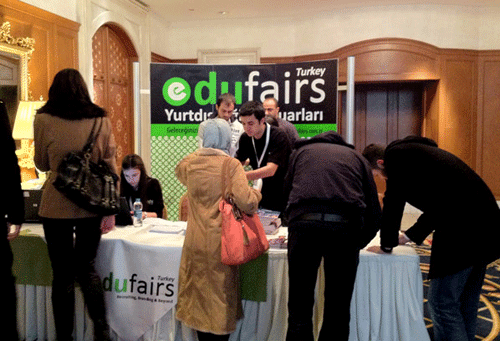 Middle East Fair[/caption]
| | | |
| --- | --- | --- |
| Location | Event Date | Name of Event |
| Amman, Jordan | February 26, 2013 | American Education Expos |
| Kuwait City, Kuwait | February 28, 2013 | American Education Expos |
| Abu Dhabi, UAE | March 1, 2013 | American Education Expos |
| Dubai, UAE | March 2, 2013 | American Education Expos |
| Doha, Qatar | March 4, 2013 | American Education Expos |
| Manama, Bahrain | March 6, 2013 | American Education Expos |
| Tel Aviv, Israel | April 4, 2013 | The Second Annual Israel-American Recruiting Fair |
Turkey
| | | |
| --- | --- | --- |
| Location | Event Date | Name of Event |
| Ankara | March 5, 2013 | a2 International Education Fairs |
| Izmir | March 7, 2013 | a2 International Education Fairs |
| Konya | March 9, 2013 | a2 International Education Fairs |
| Ankara | March 10, 2013 | Edufairs |
| Bursa | March 12, 2013 | Edufairs |
| Izmir | March 13, 2013 | Edufairs |
| Istanbul | March 16-17, 2013 | Edufairs |
| Bursa | March 12, 2013 | IEFT Fairs |
| Eskisehir | March 14, 2013 | IEFT Fairs |
| Konya | March 16, 2013 | IEFT Fairs |
| Adana | March 17, 2013 | IEFT Fairs |
| Ankara | March 19, 2013 | IEFT Fairs |
| Izmir | March 21, 2013 | IEFT Fairs |
| Istanbul | March 23-24, 2013 | IEFT Fairs |
| N.Cyprus | March 26, 2013 | IEFT Fairs |
Europe
Northeast Asia
Southeast Asia
[caption id="attachment_1391" align="aligncenter" width="500"]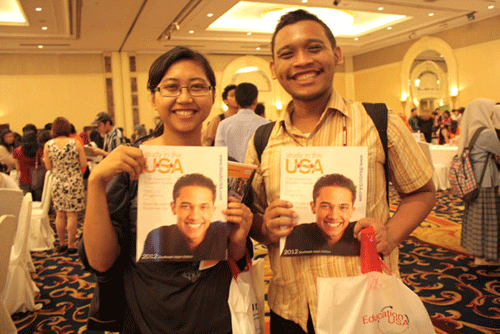 Southeast Asia Fair[/caption]
| | | |
| --- | --- | --- |
| Location | Event Date | Name of Event |
| Medan, Indonesia | February 1,2013 | EducationUSA Fair |
| Jakarta, Indonesia | February 3,2013 | EducationUSA Fair |
| Surabaya, Indonesia | February 6, 2013 | EducationUSA Fair |
| Denpasar, Indonesia | February 8, 2013 | EducationUSA Fair |
| Manado, Indonesia | February 11, 2013 | EducationUSA Fair |
  We hope to see you at the fairs. And have fun! For more information and for links to more international education fairs, go to our
International Education Fairs page
.
Get matched to the best program for you
Let us know what you're looking for so we can find the best school for you.
$1,000—$5,000 Session
2yr/Community College - 2+2 Programs
Certificate/Short Term
English Programs
$15,000—$20,000 Year
Online
English Programs
Bachelor Degree
Start your U.S. adventure with Study in the USA
What's your dream? We can guide, advise, and connect you with your perfect U.S. school. We can also help you with the application process.
Partner Services
Learn About U.S. education financing, housing, and more
The JOB+ Career Accelerator gives you the work experience, career coaching and professional network you need to get a great graduate job.
BetterHelp is the world's largest therapy service, and it's 100% online. You get the same professionalism and quality you expect from in-office therapy, but with access to a huge network of therapists, more scheduling flexibility, and at a more affor...
Join over 6 million people and businesses who get a better deal when they send money with the real exchange rate.
Testimonials
Study in the USA gave me notices on what programs are available all throughout the country.
Studyusa.com helps me by the e-mails which I receives every day concerning the possibility of study in the USA
Benewende Amed Wilfried Dipama Burkina Faso
Study in the USA helped me to find a lot of Universities that I didn't know about and to be more specific about the different options I could choose and to contact the university and the departments faster than other ways
Resources
Learn about American culture and education direct from our experts at Study in the USA. Read more