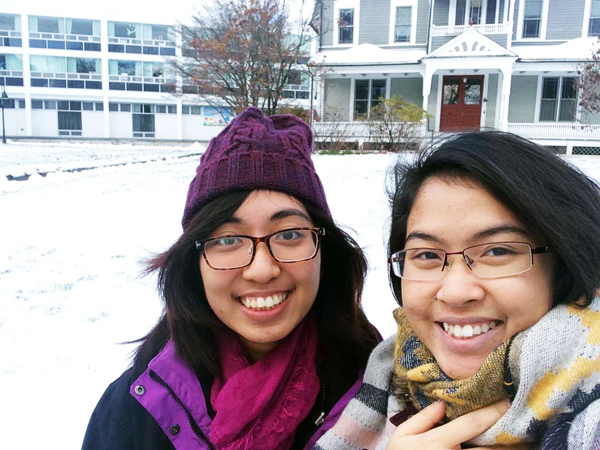 In our effort to bring good content to as many people as possible the text in this blog post has been machine translated so please excuse any mistakes. Thank you!
Ngan Nguyen (Melanie): I'm a friendly Hanoian but I went to high school in Singapore. I'm a First-year student at Smith College in Northampton, MA. I might major in Political Science, Economics or Theater (sorry mom!). I love Vietnamese Springrolls, dim sum, all kinds of dogs, animal plushies, dystopian novels, long walks, and everything to do with theater. My life goal is to become a polyglot.

1. Winter Wonderland
Staying in America for freshman year's winter break is a rather popular and often economical choice. This year, I stayed on campus to experience my very first white Christmas ever. Most colleges are closed for Christmas but there are usually housing arrangements available for international students. It is the perfect chance to explore your college town in ways you never could during the school year.
2. Cooking Challenge
The biggest challenge once the dining hall closes, especially for the non-cooks like myself, is feeding myself while staying within a budget. I had to conquer my fear of flames and knives as well as plan my meals carefully because most shops are closed around Christmas and New Year. Online recipes and tutorials were my best friend. I highly recommend Cooking with Dog on Youtube. (No, my bias for all things canine is NOT showing).
It is important to have a balanced diet with veggies and fruits, which can be easily neglected. I also recommend stocking up on ramen packets, frozen dumplings and har cao from your neighborhood Asian markets. These were my guilty pleasures, and make for a fine breakfast or midnight bite.

3. Christmas Dinner
The best thing that happened to me over this break was being invited to Christmas dinner by a family of two Smith College alumnae. Over a dinner of roasted goose, salmon, and lamb (as well as over 10 kinds of desserts), I had a lovely conversation with their family friends, a truly diverse group of writers, teachers, designers, and even a hypnotherapist! We also met Millie, the family dog, mother to 50 little puppies, all of whom are service dogs!
We had a little gift exchange, potluck sort of activity, where each person brought something lovely from their own home and others could just pick what they want. It reminds me that Christmas is the season of giving, and it isn't about the price tag.
First Night is a lovely tradition that takes place in about 50 American towns on Dec 31 every year. From noon to midnight, there are tons of exciting shows to watch and food to sample. By purchasing a button and pinning it onto your coat, you can go to any venue in town and see what it has to offer. I was spoilt for choice and had a hard time deciding where to go. Fireworks, stand-up comedy, puppetry, opera, jazz, country, rock, a cappella, circus acts. You name it!

Northampton is very artsy little town with a homey vibe. The streets are lined with rows of elegant, quirky boutiques selling hand-made local products. They are pretty pricey usually so I was more than delighted to come pick up some free samples. I got some free stationery, a gorgeous blue marble and lots of hot drinks, including apple cider, ginger herbal tea, and hot chocolate.

My most treasured takeaway from yesterday is a caricature by a local artist! It was slightly awkward modelling for it with so many people watching but it was an interesting experience. There were plenty of other activities as well, such as face painting and cookie decoration.

After an afternoon wandering about town, I spent the evening hopping from one performance venue to the next. I watched a comedic opera, listened to a sassy jazz band, laughed along with an Elvis impersonator and had a blast with a rock-n-roll band who played many original songs. At 11.30pm, the main roads were blocked and a sea of people flooded the streets for countdown. The residents heated it up with an impromptu dance-off, just like something you would see on Step Up.

Nowhere in America celebrates New Year the same way. While I was listening to 70s soul music in Northampton, my friends were dancing to Demi Lovato in Time Square, NYC. Wherever you choose to go, immerse yourself in the culture of the place and feel that common holiday spirit which brings us all together.

5. Fun, Friends and Family
I believe that your future holidays in America will be even more memorable than mine. Whether you decide to enjoy your rare moments of solitude, pack up your bag and travel, or head home to see your family, Winter break is a great time of the year to acknowledge how far you've come and feel grateful for everyone in your life.
Strike up a conversation with a stranger, message a friend you haven't talked to in years, mail your family a hand-written letter. Do whatever makes you happy!
Keep that spirit of adventure and embrace the scary, uncertain but exciting days ahead!