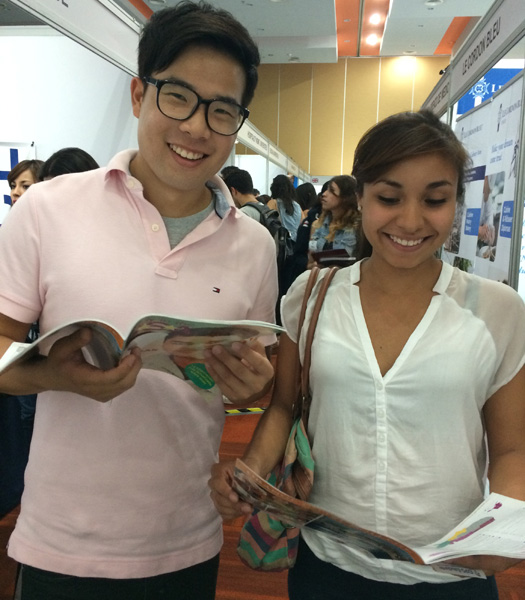 In our effort to bring good content to as many people as possible the text in this blog post has been machine translated so please excuse any mistakes. Thank you!
Students at last year's Salão do Estudante fair
Make your plans to attend Fall 2015 international education fairs!
September Fairs are in: Brazil, Ecuador, Uraguay, Panama, Mexico, Germany, Vietnam and Indonesia.
October & November fairs will be in: Colombia, Argentina, Chile, Paraguay, Bolivia, Peru, Venezuela, Panama, Ukraine, Turkey, Qatar, UAE, Kuwait, Kaohsiung, Taiwan, Korea, China, Vietnam, Thailand and Indonesia. Visit our fairs page for a complete list of dates, venues and links to fair websites.
Study in the USA® will be present at the fairs. Come say hello, and pick up a copy of the new edition of Study in the USA Magazine!
Upcoming fairs:​
São Paulo, Brazil September 26-27 Salão do Estudante
Brasilia, Brazil Sept 26 EducationUSA Fair Circuit
Rio de Janeiro, Brazil September 28 EducationUSA Fair Circuit
Montevideo, Uraguay Sept 30 EducationUSA Fair Circuit
Quito, Ecuador Sept 28 Expo-Estudiante
Medellin, Colombia October 1 Expo-Estudiante
Bogotá, Colombia October 3-4 Expo-Estudiante
Mexico City, Mexico Sept 23-26 Linden Boarding SchoolsTours
Queretaro, Mexico Sept 27-29 Linden Boarding SchoolsTours
Panama City, Panama Sept.30-Oct 1 Linden Boarding SchoolsTours
Hanoi, Vietnam Sept 26 Higher Education Fair
HCMC, Vietnam Sept 27 Higher Education Fair
Jakarta, Indonesia Sept 29 US Higher Education Fair
Visit our International Education Fairs Page for a complete list of Fall 2015 fairs.