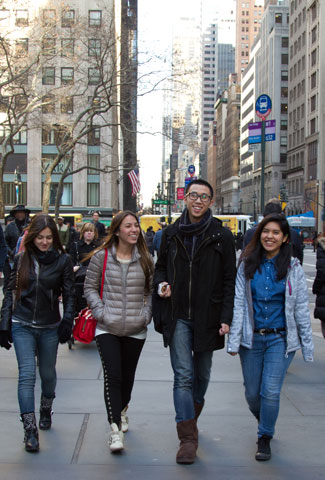 In our effort to bring good content to as many people as possible the text in this blog post has been machine translated so please excuse any mistakes. Thank you!
Study International Business, Marketing/Communications, Management, Fashion and more at Berkeley College
Students from around the world choose the proven, career-focused programs of Berkeley College in the heart of New York City. Founded in 1931, Berkeley College offers international students a superior education based on an intensive business curriculum. The College's reputation is well respected among business and industry executives who participate in the design of its academic courses. This helps students acquire the knowledge and skills that employers demand in both the national and international job markets.
Support for International Students
Students also benefit from the individual attention provided by Berkeley faculty and staff. The International Student Department assists students with a range of needs—from application through graduation and beyond—including immigration procedures, housing information, and adjusting to American life.
Career Preparation
An internship or job-related assignment is required in each academic program and provides students with hands-on training and work experience in a company that relates to their studies. The College's Career Services Department assists students with identifying and pursuing internship possibilities, as well as career counseling, resume planning, training, and interviewing strategies.
The Berkeley Advantage®
The Berkeley Advantage® is part of a proven approach to career-focused education that can help students prepare for success
A comprehensive array of degree programs and classes that meet business and professional demands
The flexibility of day, evening/weekend, and online classes
More than $40 million in Berkeley College grants and scholarships provided during the 2012-2013 award year
A tuition freeze for students who meet continuous enrollment requirements
An outstanding, supportive faculty with relevant professional experience
Career Services specialists who identify and prepare students for career opportunities
Valuable, practical career experience through internships, practicums, or job-related assignments
Extensive network of employer contacts
Free lifetime career assistance for graduates
Berkeley College offers Associate's and Bachelor's degree programs that balance academics, professional training, and practical experience. Put The Berkeley Advantage® to work for you!
Programs of Study
Accounting Business Administration Fashion Marketing and Management Financial Services General Business Graphic Design Health Services Administration Health Services Administration – Medical Insurance, Billing, and Coding Health Services Management Information Technology Management Interior Design (B.F.A. and A.A.S.) Interior Design Management International Business Justice Studies – Criminal Justice Legal Studies Management Marketing Communications Not all programs and courses are offered at all locations. You may be required to take some courses at another location or online. Berkeley College reserves the right to add, discontinue, or modify its programs and policies at any time. Modifications subsequent to the original publication of this information may not be reflected here. For the most up-to-date information, please visit BerkeleyCollege.edu. For more information about Berkeley College graduation rates, the median debt of students who completed programs, and other important disclosures, please visit BerkeleyCollege.edu/disclosures.
English as a Second Language
Offered at New York City Midtown location for degree seeking students. Conditional Admissions offered.