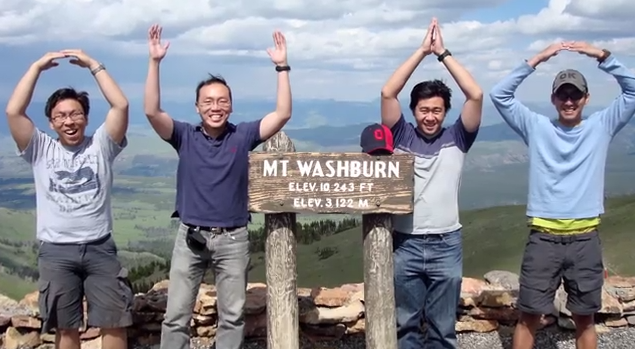 In our effort to bring good content to as many people as possible the text in this blog post has been machine translated so please excuse any mistakes. Thank you!
The American Language Program at Ohio State University is currently accepting international student applications for their Autumn 2014 semester (August 27 - December 10). But hurry, the application deadline is June 10, 2014!
Applications must be completed by end of day on June 10, 2014, including financial guarantees from sponsored students.
Information on Ohio State University
Ohio State University is ranked 16th top public university by US News & World Report.
OSU also ranks among the top 10 destinations for international students in the United States, enrolling over 6000 international students from more than 125 countries during the past year.
A message from Ohio State University:
Welcome!
Welcome to the American Language Program at The Ohio State University! ALP is centrally-located on the main Ohio State campus in the heart of middle America and the state capital, Columbus, Ohio. OSU ranks among the top 10 destinations for international students in the United States, enrolling over 6000 international students from more than 125 countries during the past year.
We hope you will explore all of the wonderful aspects of life at ALP, like on-campus housing and classes, weekly events and activities, and our experienced and professional faculty and staff. Your university experience at OSU begins with 20 hours of English study a week arranged so you have afternoons and evenings free to meet new friends and practice your English in our safe and welcoming community. You are also encouraged to make new American friends by participating in our Conversation Partners program.
As an OSU Buckeye, you can use 24-hour computing facilities, libraries, the student health center, recreational facilities, and many restaurants on campus. Our goal is to encourage you to experience university life and American culture. ALP students study with us for a variety of reasons: some will take degrees at Ohio State or another American university; others are professionals looking to improve their communication skills in English. Regardless, we are interested in assisting you in achieving your English language learning goals.
Come join The Ohio State University's American Language Program to begin your university experience. Let us help you to achieve your goals!

Our programs:
Currently, ALP offers three types of programming:
Intensive English – full-time courses which meet 20 hours per week, for those who wish to make fast progress and who are able to devote themselves to an intensive schedule, Monday through Friday. Admission to the Intensive English program includes the form I-20 for a student visa, if needed.
Part-time after hours classes – late afternoon and evening classes on a variety of English language topics for members of the central Ohio and Ohio State communities.
Classes for the OSU student – supplemental support classes for students in undergraduate and graduate programs at Ohio State who desire additional English language instruction along side their academic coursework. These courses are sometimes offered to individuals, and sometimes to special groups.
What we offer:
Intensive classes in 14 week semesters, autumn and spring, and a 7 week summer term
9 levels of instruction
Small classes (8-15)
Experienced teaching staff (all with advanced degrees in ESL or related areas, years of experience, and most with experience overseas)
Institutional MELAB and TOEFL exams offered each quarter
TOEFL requirement waiver to undergraduate programs for those satisfactorily completing our advanced level
Student activities ranging from rafting and snowboarding to visiting the world famous roller coaster parks in Ohio
Full Ohio State Student status including:

Health services
Computer centers
Libraries
Use of world-class recreational facilities
Student activities, organizations, clubs
Student health insurance plan
Access to dormitories and dining halls
Free use of the university and Columbus city bus systems
Accreditation:
The American Language Program holds membership in UCIEP (the University and College Intensive English Programs consortium).
We hope to see you soon!
For more information: Ohio State University.