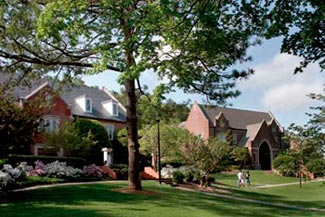 In our effort to bring good content to as many people as possible the text in this blog post has been machine translated so please excuse any mistakes. Thank you!
[caption id="attachment_386" align="aligncenter" width="325" caption="Darlington School, Georgia"][/caption]
If we were playing a word association game and I said, "boarding school," what would you say? I would probably exclaim, "Harry Potter!"
Obviously, you will not find magic, wands and robes at boarding schools here in the United States. But, like Potter and his friends at Hogwarts, if you attend a boarding school you will be receiving a stellar education, living in dormitories with fellow students, and be building a community with your classmates. Boarding schools offer high quality education, but each of their curriculum may be supported by a completely different educational philosophy or focus. For example, 
Foxcroft Academy
in Maine not only prepares its students for university, but elite and ivy league universities, by offering advanced placement and honors courses.
Idyllwild Arts Academy
, located in San Jacinto State Wilderness Park an hour outside of Palm Springs, CA, boasts as "the finest high school in the country for the pre-professional study of creative writing, dance, film and video, music, theatre and visual arts." [caption id="attachment_388" align="aligncenter" width="325" caption="The MacDuffie School, Massachusetts "]
[/caption] While you can be sure that you, or your child, will be receiving an excellent education that will prep them for university, one must take the care in choosing a boarding school that best fits the learning style of the student. The student will be submerged into their learning environment and they will excel to a greater degree if the environment of the boarding school and educational philosophy fits them. Finding the best fit for the student also provides an environment where they will feel most comfortable practicing their English on a daily basis, in both learning and living circumstances. For additional information about choosing the right boarding school, click
here
. To explore featured programs, click
here
.