Austin, TX: An Amazing City
When a foreign student is seeking for an experience of studying in the United States, there are certainly many aspects to consider before making the final choice of where and what to study, and for many, the location is positioned within the top list of considerations.
Austin, Texas, is a medium-sized yet modern city where you can find plenty of programs to study of different levels and for any kind of knowledge seekers. But what really makes this city a great place are the number of things to do, places to go, and the multicultural community that resides in it. In fact, not a long time ago many online sites got Austin cataloged as the best city in the United States to study at, and from my perspective, I would say that this city has all the elements to have this recognition. In my personal experience, Austin is an amazing place to study in the U.S. because of, just to mention a few reasons, the wonderful and kind people that you can meet, the big number of recreational parks and places to exercise, and the variety of social and public events that take place in the capital of Texas.
When I was looking for English as a second language programs that were specifically located in Texas, one of my main concerns was to reside in a city with a good and healthy social environment. If you are the kind of international student that cares about the society you will be living with, you should consider Austin as one of your main options. Austin is a multicultural city where thousands of students from all around the globe live, and this is mostly because of the main campus of The University of Texas, which has approximately 5,000 international students. This public university is well known and recognized not just in Texas, but in the whole nation; its prestige and level of education is one of the things that attract international students to pursue a college or graduate degree in this institution, so it is likely that you can meet someone from your country within the first couple of weeks. Additionally, nearly every American citizen is kind and open-minded with foreign people. In my experience, I can certainly say that Austinites express care and kindness like anybody else; consequently, this feeling of belonging makes you feel like home and truly loved.
The big number of parks, green areas, and places to exercise are also some positive characteristics of the capital of Texas. I can describe Austin as an environmentally friendly city because there are places like Zilker Park or Barton Creek park that are not just green spaces, but are also big and wide places where you can go and hang out with friends to play different kinds of things. Moreover, Austin is characterized for being a sports town, especially for running, and since I'm a running lover, finding out this was quite exciting and even more when I started to develop myself in the community. There are plenty of sports clubs all around Austin, and I can assure you that there is one that covers your necessities. I highly recommend joining these types of clubs because you can easily make friends, and they will help you to get more familiarized with the city. As a result of joining a couple of them, I found good places to do my workouts and to relax after a tough day, such as the Colorado River and Shoal Creek, which are extraordinary places to run or ride a bike, as well as admire the city from a nice view.
Not only the people you can meet and the recreational parks, but also the variety of social events makes Austin an outstanding city. Throughout the year, there are several events that take place in Austin, such as fairs, festivals, musical concerts, and even a Bat Fest. Thousands and thousands of people come to this city in different seasons of the year just to attend a specific event or gathering. The South by Southwest Festival (SXSW) and Austin City Limits (ACL) are two of the most popular and famous events. These festivals offer the newest and greatest albums and music themes, as well as many live performances from bands all over the world. Furthermore, the Bat Fest or also called "the night of the bat," is celebrated in the last days of August, where slightly above two million of Mexican free-tailed bats emerge from underneath the Congress Avenue Bridge, which in my experience, is something magical.
Finally, the sports world does not stay behind; Austin is the home of the Circuit of the Americas, where the United States Formula One Grand Prix takes place annually. The Austin marathon and half marathon is also an iconic event that has increased Austin's popularity.
For the many reasons above, I think that Austin, Texas, is a city where students from all around the world can live the experience of studying abroad like in any other place. I have been living in Austin for almost seven months, and coming to study English here is definitely one of the best decisions I have ever made. The kind people you can meet in your daily life, the number of parks and green areas open to the public, and the variety of social events to enjoy make the capital of Texas outstanding among other American cities.

Miguel Angel Cornelio Martínez from Mexico City, Mexico, is studying an intensive English language program at The University of Texas at Austin. He has been residing in the United States for seven months and will start his college studies in August 2020. Miguel loves practicing sports; however, track and field and mountain biking take a deep part of his heart. Miguel finds Austin a great city to study abroad, and he enjoys spending time in its green parks.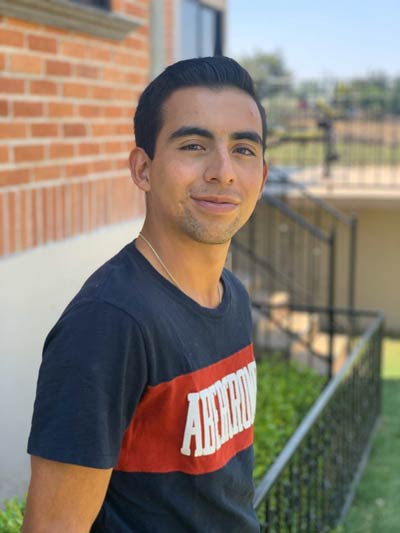 Written by
Miguel Angel Cornelio Martínez
Get matched to the best program for you
Let us know what you're looking for so we can find the best school for you.
$5,000—$10,000 Semester
English Programs
Certificate/Short Term
Summer
$50,000—$60,000 Year
Bachelor Degree
Certificate/Short Term
Masters
$15,000—$20,000 Year
2yr/Community College - 2+2 Programs
Masters
Certificate/Short Term
Start your U.S. adventure with Study in the USA
What's your dream? We can guide, advise, and connect you with your perfect U.S. school. We can also help you with the application process.
Partner Services
Learn About U.S. education financing, housing, and more
Prove your English and achieve your goals with the Michigan English Test – widely recognized and available on your own schedule at a test center or from home.
Choose an entire apartment, a studio, a shared room, or a private room, with 24x7 assistance from Personal Student Advisors. Book Now!
Ready to make your MBA dreams a reality? Register now for a virtual or in-person event with The MBA Tour! Don't miss your chance to speak directly with leading business schools, such as Harvard University, Boston University, Columbia University, UC...
Testimonials
It is sometimes really difficult to associate and understand the nuances of the America college system. StudyUSA makes it possible to easily navigate to schools with programs that suits my needs, programs that understand the international student requirements. I give it a 6/5
Danielle Blinn South Africa
I used Study in the USA to find school recommendations, read about international student visas, as well as find scholarships available to international students! I was able to find my current school, Santa Barbara City College...
StudyUSA.com has helped me on the process of searching for good and inexpensive colleges around the US.
Resources
Learn about American culture and education direct from our experts at Study in the USA. Read more