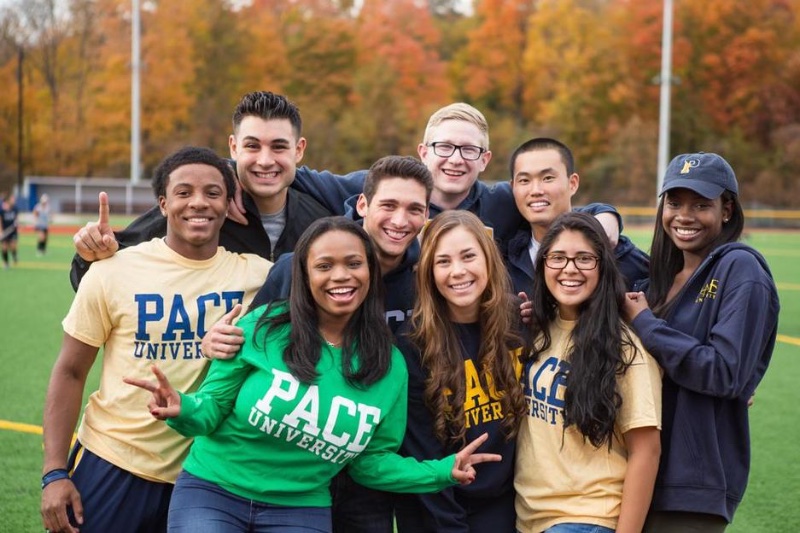 In our effort to bring good content to as many people as possible the text in this blog post has been machine translated so please excuse any mistakes. Thank you!
Founded as a one-room accounting school in 1906, Pace University has grown to three campuses in New York City and Westchester County, New York, and enrolls more than 13,000 students in bachelor's, master's and doctoral programs across more than 150 majors and programs. Its six schools and colleges—the College of Health Professions, Dyson College of Arts and Sciences, Elisabeth Haub School of Law, Lubin School of Business, School of Education and Seidenberg School of Computer Science and Information Systems—offer a variety of courses in business, health care, computer science, humanities, education, science, law, the arts and more.
With two main campuses, Pace University offers its students two distinct collegiate experiences. At the school's New York City campus, students live and learn amid the bustle of Manhattan's Financial District. About 30 miles away, students can enjoy a more relaxed lifestyle on the school's Westchester campus in Pleasantville, New York.
The New York City campus is walking distance to well-known New York City sites including Wall Street, the World Trade Center, World Financial Center, South Street Seaport, Chinatownand Little Italy. Pace has about 950,000 square feet of space in Lower Manhattan. The main building, One Pace Plaza, is a two-square-block building, directly adjacent to the Manhattan entrance ramp of the Brooklyn Bridge. Located directly across from City Hall, the One Pace Plaza complex houses most of the classrooms, administrative offices, a 2,000-square-foot student union, a 750-seat community theater and an 18-floor high-rise residence hall (known as "Maria's Tower"). Pace has residence halls at 182 Broadway and 33 Beekman Street. The 33 Beekman Street building is the tallest student residential building in the world. Pace also leases residence accommodations at the new state-of-the-art residence at 55 John Street, also in Lower Manhattan.
Classes began in Pleasantville in Westchester County, New York in 1963. Located on the 180-acre campus is the Environmental Center, constructed around the remnants of a 1779 farmhouse. The Pleasantville campus provides the quintessential college experience. It features an on-campus Nature Center–home to gardens, a nature trail and plenty of charismatic resident animals which will make you feel like you've been transported to another world. And just a few miles away, easy access to hiking, skiing, kayaking and more.
Offering more than 100 majors for students to choose from, Pace University gives every student the opportunity to succeed in whatever area of study they are pursuing. The university's most popular majors include Business, Management, Marketing, Communication, Journalism, Visual and Performing Arts, Health Professions and Psychology. Students can take advantage of the many resources provided to help them succeed in their classwork and after graduation including, the Center for Academic Excellence, Advising Center for Exploring Majors, Tutoring and Writing Centers, as well as computer labs.
Pace University recognizes the importance of comprehensive internationalization and strives to promote global awareness and cross-cultural competence. The three units within Pace International – Education Abroad, International Students & Scholars and Global Pathways– support students, faculty and staff by providing interdisciplinary educational programs and international student/scholar services that will enhance global competencies, foster a stronger cultural connection and prepare the Pace community for an interconnected global experience.
International Students & Scholars (ISS)supports the internationalization efforts of Pace University by serving as the primary resource center for international students, scholars, their dependents and the University community. ISS assists with matters of special concerns of the international population through providing information prior to their arrival, conducting orientation programs, advising on visa and employment matters, legal rights and responsibilities, health insurance, adjustment issues and personal concerns and coordinating a variety of programs and activities on campus.
The Pace University sports teams, known as the Setters, compete in the NCAA Division II Northeast-10 Conference. Pace sponsors 14 intercollegiate varsity sports. Men's sports include baseball, basketball, cross country, football, lacrosse and swimming and diving; while women's sports include basketball, cheerleading, cross country, dance, field hockey, soccer, softball, swimming and diving and volleyball.
Pace University views athletics and recreation as an integral part of the educational experience. The athletics program is designed to bring students together through participation in a variety of varsity, intramural and recreational sports while serving as a focal point for all students, faculty, staff and alumni. There are currently 14 varsity teams, a spirit squad made up of cheerleading and dance teams and a wide variety of intramural sports.
The 75,000-square-foot, $17 million Ann and Alfred Goldstein Health, Fitness and Recreation Center has been a recognizable landmark of the Pace community since its opening in 2002. The multipurpose, state-of-the-art facility, located on the Pleasantville campus, includes a 2,400-seat arena, an eight-lane natatorium, walking/jogging track, weight room, aerobics room, athletic training facility, locker rooms and a healthcare center.
Finding a Home: When searching for a place to live, many students who are eligible to live off-campus rely on ApartmentSearch.com. The website allows students to search for an apartment based on distance from campus, while also showing the cost of living, local restaurants, the length of your commute and more. If your apartment is unfurnished, furniture rental is an economical and convenient way to furnish your home. CORT, the leading provider of furniture rental in the U.S., furnishes thousands of student apartments with everything from beds and sofas to housewares and electronics – all with affordable rental package options.
Ranked the #1 private, four-year college in the nation for upward economic mobility by Harvard University's Opportunity Insights, Pace University provides a transformative education for its diverse students—academically, professionally and socioeconomically. If you're looking for a university committed to preparing students to become leaders in their fields by providing an education that combines exceptional academics with real-world experiences including internships, research, clinicals, civic engagement and study abroad, then Pace University could be the right fit for you!