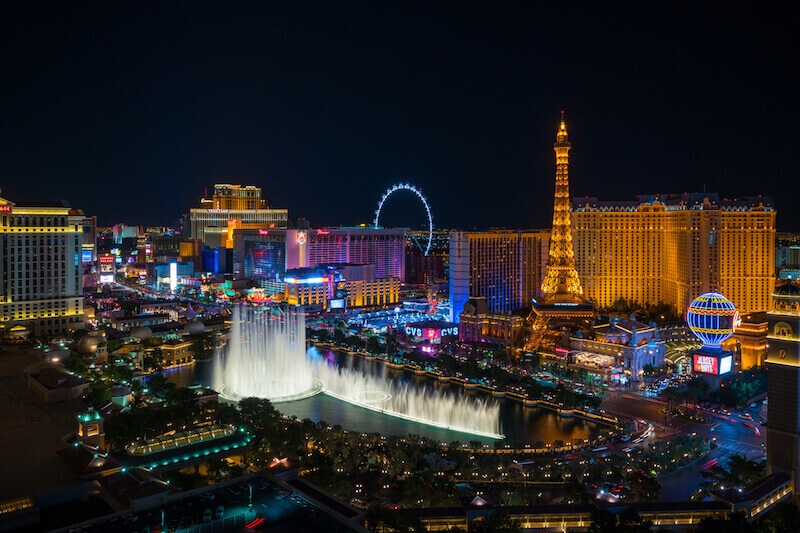 In our effort to bring good content to as many people as possible the text in this blog post has been machine translated so please excuse any mistakes. Thank you!
Summer; the greatest season to have a vacation during the middle of a year. During this last summer vacation, five of us international students from Centralia College went to Las Vegas for a week.
Las Vegas, a city born for entertainment; a paradise of escapism from the Mojave Desert. The greatest place to become "crazy" and spend the summer. While in Las Vegas, we almost visited every famous place and had a wonderful time together. Speaking of famous places, the most gorgeous view in Las Vegas is the city skyline from the top of the Stratosphere Hotel. At dusk, the light from the sun slowly fades to finish a day, and yet the lights of the Las Vegas casinos cannot wait to turn on to start the night. After a short while, those shining lights covered the city as a guide to take us into its "crazy" world. At night, Las Vegas becomes enthusiastic, the city is besprinkled with star upon star from the towering buildings.
During the six days in Las Vegas, we experienced many fun shows, tried the most famous buffet, and spent a whole day at the Grand Canyon- all were very impressive. And yet the deepest indelible memory for me is not the activities we did in Las Vegas even though they were amazing -- it is whom I went with. Initially, before we left Centralia, we all were more like nodding acquaintances. Whereas, during this vacation, we spent every day with each other. We were hanging out together, having meals together, and watching shows together. This summer vacation not only broadened our horizons, it also made us closer.
How incredible, five of us - all are from different countries - coming to the same college for study. A place lets us meet together, and a short vacation lets us become friends. I never imagined I would travel in the USA with people from four different countries. When we went back to Centralia I told my house mother that we all had a wonderful time together during the trip. My house mother was very happy for us. She told me that she is so glad we were traveling together, and when we came back we were like a family which is what she is trying to do as a house-mom.
Joyous times always pass quickly, yet the memories are still fresh in my mind. I am very thankful we went to Las Vegas together. This trip made our study abroad life even more special and unique.
Maggie Long is majoring in media at Centralia College in Centralia, Washington.