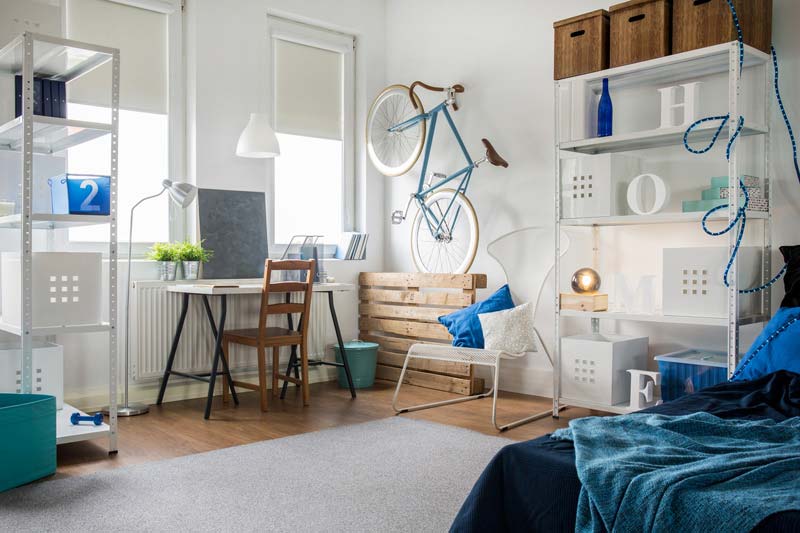 In our effort to bring good content to as many people as possible the text in this blog post has been machine translated so please excuse any mistakes. Thank you!
If you are studying abroad in the United States, you may be living with roommates in an off-campus apartment. If so, you know that it can be difficult to keep your living space clean without clutter, especially if you are living in a smaller apartment without much space.
While you are in school, staying organized is extremely important. The last thing you want is to be late to class because your apartment is a mess and you cannot find your books and assignments. To keep your belongings organized, consider these helpful tips for reorganizing and making the most of the available space in your apartment.
Draw out the space: Before you begin reorganizing, you'll need to understand the space you have available. Using pencil and paper, draw out the different rooms in your apartment to get a better idea of the dimensions. Once you have the layout on paper, you'll be able to envision where you can place your furniture, accessories and other items to ensure you are utilizing the space in the most effective way.
Build up, not out: Opening up your space doesn't mean you must throw away your belongings. One trick is to simply take advantage of the vertical space in your unit – build up, not out. Consider adding shelves or a bookcase to provide a home for any textbooks, folders and other items that are normally scrambled throughout your apartment. You can also add taller pieces, like a lofted bed, in your bedroom to allow for more floor space!
Add mirrors: In addition to bringing a stylistic element to your rooms, mirrors can make a space appear larger than it actually is. Leaning a floor-to-ceiling mirror against a wall that is opposite a window is one way to make a bedroom appear more spacious. Mirrors can also have a similar effect in other areas, such as the living room or entryway. Just be careful not to include too many mirrors in a single room, as this can make a space feel enclosed.
Be strategic: As you plan which furnishings to include in your apartment, you will need to be strategic. For example, if you need multiple dressers to store your belongings, it may be best to invest in a smaller bed to save floor space. However, if you want a queen size bed for your room, consider using a shoe rack for the back of your door or bins for your closet to maximize available floor and shelf space.
Consider dual-purpose furniture: When it comes to furniture, college students tend to only have what they need in their apartments. Sofas, lounge chairs and ottomans are essentials for most students, but having too many pieces will surely take up more space than you'd like. One way to open up your living room is to use dual-purpose furnishings that double as storage. This gives you the opportunity to stow away blankets, pillows and any other items that take up unnecessary space in your apartment.
Consider rental: The schedule and lifestyle of a college student often changes, which means your furniture needs may change over time. Furniture rental is a solution many students take advantage of while in college. It allows students flexibility to choose their ideal furniture without making a long-term commitment. CORT, the leading provider of furniture rental in the U.S., furnishes thousands of student apartments with everything from beds and sofas to housewares and electronics – all with affordable rental package options.
As you begin to reorganize your space, keep these tips in mind and feel free to get creative! If you are dealing with a smaller floor plan, these suggestions will help create an open and organized atmosphere which will be ideal for you and your roommates!
Yu Wu is a native of Nanjing, China, and works with universities and education organizations at CORT Furniture Rental to help international students and scholars settle in faster when studying in the U.S.