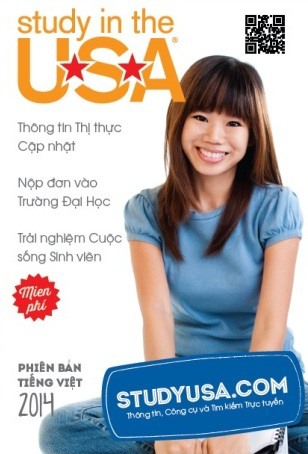 In our effort to bring good content to as many people as possible the text in this blog post has been machine translated so please excuse any mistakes. Thank you!
[caption id="attachment_2048" align="aligncenter" width="308"] Study in the USA Vietnamese Language Magazine[/caption] This month, Study in the USA launched its first Vietnamese language magazine. In a partnership with Capstone Vietnam, a Vietnam-based education and training development company, Study in the USA has published a special edition magazine geared specifically for students in Vietnam who are thinking of continuing their education in the United States. The magazine will be distributed throughout the year at U.S. education fairs and other venues in Vietnam. This special edition magazine features all articles and advertisements in Vietnamese. Our special thanks to Capstone Vietnam for their support in the launch of the Study in the USA Vietnamese Language Special Edition Magazine and to Mark A. Ashwill, Ph.D., Managing Director of Capstone Vietnam, for his celebratory newsletter essay, excerpts of which can be found below:
I'm pleased and excited to announce that the first ever Vietnamese language magazine has been published by Study in the USA, a well-known Seattle, Washington-based company that created the first U.S. studies website and continues to connect students to well-known U.S. universities, colleges and English schools through the website and its English and foreign language magazines.

This special pocket-sized edition features content of special interest to Vietnamese students, including information and articles about four-year colleges and universities, community colleges,  high school completion programs, the popular 2+2 option, visa issues,  intensive English programs and the U.S. education system.  The 60 page magazine will be distributed free of charge to students and parents...in the coming year at U.S. higher education fairs and other venues throughout Vietnam.  The magazine will find its way into the hands of 10,000+ students and parents with a serious interest interest in study in the USA. It's so  important to have U.S. higher education materials in the local language to ensure that students and parents, the key decision makers, have easy access to the information.  In addition to the articles, all of the advertisements in the first Study in the USA Vietnamese language magazine are in Vietnamese. Kudos to Study in the USA for their vision and commitment in making this dream a reality!  Capstone Vietnam is proud to be their partner in Vietnam.

To learn more about Capstone Vietnam I encourage you to visit our new website and download our company profile (PDF).  Follow these links for information about our fall StudyUSA Higher Education Fairs in HCMC, Danang and Hanoi (reg deadline 8/15) and our Community College Fairs in Haiphong, Hanoi, Danang and HCMC (reg deadline 9/1). All my best, Mark A. Ashwill, Ph.D. Managing Director Capstone Vietnam
We look forward to hearing feedback from all of our Vietnamese international student readers so we can continue to provide them with the information they need to pursue their education dreams! Please add your comments in the space provided below.