University of San Diego

Fast Facts
School Size

Small

Tuition

$1,000—$5,000 Session

Affiliation

Private

Type of School

University/Intensive English Program

Student Body Gender

Co-ed

Religious Affiliation

Catholic

Scholarships for International Students

No

Conditional Admission Available

Yes

Setting

City

Accreditation and Certification

CEA, EnglishUSA Member, WASC

Type of Housing

Homestay, Dormitory

Social Media
Why choose the English Language Academy at
the University of San Diego?
Choosing to study abroad can be one of the most rewarding and challenging experiences in a student's life.
The English Language Academy (ELA), located on the beautiful campus of the University of San Diego (USD), offers classes taught by qualified, experienced, and enthusiastic instructors.  We offer a range of programs, including:
Intensive English
General English (emphasizing Communication Skills)
Pathway (helping students to prepare for Academic Study in the US)
TEFL (Teaching English as a Foreign Language)
Accent Modification
Customized Programs
Summer Program for International Junior Students
Highlights
An intensive all-English environment to practice and refine language skills
Highly qualified, experienced professors with Master's degrees
Small classes (10-15 students)
A friendly and dedicated staff, available to help students with academic planning, housing, visa processing, social activities, and campus functions
Certificate of Achievement after successfully completing the program
Field trips that provide opportunities to reinforce English skills and learn about American Culture
Mild, sunny weather – average temperature is 21° Celsius
Location
USD is located in San Diego, California – a beautiful, clean, safe, people-friendly and multicultural city.  We enthusiastically welcome international students, and invite you to experience our wonderful weather, taste the many different types of food, and choose from world-class entertainment options, ranging from the Old Globe Theatre to the World Famous San Diego Zoo. Come enjoy our amazing beaches, mountains, and desert, all within a one-hour drive of each other!
Accreditation
USD's English Language Academy is a member of the American Association of Intensive English Programs (AAIEP) and Association of International Educators (NAFSA). We are accredited by CEA – the Commission on English Language Program Accreditation.
Main Programs
Intensive English Language Program (IEP)
The IEP helps students 18 and older to develop and expand their English language skills in courses taught by highly qualified, experienced instructors with graduate degrees and extensive English language teaching skills. The program offers:
14-week (Fall/Spring) and 10–week (Summer) semesters
A personalized course schedule
A rigorous, academic course of study to prepare for a U.S. university education
USD Pathway Program/Conditional Acceptance to USD
The USD Pathway Program offers academically prepared international students the opportunity to become full-time, degree-seeking USD students through completion of an English language and college readiness curriculum. The curriculum is administered by the English Language Academy and includes
Intensive English Language instruction (1-3 semesters – as determined by academic achievement)
A personalized Pathway to college admission, based on a variety of assessments, and closely monitored to ensure success
Improvement of TOEFL/IELTS test scores necessary for admission to a US academic program
A Letter of Recommendation from a member of the English Language Academy
English for Career Development Program 
Coming in Fall 2018!
English for Career Development is geared towards students with a minimum of one year of education or experience in a specific area of business, and an Intermediate level of English or higher. The Program offers valuable hands-on experience in a professional, English-speaking business environment. Highlights include:
4 weeks of English language instruction, including classes specifically geared towards Business English for professionals
Support and guidance from an ELA Career Development Coordinator
6 to 8 weeks (minimum 20 hours per week) of volunteer (internship) experience at an American company
General English Program
This four-week General English Program is for students 18 years of age and older who wish to improve their ability to communicate in English. The program focuses on developing conversational skills for use in settings such as international travel and social situations, while building vocabulary and practicing idioms in the context of American Culture. The program is geared to provide:
4 weeks of English language instruction
A communicate classroom environment, allowing for the maximum amount of student talk time
An integrated skills approach resulting in a theme-based curriculum, encouraging students to speak English as much as possible
Summer International Junior Program
Beginning early July through mid-August, students 13 to 17 years of age have the unique opportunity to experience American college life by living on the safe, beautiful campus of USD, while attending English classes taught by USD instructors, and practicing their conversational skills during field trips, sporting activities, and social events. The program features:
Small class sizes with an average of 8 students, 10 maximum
An intensive English language program with afternoon Cultural Workshops to reinforce English language skills and learn about American culture
Great activities and excursions in sunny Southern California
Flexible start dates with 2, 3, and 4-week options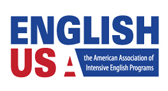 For more information:
University of San Diego

University of San Diego

English Language Academy, University of San Diego
5998 Alcala Park
San Diego CA 92110
P: 6192607621
Summer
Bridge Programs
English for Specific Purposes Programs
English Language (ESL)
General English Programs
Summer Camps/Programs
Summer Intensive English
Teaching English Language
Certificate/Short Term
Bridge Programs
English for Specific Purposes Programs
English Language (ESL)
General English Programs
Summer Camps/Programs
Summer Intensive English
Teaching English Language
English Programs
Bridge Programs
Business English
English for Academic Purposes
English for Professionals
English for Specific Purposes Programs
English for Young Learners (ages 10-17)
English Language (ESL)
General English Programs
Intensive English
Summer Intensive English
TOEFL and Test Preparation