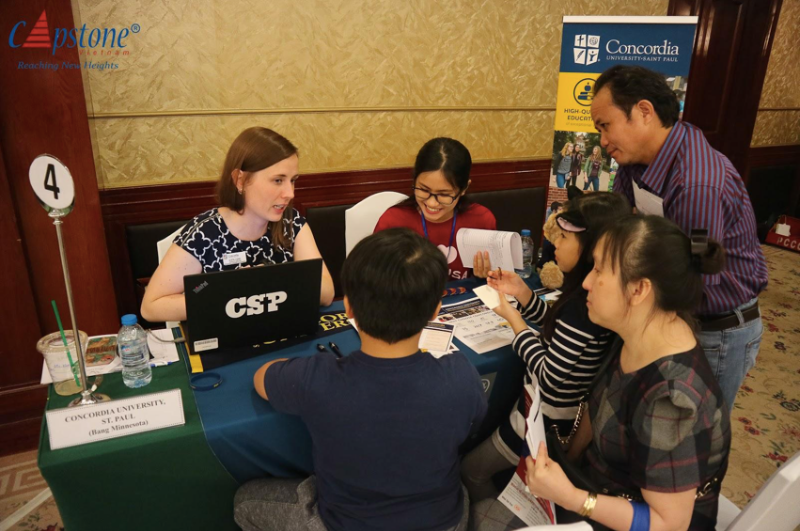 In our effort to bring good content to as many people as possible the text in this blog post has been machine translated so please excuse any mistakes. Thank you!
Chào mừng bạn đến với "Triển lãm du học StudyUSA - Các trường Đại học & Cao đẳng Hoa Kỳ" diễn ra tại:
⚡TP. Hồ Chí Minh: Chủ nhật ngày 11/3 tại lầu 1 phòng Lotus, KS Rex - 141 Nguyễn Huệ, Q.1
⚡Nha Trang: Thứ 3 ngày 13/3 tại KS Sheraton Nha Trang - 26 - 28 Trần Phú
⚡Đà Nẵng: Thứ 5 ngày 15/3 tại KS Novotel Da Nang Premier Han River - 36 Bạch Đằng, Q. Hải Châu
⚡Hà Nội: Thứ 7 ngày 17/3 tại KS Pullman - 40 Cát Linh, Q. Đống Đa
✴️✴️✴️ Sự kiện tổ chức từ 15 - 19h
Gặp trực tiếp đại diện gần 30 trường đại học & cao đẳng được kiểm định cấp khu vực và cơ hội nhận các suất học bổng có giá trị lên đến 100%
Miễn phí hồ sơ nhập học từ một số trường
Tư vấn Visa từ Đại Sứ Quán Mỹ
Miễn phí tư vấn với hơn 500 trường đối tác
Tư vấn về chương trình định cư Mỹ EB-5 với luật sư Mỹ
Cơ hội nhận 1 vé máy bay miễn phí từ Việt Nam đến Mỹ của hãng American Airlines
Các quà tặng giá trị khác: vé xem phim CGV, dụng cụ học tập ...
Đăng ký tham dự sự kiện ngay gần bạn: capstonevietnam.com/he318-stu-reg
Thông tin về triển lãm: capstonevietnam.com/he318-stu-vn
Hotline: 0936701696 (HN) | 0966703162 (HCMC)