Temple University
Learn English and experience American culture at one of the most diverse and highly ranked public universities in the U.S.
Learn English and experience American culture at one of the most diverse and highly ranked public universities in the U.S.
WHY DO YOU WANT TO STUDY ENGLISH?
To prepare for an American university?
To prepare for a graduate or professional degree?
To improve your resume in order to obtain a fulfilling job?
To acquire an understanding of American culture?
To enhance your everyday life?
If you answered yes to any of the reasons above, Temple University's Center for American Language and Culture has a program to help you achieve your goals!
WHY TEMPLE UNIVERSITY CENTER for AMERICAN LANGUAGE and CULTURE?
Temple University (#46 Top Public Schools, U.S. News & World Report) and its Center for American Language and Culture attract students from all over the world to the historic city of Philadelphia, the birthplace of the United States. You can experience the city's artistic and historic attractions as well as its many restaurants. You can also enjoy the excellent educational resources available at one of America's top research universities and the many cultural experiences available on and near campus.
The Center's Intensive English Language Program (IELP), founded in 1974, has a long tradition of helping students build their reading, writing and speaking skills in English, through seven-week sessions offered six times per year. The Center also offers a Conditional Admission Program for students with a TOEFL score below 79 who wish to enroll at Temple.
Whichever program you select, you will have the opportunity to participate in excursions to nearby destinations such as New York City; Washington, D.C.; the beach town of Ocean City, New Jersey; and the Pocono Mountains.
LOCATION
2.5km to downtown Philadelphia
150km to New York City
200km to Washington, D.C.
OUR PROGRAMS
TCALC Online English Classes
Perfect your English from home or anywhere with one or more classes that suit your needs, schedule and budget!
Apply in 3 easy steps!
Same high-quality program with experienced and qualified instructors 
One-on-one interaction and real–time instruction with students from around the world 
Individualized assistance from our Student Services team
Small class sizes  
Access to the library, Student Succcess Center and other university resources 
Weekly online private tutoring sessions 
Online social events like game night and movie night  
IELP (7-week sessions)
Improve your English and your American cultural fluency in sessions that fit your schedule
Sessions available six times per year. Start when it's convenient for you!
Courses in TOEFL preparation, American film & more
Take advantage of university facilities, conversation partners & excursions in the Philadelphia and surrounding region
Learn from caring and experienced ESL instructors who hold a Master's degree or Ph.D. in Teaching English as a Second Language or a related field
Successful completion of Advanced 2 in the IELP meets the university language requirement for admission
conditional admission Program
Guarantee your spot in Temple's undergraduate class upon successful completion of 1-2 semesters in Conditional Admission
5.5 IELTS (65-83 TOEFL and 6.0 IELTS for students applying to the Fox School of Business)
For students who academically qualify for undergraduate admission, but have a 65-78 TOEFL
Earn credits that can be used toward your bachelor's degree
Courses in English for Business; English for STEM; English for Liberal Arts & Arts; and Academic Presentation Skills
No further TOEFL or IELTS testing required to gain admission!
Conditional admission also available to academically qualified students with no language test scores.  Length of time varies based on placement into the program
Special Programs
EducationUSA Academy at Temple University (for high school students)
American Culture at Temple (ACT)
4-Week Super-Intensive English
Graduate Academic English (GAE)
HOUSING
We offer flexible housing for students in short-term programs, featuring fully-furnished apartment suites and no obligation to sign a full-year's lease. Students may also take advantage of homestay, the opportunity to live and practice their English every day with an American family. Students can also choose to live in off-campus student apartments near Temple University or in another one of Philadelphia's vibrant neighborhoods.
COST
Please visit tcalc.temple.edu to find up-to-date pricing of our programs and living expenses.
 
Interview
Carmen Olivero from Venezuela studied English in the Center's Intensive English Language Program and International Business at Temple University in Philadelphia, Pennsylvania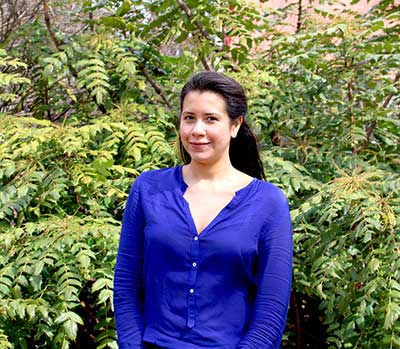 View Our Online Brochure: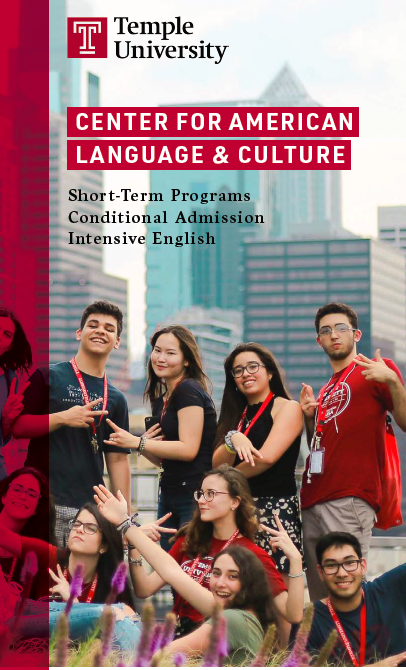 Read more
Read less
Contact Temple University Now
Tuition
$1,000—$5,000 Session
Fast facts
Affiliation
Public
Top Programs
English Language (ESL), English for Specific Purposes Programs, Summer Intensive English
Type of School
University/Intensive English Program
Visit the school website
---
School Size

Large

Student Body Gender

Co-ed

Religious Affiliation

No Affiliation

Scholarships for International Students

Yes

Conditional Admission Available

Yes

Setting

City

Accreditation and Certification

EnglishUSA Member

Type of Housing

Homestay, Apartment
---
Visit us
1938 Liacouras Walk Philadelphia, PA
Become the best version of yourself at Temple University
Learn about the U.S. education system and how to apply, read interviews with international students, and more.
Subscribe to get the latest from Study in the USA
You can unsubscribe at any time.
---