McNeese State University

Fast Facts
School Size

Medium

Tuition

$5,000—$10,000 Semester

Affiliation

Public

Type of School

University

Student Body Gender

Co-ed

Religious Affiliation

No Affiliation

Scholarships for International Students

Yes

Conditional Admission Available

Yes

Setting

Small/College town

Accreditation and Certification

SACSCOC

Type of Housing

Residence Hall, Apartment, Dormitory

Test Scores

TOEFL: 60+

Social Media
An Overview:  
At McNeese, our approximately 7,000 students can choose from more than 70 degree programs offered by the Colleges of Business, Education, Engineering and Computer Science, Graduate Studies, Liberal Arts, Nursing and Health Professions and Science and Agriculture. Our Engineering program, which holds ABET accreditation, has five concentrations: Chemical, Civil, Computer, Electrical and Mechanical with state-of-the-art laboratories for hands-on learning. 
Other popular programs include Computer Science, Medical Laboratory Sciences, Nursing, Chemical and Environmental Sciences, Health and Human Promotion, Psychology, Liberal Studies and Business, which is AACSB International accredited.
With an international student population of nearly 400 students from more than 40 different countries, McNeese is dedicated to serving the needs of its international students and helping them to achieve their educational objectives. Our motto is "Excellence with a Personal Touch", which can be evidenced in the classrooms, advising and campus life experience.
Career readiness is at the heart of the educational mission of McNeese State University. Many of our academic programs offer internship opportunities as part of the degree programs.  Being near major multi-national companies and at the heart of energy innovation, students have world-class opportunities to apply their education in professional contexts. Our state-of-the art facilities offer hands-on learning opportunities that ensure that our students are career-ready. A 100% nursing graduate passage rate on the National Council Licensure Examination (NCLEX) is just one example of the outstanding student outcomes at McNeese State University. 
The McNeese Rankings and Accreditations:
At McNeese, we believe that excellence and affordability go hand-in-hand.  In fact, McNeese has been ranked as one of the Best Regional Universities in the South for 11 consecutive years by U.S. News & World Report. McNeese was also ranked in the top 50 among the top public schools in the southern region.  
In the 2021 Intelligent.com Best Degrees rankings, McNeese was rated No. 3 in the Top 46 Colleges in Louisiana and cited for its Best Return on Investment. The engineering program is ranked among the Top 45 public and private institutions in the nation for salary potential for its engineering majors by the 2021-2022 College Salary Report by PayScale.com. The graduate program in Applied Behavioral Analysis is ranked as one of the top psychology programs in the country and is one of only 22 universities in the world accredited by the Association for Behavior Analysis International.
In addition to national rankings, McNeese is proud of its many national accreditations. McNeese State University is accredited by the Southern Association of Colleges and Schools Commission on Colleges (SACSCOC) to award associate, baccalaureate, master's, and doctoral degrees and post-baccalaureate, graduate, and post-master's certificates.
Scholarships:
Excellence and innovation can be affordable, which is why McNeese offers generous scholarship opportunities to qualified undergraduate students. The minimum GPA for consideration is 2.5 and average awards are approximately $11,000 USD per year. 
Scholarships are also available on a competitive basis for graduate applicants with a minimum 3.25 GPA. Students who apply early have the best chances of being awarded a scholarship. 
We make excellence affordable!
A Great Place to Live and Learn:
With a warm, sunny climate, Louisiana is an ideal place to live and learn all year round. Our average temperature is 69 degrees Fahrenheit (20 degrees Celsius). 
The Lake Charles area is known for its festivals, natural beauty and scenic lake area that offer a variety of opportunities to explore and experience American life. Lake Charles is a mid-sized metropolitan area that is big enough to offer everything you need and small enough to feel accessible and safe. 
Our proximity to coastal wetlands as well as major oil and gas investments provides McNeese students with unique hands-on learning and research opportunities. 
At McNeese, you live and learn at the heart of innovation.
Office of International Programs
Box 90180
Lake Charles, Louisiana 70609
InternationalOffice@mcneese.edu
Phat from Vietnam is a freshman, studying Accounting at McNeese State University in Lake Charles, Louisiana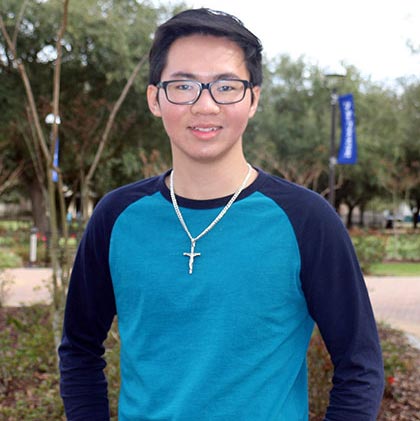 Ana from Brazil is a senior majoring in Political Science at McNeese State University in Lake Charles, Louisiana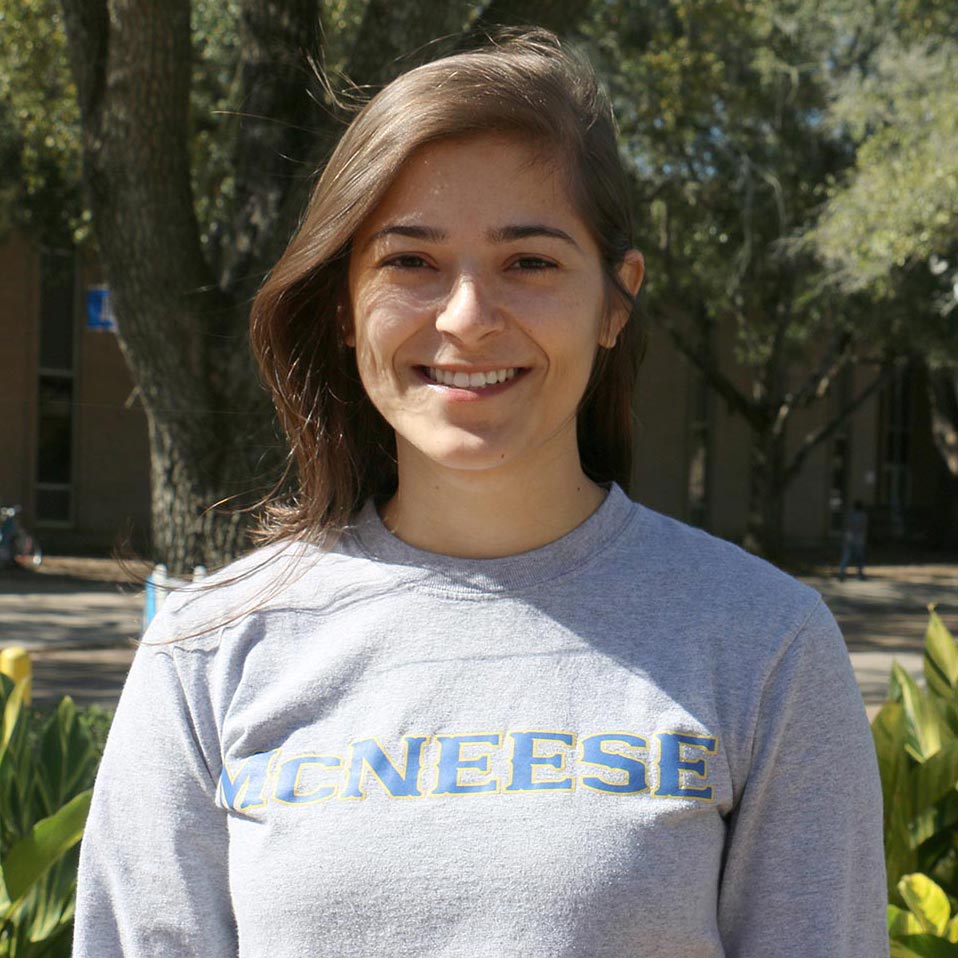 McNeese State University

McNeese State University

McNeese State University (Physical Address)
4205 Ryan Street
Lake Charles LA 70609-4510
P: 337-475-5147
Bachelor Degree
Accounting
Agriculture and Natural Resources
Art History
Arts and Design
Arts and Humanities
Business
Business Analytics
Chemical Engineering
Chemistry
Child Development
Civil Engineering
Clinical Laboratory Sciences
Communication
Composition
Computer Engineering
Computer Science
Criminal Justice
Cyber Security
Economics
Education
Electrical Engineering
Engineering
Engineering Mechanics
English Literature
Environmental Studies and Sustainability
Finance
General Management
Geography
Graphics/Multimedia & Web Design
History
Human Biology
Human Development and Family Studies
Human Nutrition
Human Resource Management
Internships
Journalism
Law
Liberal Arts
Marine Sciences
Marketing
Marketing and Communications
Mathematics
Mechanical Engineering
Media and Information Studies
Music
Music Composition
Natural Science
Nursing
Nutritional Sciences
Online Teaching and Learning
Philosophy
Physics
Physiology
Political Science
Psychology
Science
Sociology
Sports
Studio Art
Technology/Computers
Theatre
Women's and Gender Studies
Youth Development
Certificate/Short Term
Accounting
Business
Child Development
Education
Engineering
Engineering Mechanics
Finance
Health and Wellness
Human Resource Management
Nursing
Youth Development
Masters
Chemical Engineering
Chemical Physics
Chemistry
Child Development
Civil Engineering
Computer Science
Criminal Justice
Education
Electrical Engineering
Engineering
Engineering Mechanics
Environment Development
Environmental Studies and Sustainability
Health and Wellness
Human Nutrition
Mathematics
Mechanical Engineering
Nutritional Sciences
Physiology
Premedical
Psychology
Sports
Statistics
Youth Development