University of Indianapolis
Undergraduate International Admissions

Fast Facts
School Size

Medium

Tuition

$25,000—$30,000 Year

Affiliation

Private

Type of School

University

Student Body Gender

Co-ed

Religious Affiliation

Christian

Scholarships for International Students

Yes

Conditional Admission Available

Yes

Top Programs

Business, Engineering, Information Technology

Setting

City

Accreditation and Certification

HLC, ACBSP

Type of Housing

Residence Hall

Test Scores

IELTS: Band 5.5+, TOEFL: 61+

Social Media
UNIVERSITY OF INDIANAPOLIS
Founded in 1902, the University of Indianapolis ("UIndy") is a fully accredited, mid-sized university that has been welcoming international students to its campus for 100 years. Currently 340 international students from 50 nations make up approximately 6% of our total student population with the largest number of students coming from Saudi Arabia, China, India and Canada. The University of Indianapolis is regionally ranked as a top-tier institution among universities of its type.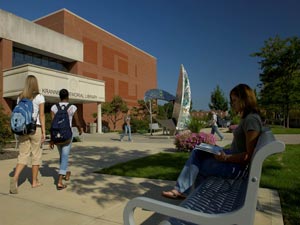 CITY OF INDIANAPOLIS
Indianapolis, a state capital with a population of approximately one million, is located in the Midwestern United States within driving distance of other major cities including Chicago and St. Louis. The city presents a full range of professional opportunities to students at companies such as Salesforce, Rolls Royce, Marriot Hotels, Roche Diagnostics, FedEx and the Indiana Pacers. Indianapolis has been rated as a top-10 city for business, #5 city for expected growth in tech jobs, #4 for opportunities for women in technology. At the same time, Indianapolis provides a variety of recreational activities in a safe, affordable, convenient environment and has been ranked as one of the most liveable cities in the country.  We experience four seasons with a average high in July of 29C and an average low in January of -7C.  
ACADEMIC PROGRAMS
The University of Indianapolis offers 100+ Bachelor-degree areas of study including:
Business - 8 majors, a 5-year BS to MBA, and experienced faculty who leverage industry connections to benefit students
Science and technology such as engineering, computer science, information systems, biology and chemistry focusing on research, design and project-oriented learning
Sports-related majors such as exercise science, sports management and sports marketing which allow students to take advantage of local internship and employment opportunities with professional athletic teams and amateur sports organizations
Health sciences, our most well-known programs, offered though the Doctoral level
Arts, humanities and social sciences including music, art, international relations and communication
STUDENT PROFESSIONAL SUCCESS
With an average class size of 17, the University of Indianapolis provides the individual attention students need to help them meet their personal and career goals.  To amplify this effect, UIndy features a unique career development system which offers:
60+ career-navigation programs each year such as professional networking events and workshops on personal internet branding 
Faculty who maintain connections in their industry and use them to benefit students. (Our graduates report that the relationships they developed with faculty prove to be very important in their careers.)
Opportunities to publish and present at professional conferences
Student-run companies, such as an award-winning PR firm, which take on consulting projects to help local organizations solve their business challenges
Internship opportunities for international students at organizations such as Google, Citibank, the Pittsburgh Supercomputing Center, the Indianapolis Mayor's Office, Ingersoll Rand, Dow Agrosciences, and Ely Lilly Pharmacueticals
Campus employment for international students in office environments, IT and other areas
As a result, our international graduates have secured positions with prominent companies such as Microsoft, Oracle, JPMorgan Chase, Goodyear, PricewaterhouseCoopers, General Electric, Walt Disney, Samsung, Deutsche Bank, Toyota, Amazon and AT&T.
SCHOLARSHIPS
At the University of Indianapolis, costs are the same for both international and US students. Most international students receive a scholarship. Amounts range up to $13000 per year for transfer students and up to $17500 per year for students who have not previously attended another post-secondary institution. Admitted students are automatically given the largest scholarship for which they qualify.
ADMISSION REQUIREMENTS
First-year (freshman) students with no previous post-secondary studies should have a secondary grade average equivalent to a US "B" grade and meet our English proficiency requirement (iBT TOEFL 61, IELTS 5.5, PTEA 49, IB, GCE, etc., or be a native speaker of English).  SAT/ACT examinations are optional when a home-country external examination can be substituted; however, SAT/ACT are required for larger scholarships.  Transfer students (those who have attended another post-secondary institution) should meet the same English proficiency standards as first-year students and are required to submit secondary transcripts/examination results.  Transfer students should order a course-by-course credential evaluation report of their post-secondary transcripts from an agency which is a member of the National Association of Credential Evaluation Services.  The post-secondary average grade must be the equivalent of a US "C" grade.
INTERNATIONAL STUDENT SERVICES
International students at the University of Indianapolis receive specialized admission processing, orientation, free airport pickup and visa assistance. English language instruction is offered at Internexus, an affiliated program located just outside of our campus.
CAMPUS LIFE
Campus housing is optional for most students and offered in a variety of configerations including apartments.  Dining options include international and vegetarian food.  UIndy has a good safety record in part due to the efforts of our campus police force and our emergency alert system.

University of Indianapolis
Undergraduate International Admissions
Bachelor Degree
Accounting
Anthropology
Arts and Design
Biochemistry and Molecular Biology
Biology
Biomedical Laboratory Science
Business
Business Administration
Business Information Systems
Cell and Molecular Biology
Chemistry
Communication
Computer Engineering
Computer Science
Criminal Justice
Earth Science
Education
Engineering
English Literature
Environmental Studies and Sustainability
Finance
History
Human Biology
Human Resource Management
Information Technology
International Relations
Journalism
Kinesiology
Marketing
Mathematics
Mechanical Engineering
Music
Nursing
Philosophy
Physics
Political Science
Predental
Premedical
Psychology
Public Health
Public Relations
Religion
Science
Social Work
Sociology
Software Engineering
Sports
Studio Art
Supply Chain Management
Theatre
2yr/Community College
Business
Business Administration
Chemistry
Information Technology
English Programs
General English Programs
TESOL and Teacher Training