University of North Florida
English Language Program

Fast Facts
School Size

Medium

Tuition

$1,000—$5,000 Semester

Affiliation

Public

Type of School

University

Student Body Gender

Co-ed

Religious Affiliation

No Affiliation

Scholarships for International Students

No

Conditional Admission Available

No

Top Programs

English Language (ESL)

Setting

Suburban

Accreditation and Certification

EnglishUSA Member, UCIEP Member, SACS

Type of Housing

Residence Hall, Apartment

Social Media
The English Language Program is an intensive program designed to teach various skills of the English language, such as reading, writing, listening, and speaking. Because the ELP is located in the heart of UNF campus, students will be able to meet and interact with average American university students.
The ELP program is a member to FIEC (Florida Intensive English Consortium), UCIEP (University and Colleges Intensive English Programs), and English USA, and it is accredited by SACS (Southern Association of Colleges and Schools).
Location
The English Language Program at UNF is located 10 minutes away from Jacksonville Beach, and it takes 5-minutes by bus to the St. John's Town Center, one of the largest outdoor shopping malls in Northeast Florida. UNF is situated on a nature preserve and has spectacular views and wildlife. It will take you two hours to get to Orlando, the home of the Disney World, Sea World, and Universal Studios.
Advantages
Affordable program at one of the Florida's ten public universities
Small class size
Institutional TOEFL test
Access to all the amenities on UNF campus (Wellness Center, Library, Student Health Center, and Campus Activities
Volunteer opportunities
Field trips to Florida's main attractions
Housing is available on campus
Family-like atmosphere with our friendly and professional staff.
Curriculum
The English Language Program is an intensive program designed to teach various skills of the English language, such as reading, writing, listening and speaking.
The curriculum at the English Language Program combines the formal acquisition of academic skills with the communicative approach to English language learning. Classes are combined by skills: reading and writing and listening and speaking. Grammar is a separate subject. Students also receive additional practice during Writing and Pronunciation workshops.
The program has 6 levels of instruction: Beginning, High-Beginning, Intermediate, High-Intermediate, Low-Advanced, Advanced and Pre-University, with a concurrent enrollment option. All the students are in class 22 hours a week except the ones who are enrolled concurrently; those students have a course load of 12 hours as an ELP student and one 3-credit course as a UNF student. The ELP's academic program is rigorous to prepare the students for the university better. Our dedicated and highly qualified instructors will help you learn English effectively. 
TEFL Program
The TEFL certificate program is designed for those who wish to teach the English language abroad. It is a four-week intensive program, with 44 additional post-instructional observation hours, that provide students with the latest techniques in effective English language acquisition and practical teaching strategies to adapt to any cultural environment. 
ELP Faculty
ALL the ELP's instructors are highly qualified and have advanced degrees in TESOL or closely related fields.
Calendar and Costs
The ELP offers 13- week semester-long Spring, Summer, and Fall sessions. The program also offers mid-session start dates.
The tuition for a full semester is $3,950, and for half-session it is $2,000
For dates and other fees, please visit our webpage at www.unf.edu/elp/schedule_and_cost
Housing
The Department of Housing and Residence Life offers accommodations for those students who wish to live on campus. UNF Housing offers different living accommodations such as shared-room options as well as private options. For prices, please visit www.unf.edu/housing If students wish to live off campus, the ELP office can give suggestions to students who are looking for apartments in the UNF area.
University of North Florida
UNF is one of 11 publically funded institutions of higher education in Florida. UNF is located on a natural preserve surrounded by a wildlife area with lakes and nature trails. UNF offers a number of amenities for the students, including two resort style swimming pools, a state-of-the-art fitness facility.
The University of North Florida has six colleges: College of Health, College of Business, College of Arts & Sciences, College of Computing, Engineering and Construction, College of Education and Human Services, and Honors College. There are 74 undergraduate and graduate degrees and about 15,000 students including international students from almost 40 countries.
Just like every public college in Florida, UNF requires an Institutional TOEFL admission score of 500 for undergraduate admission and 550 for graduate admission. The SAT/ACT is a Florida state requirement for undergraduate students with less than 60 transfer credits. GMAT or GRE scores are required for graduate schools.
Special Programs
ELP can arrange special programs for groups of 20 or more. For more information contact the ELP office at elp@unf.edu or call 904.620.4281.
Jacksonville
Jacksonville is located in the north-east Florida. It is the largest city in the continental United States with over 840 square miles. Jacksonville is considered one of the youngest cities in the USA with the median age of 36.
Jacksonville has mild winters and hot summers. Nine months out of the year you can enjoy Jacksonville's three main beaches: Atlantic Beach, Neptune Beach, and Jacksonville Beach. They are located about 10 miles from UNF. There are many restaurants, parks, and shops at the beaches.
Jacksonville hosts a number of cultural events such as the Jacksonville Jazz Festival, which is the second largest in the nation, and the World of Nations Celebration, which features a number of events, food, and crafts from various countries.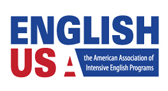 For more information:
University of North Florida
English Language Program
English Programs
Business English
English for Academic Purposes
English for Postgraduates
English for Professionals
English Language (ESL)
General English Programs
IELTS in the USA
Intensive English as a Second Language
Summer Intensive English
TOEFL and University Preparation
Related Articles
An interview with Timea Kungle Muro, in The English Language Program of the University of North Florida in Jacksonville