California State Polytechnic University Pomona

Fast Facts
School Size

Medium

Tuition

$30,000—$35,000 Year

Affiliation

Public

Type of School

University

Student Body Gender

Co-ed

Religious Affiliation

No Affiliation

Scholarships for International Students

No

Conditional Admission Available

Yes

Top Programs

Business, Engineering, Science

Setting

Suburban

Type of Housing

Residence Hall, Apartment, Dormitory

Test Scores

TOEFL: 70+ , IELTS: Band 6+

Social Media
About California State Polytechnic University, Pomona (Cal Poly Pomona)
California State Polytechnic University, Pomona (popularly known as Cal Poly Pomona) was founded in 1938 as one of 23 California State Universities. Situated in the suburbs of Los Angeles, the campus's picturesque landscape serves as the backdrop where tradition and leading edge innovation meet.
The cornerstone of Cal Poly Pomona's strong academic tradition is the "learn-by-doing" philosophy. The hands-on approach to learning blends the best of a research university with a liberal arts education to prepare students to be skilled workers, integrative problem solvers and well-balanced leaders. Our hands-on approach to learning gets you out of the classroom and into real-world scenarios solving real-world problems. Cal Poly Pomona today…Global Leader tomorrow!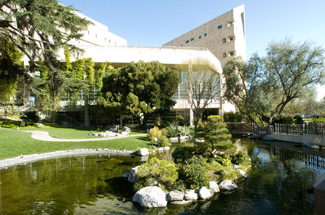 Our Faculty:
Cal Poly Pomona professors aren't just academics, they are experienced professionals who guide students through research, internships, and community development projects. Our faculty's commitment to education promotes understanding in a way that book-learning alone can never do.
Our Location:
Located just 30 miles from downtown Los Angeles, Disneyland, beaches & mountains, Cal Poly Pomona is conveniently situated close to major engineering, financial, educational and entertainment centers providing amazing internship and employment opportunities!
Our Academics:
Blending theory with real-world application is woven into the fabric of all of our academic programs. Cal Poly Pomona is host to more than 55 Bachelor's degree and 25 Master's degree programs in:
Agriculture
Business Administration
Education & Integrative Studies
Engineering
Hospitality Management
Humanities, Arts & Social Sciences
Science
And much more!
What makes Cal Poly Pomona special?
1 out of 11 "Polytechnic" universities in the United States
14th in the nation for top Undergraduate Engineering programs (Master's category)
4th of all public universities in the Western US (Master's category)
Top 10% of all US Business programs (accredited by Association to Advance Collegiate Schools of Business)
90% of faculty have doctorate degrees
Small class sizes (average 36)
Undergraduate research opportunities
Great location in Southern California, just 30 minutes from Downtown Los Angeles, Disneyland, mountains and beaches
Undergraduate Admission
Cal Poly Pomona accepts applications for our undergraduate degree programs both at the freshmen and transfer levels. We enroll new undergraduates only during the Fall term and the application period takes place in October/November of the previous year. Requirements are:
Freshman Admission
Comprehensive College Preparatory courses (including English, Math, History, Science, Foreign Language, Elective, Arts)
Scholastic Aptitude Test (SAT) or American College Test (ACT) – depending on major
TOEFL or IELTS exam
Transfer Admission
Completion of 60 semester credits (or 90 quarter credits)
Minimum GPA 2.0
Completion with "C" grade or better in the "Golden 4 courses": Oral Communication/Speech, English Composition, Critical Thinking, College-level Math
TOEFL or IELTS exam
Graduate Admissions
There are over 25 Masters of Arts and Masters of Science programs including those in agriculture, biology, business administration, chemistry, economics, public administration, engineering, hospitality management, math, etc. Requirements are:
Baccalaureate degree from an accredited or international recognized institution
If baccalaureate degree is 3 years, it must be accompanied by 1 year of post graduate work
Minimum GPA 2.5
TOEFL or IELTS exam
Cal Poly Pomona English Language Institute (CPELI)
CPELI offers students intensive English language instruction in a small class environment with high-quality instructors. This year-round program is divided into (5) 8-week sessions where students are immersed in 20 hours (core courses) and 8 hours (elective) of classroom instruction. TOEFL/IELTS test preparation, academic advising and visa counseling are provided. CPELI also offers conditional University admission for some majors!
California State Polytechnic University Pomona

Bachelor Degree
Accounting
Aeronautical Engineering
Agriculture and Natural Resources
Animal Science
Anthropology
Applied Mathematics
Applied Statistics
Architecture
Art History
Biochemistry and Molecular Biology
Business Administration
Chemical Engineering
Chemistry
Child Development
Civil Engineering
Communication
Computer Engineering
Computer Science
Criminal Justice
Cyber Security
Economics
Education
Electrical Engineering
Engineering
English Literature
Finance
Food Science
Geographic Information Science
Geography
Geological Sciences
History
Hospitality Business Management
Human Nutrition
Human Resource Management
Journalism
Kinesiology
Landscape Architecture
Literature in English
Marketing
Mathematics
Mechanical Engineering
Microbiology
Music
Nutritional Sciences
Philosophy
Physics
Statistics
Supply Chain Management
Theatre
Urban and Regional Planning
Veterinary Technology
Women's and Gender Studies
Zoology
Masters
Accounting
Aeronautical Engineering
Agriculture and Natural Resources
Animal Science
Applied Mathematics
Applied Statistics
Architecture
Astrophysics and Astronomy
Biochemistry and Molecular Biology
Biomedical Laboratory Science
Business
Business Information Systems
Cell and Molecular Biology
Chemical Physics
Chemistry
Child Development
Civil Engineering
Clinical Laboratory Sciences
Communication
Computer Engineering
Computer Science
Criminal Justice
Crop and Soil Sciences
Economics
Education
Electrical Engineering
Engineering
English Literature
Environmental Biology/Microbiology
Environmental Studies and Sustainability
Food Industry Management
Food Science
General Management
Geographic Information Science
Geography
Geological Sciences
Health and Wellness
History
Hospitality and Tourism
Hospitality Business Management
Human Biology
Human Nutrition
Human Resource Management
Interior Design
International Relations
Internships
Kinesiology
Landscape Architecture
Liberal Arts
Literature in English
Mathematics
MBA
Mechanical Engineering
Microbiology
Microbiology & Molecular Genetics
Natural Science
Nutritional Sciences
Plant Biology
Political Science
Psychology
Public Policy
Science
Special Education
Statistics
Teaching English Language
TESOL and Teacher Training
Theatre
TOEFL and Test Preparation
Urban and Regional Planning
Certificate/Short Term
Accounting
Construction Management
Geographic Information Science
Human Resource Management
Logistics
Marketing Research
English Programs
English Language (ESL)
IELTS in the USA
Intensive English
Summer Intensive English
TOEFL and Test Preparation