University of Utah ELP
English Language Institute
With strong academic programs, a beautiful setting, affordability and exceptional support services for the international community, the University of Utah is a wonderful place to live and learn.
Students find not only a great education here, but also a wonderfully friendly, diverse campus, involved award-winning professors and great support services--all in a spectacularly beautiful setting.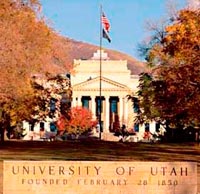 Who We Are:
The University of Utah is ranked among the top 35 research universities in the United States, with particular distinction in medicine, genetics, and engineering.
Diversity is prized and encouraged here: There are over 2300 international students and scholars from over 120 countries. Total enrollment is over 31,000.
Nationally ranked business, engineering, health sciences, mathematics, modern dance, physics, bioengineering, computer science and chemistry programs.
The University of Utah is part of the Pac-12 Conference.
Where We Are:
The University of Utah campus is located at the base of the great Rocky Mountain range - a spectacular setting providing every kind of recreation - from skiing and snowboarding in the winter to hiking and fishing in the summer. If you like the great outdoors, Utah is the place to be.
Salt Lake City is often referred to as the "crossroads of the west" and is the economic, cultural and political center of the State of Utah. Salt Lake City offers all the amenities of a large metropolitan area combined with the ease, friendliness and safety of a small town.
Close to five world-renowned national parks, world class ski resorts, and an international airport with direct flights to Paris and Tokyo.
University of Utah Campus Life:
The International Student & Scholar Services office is the focal point of all international activities on campus; here students are a welcome and integral part of campus. The ISSS office serves the 2000 international students and scholars with orientation, advising, workshops and social activities.
On-campus housing was built in 2002 for the Winter Olympic athletes and is one of the finest in the nation. It includes resident halls, apartments, central dining hall, fitness and game rooms and computer labs.
Regular matriculated students enjoy a wealth of other activities on campus including tennis courts, swimming, indoor track, racquetball, weight rooms and gyms.
Getting involved with other students is easy with over 400-student organizations, including international student associations, sports, professional, and community service to name just a few.
Students find it easy to get around our 1500-acre campus with a free shuttle service, as well as a free to students trax (commuter train) to other parts of Salt Lake City.
English Language Institute the University of Utah's Intensive English Program:
Non-credit intensive ESL courses and special programs for non-native speakers of English and members of the University's international community.
Comprehensive, academic, content-based approach to English language study
Access to the state's number one university and its facilities
Safe, scenic location with friendly residents
Special programs, activities and student counseling services
Digital language learning lab
Successful completion of ELI's Bridge waives the University of Utah TOEFL/IELTS requirements for undergraduate applicants
Admission
The intensive English program has five eight-week sessions per year and is designed for students who have had at least two years of English study in their home country. Students must have completed the equivalent of high school and be 18 years of age or older. Short-term summer and winter courses are designed for younger students.
Tuition
The cost for each 8-week session of full-time instruction is $1,900, and students may enter in any session. Students may continue their enrollment for as many sessions as necessary to reach their goals. ELI is committed to giving you all the skills you need to succeed in your professional or academic goals. With strong academic programs, a beautiful setting, affordability and exceptional support services for the international community, the University of Utah is a wonderful place to live and learn.
Read more
Read less
Tuition
$1,000—$5,000 Session
Fast facts
Affiliation
Public
Top Programs
Type of School
Intensive English Program
---
---
School Size

Small

Student Body Gender

Co-ed

Religious Affiliation

No Affiliation

Scholarships for International Students

No

Conditional Admission Available

No

Setting

City

Accreditation and Certification

CEA, EnglishUSA Member

Type of Housing

Residence Hall, Homestay, Apartment, Dormitory
---
Visit us
English Language Institute 1901 E. South Campus Dr. Room 2202 Salt Lake City, UT
Learn about the U.S. education system and how to apply, read interviews with international students, and more.