Lycoming College

Fast Facts
School Size

Small

Tuition

$50,000—$60,000 Year

Affiliation

Private

Type of School

College

Student Body Gender

Co-ed

Religious Affiliation

No Affiliation

Scholarships for International Students

Yes

Conditional Admission Available

No

Top Programs

Astrophysics and Astronomy, Business, Biology

Setting

City

Accreditation and Certification

MSCHE

Type of Housing

Residence Hall, Apartment

Test Scores

TOEFL: 70+ , IELTS: Band 6+, PTE Academic: 50+, Duolingo: 100+

Social Media
Think Deeply. Act Boldly.
I Am Lycoming
Lycoming offers 43 majors and 66 minors, but encourages students to craft customized, cross-disciplinary, and market-driven programs tailored to their specific interests and career goals. 
#117 on the U.S. News & World Report National Liberal Arts Colleges list
#25 on the U.S. News Social Mobility list
#61 on the Washington Monthly Liberal Arts list 
One of  "The Best 386 Colleges" for undergraduate education by The Princeton Review
A Welcoming and Diverse Community
Lycoming is an exclusively undergraduate institution serving 1,200 students from approximately 26 states and territories and 13 countries. Thirty-seven percent of students are domestic students of color or international. New international students are picked up at their port of entry, transported to campus, and provided a complete orientation program upon arrival.
Why Lycoming College?
100% of international students receive scholarships of up to $32,000 per year (up to $120,000 over four years).
Students in F-1 status are permitted to work on campus for up to 20 hours per week.
A student-to-faculty ratio of 12:1 fosters workshops, hands-on labs, and discussion-based learning. 
Professors know students by name and some even invite students to their homes for dinner!
100% of students participate in at least one applied learning experience, such as internships, study abroad, or student-faculty research.
There are more than 80 chartered clubs/organizations and 25 intercollegiate/intramural sports teams to participate in.
Location
Lycoming College is located in Williamsport, in the heart of Pennsylvania's Susquehanna River Valley. It is a five-minute walk from the downtown business and shopping district. The campus boasts a new state-of-the-art science building, modern renovated academic center, and exciting new gateway center. A new music building is also slated to open in the fall of 2022.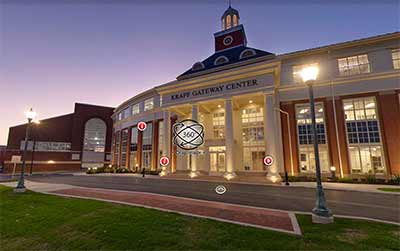 Students can take advantage of Williamsport's beautiful natural surroundings by skiing, hiking, rock-climbing, kayaking, and participating in other activities through the College's Outdoor Leadership and Education program. Williamsport is also conveniently located within four hours of Philadelphia, Pittsburgh, New York City, Baltimore, and Washington, D.C., enabling students to take day or weekend trips to major metropolitan areas.
Learning Outside of the Classroom 
Lycoming's Center for Enhanced Academic Experiences aids students in finding and preparing for internships, fieldwork, student-faculty research, and global study. It also provides students with subject-specific career advising and pre-professional/graduate school guidance.
A 120-acre Biology Field Station enables the study of aquatic biology, ecology, plant science, zoology, and environmental biology, and also serves as an archaeological field school.
Lycoming's downtown art gallery allows students to work with visiting artists to curate local and national exhibitions, including the annual senior show, and has private senior art studio space.
A partnership with Williamsport's Community Arts Center enables music students to perform and collaborate with community ensembles.
What International Students Have To Say
Valeria Renée Rivera '22 - San Salvador, El Salvador
Business administration and art (commercial design) double-major
Art history minor
"Lycoming turned out to be the school that supported me the most financially, so I committed. I was a very different person when I first came to the U.S. I lacked leadership skills and struggled with my self-esteem. However, Lyco gave me the tools and opportunities I needed to come out of my shell and mature into the woman I am today. Despite my international background, I am walking into my senior year with a double major and a minor while being a member of Greek Life; a student athlete; a campus leader in several organizations; a writing, subject, and ESL tutor; and a student worker for several departments."
Ha-Anh Nguyen '22 - Hanoi, Vietnam
Psychology major
Criminal justice minor
"I came to study at Lycoming College because I wanted to study more about the issues that matter to me. I learned a great deal from the majors I chose -- psychology and criminal justice. Perhaps more importantly, I also learned about issues like racism, equality, discrimination, and acceptance in global society. This has only strengthened my determination to be a person who makes a personal and positive impact on society."
Girishwaree (Sharvina) Ramphul '21  - Grand Port, Mauritius
Accounting and economics double-major
"The professors and career advisors in the Accounting Department have provided me with exceptional support both as a student and a recent graduate. The accounting programs are very well structured to support ambitious career goals. For example, a student can successfully complete a 150 credit program within 4 years if they are willing to work hard and follow the valuable advice of both faculty and staff. The career advisors in the department helped me carefully craft essential documents like a strong resume, which was so helpful as I entered the job market. Lycoming also offers all students amazing leadership opportunities, which are important in developing professional skills. I also appreciate the wide variety of student life activities I could participate in at very little or no extra cost. I even went to see shows on Broadway! This was an amazing experience for me as an international student!"
Hiyori Iai  '24  - Zushi, Japan
"I felt I was very welcomed by each group I joined: Beta Phi Gamma (Greek organization), Multicultural Awareness Group, Society of Physics Students, and Cross Country. All the people I interacted with were passionate and loving. You will definitely find your place, your people, and your new passions by being part of Lycoming College."
For more information:
Lycoming College

Lycoming College

Lycoming College
One College Place
Williamsport PA 17701
P: 800-345-3920
Bachelor Degree
Accounting
Acting & Performing Arts
Anthropology
Applied Business (Entrepreneurship)
Applied Business (Management)
Applied Business (Marketing)
Applied Digital Marketing
Applied Mathematics
Applied Statistics
Art
Art History
Arts and Humanities
Astrophysics
Astrophysics and Astronomy
Biochemistry and Molecular Biology
Biology
Business
Business Administration
Cell and Molecular Biology
Chemistry
Communication
Composition
Computer Science
Creative Writing
Criminal Justice
Criminology
Economics
Education
Engineering
English
English Literature
Environmental Biology/Microbiology
Environmental Studies and Sustainability
Film Studies
Finance
Genetics
Global Studies in the Arts and Humanities
Graphics/Multimedia & Web Design
History
Human Biology
Humanities-Prelaw
Interdisciplinary Studies
International Relations
Internships
Law
Liberal Arts
Literature in English
Marketing
Marketing and Communications
Mass Communications
Mathematics
Microbiology
Microbiology & Molecular Genetics
Music
Neuroscience
Philosophy
Physics
Plant Biology
Political Science
Predental
Premedical
Psychology
Religion
Science
Social Science
Sociology
Special Education
Statistics
STEM
Studio Art
Theatre
Women's and Gender Studies
World Languages and Culture
World Politics (BA)