Alfred State, SUNY College of Technology
Alfred State, a college of technology within the State University of New York (SUNY) system, is located in the beautiful Southern Tier of New York State. It is centrally located within 4-5 hours of Toronto, Canada; Cleveland, Ohio; Pittsburgh, Pennsylvania; and New York City.
Discover SUNY Alfred
Ranked 12th among top regional colleges and universities in the North and #1 most affordable college in the northeast by US News and World Report (2016), Alfred State is part of the State University of New York (SUNY) system. The SUNY system is the largest, most comprehensive public higher education system in the United States. One trait that sets SUNY Alfred apart from other colleges is its learning-by-doing philosophy and hands-on education.
A SUNY Alfred education isn't only about theory; it's about what works in your chosen field. Of course, the College's technology-rich programs also teach students the critical thinking skills that will help them succeed, not only in their careers, but also in their lives. Two-year associate and four-year baccalaureate degrees are offered in the areas of information technology (IT), computer engineering, business, agriculture, health sciences and human services, architecture, applied technology, and liberal arts and sciences. Scholarship opportunities are available for qualified applicants.
SUNY Alfred offers 13 residence halls with a variety of living style choices: row house, block house, corridor, suite, and a townhouse residential complex.
Participating in student clubs and organizations enhances the leadership and teamwork skills students learn in the classroom. Over 100 different clubs and organizations are available on campus (including the International Club, one of the most popular clubs on campus). Guest speakers, movies, and concerts are regularly available on campus as well as at neighboring Alfred University.
The College has 18 NCAA Division III intercollegiate sports teams and a variety of intramural sports; a state-of-the-art fitness center is located in the Orvis Activities Center.
Location
SUNY Alfred, a college of technology within the State University of New York system, is located in the beautiful Southern Tier of New York State. It is centrally located within 4-5 hours of Toronto, Canada; Cleveland, Ohio; Pittsburgh, Pennsylvania; and New York City.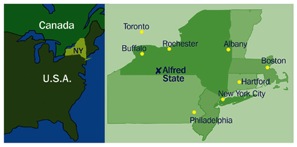 Type of College
Alfred State College is considered a college of technology, with the majority of the majors being in the STEM (science, technology, engineering, & mathematics) fields. Alfred focuses on project based learning, sustainability, and civic-engagement. Our 3,500 students receive a high quality education at a low cost in a small, safe town. They are taught by experienced faculty members in small classes (average class size is 22 students). Students have access to the latest computer technology and use state-of-the-art laboratory equipment.
Colleges, programs, and degrees
SUNY Alfred offers more than 70 majors in the areas of agriculture, business, architecture, health, applied and engineering technology as well as liberal arts and sciences. Students can enroll in one of 20 bachelor degree programs, or they can choose an associate degree program from 50 other options. SUNY Alfred is accredited by the Middle States Association of Colleges and Schools, and individual academic programs have achieved specific accreditation/certification where appropriate.
Transfer Opportunities
More than one-third of our associate degree students continue into bachelor's programs as third-year students following graduation from an associate's degree program. Students have transferred to prestigious schools such as Clarkson University, Cornell University, New York University, Ohio State University, Rochester Institute of Technology, Syracuse University, University at Buffalo, and Virginia Technical College.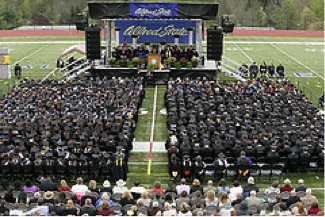 Student Services
The Office of International Education helps students make a smooth transition into the culture and student life. Students receive assistance with
immigration
academic policies
banking
airport pick-up, with advance notification, from Rochester, New York
job search
13 dormitories on campus
restaurants and dining hall on campus
university transfer search and application process assistance
internship/co-op opportunities
many campus activities including International Club
academic advisement
free tutoring services
International Student Costs*
Tuition, required fees, and room and board costs total approximately $24,500 per year for students entering two-year associate degree programs. The cost for students entering four-year programs is approximately $31,000 per year. Financial aid is not available for international students although two academic scholarships are available for international students entering each fall semester:
International Excellence Scholarship $7,000 (USD)
International Merit Scholarship $3,000 (USD)
There will be non-billed costs for books, supplies, transportation, and personal expenses that vary by student.
*costs are subject to change.
Test Score Requirements
Students whose native language is not English must submit evidence of English language proficiency by taking the Test of English as a Foreign Language (TOEFL). An official score report must be forwarded to the Office of International Education. IELTS exam may also be used to show English proficiency.
There is no application deadline; however, recommended filing dates are May 15 for fall admission and October 15 for spring admission. A non-refundable international application fee of $50 (USD) is required.
Read more
Read less
Tuition
$10,000 — $15,000 Year
Fast facts
Affiliation
Public
Top Programs
Business Administration, Engineering, Premedical
Type of School
University
---
---
School Size

Small

Student Body Gender

Co-ed

Religious Affiliation

No Affiliation

Scholarships for International Students

Yes

Conditional Admission Available

Yes

Setting

Small/College town

Type of Housing

Residence Hall, Apartment, Dormitory
---
Visit us
10 Upper College Drive Alfred, NY
Learn about the U.S. education system and how to apply, read interviews with international students, and more.