Boston School of English
Boston School of English offers year-round intensive and semi-intensive English language programs.
Boston School of English Has What You Need.
Unmatched Experience
Boston School of English offers year-round intensive and semi-intensive English language programs.
We are America's first and most respected English Language School. Since 1925, we have educated thousands of students and professionals from all over the world. We are the school of choice for professionals and students who are seeking a Pathway program to transition to an American high school, college, or university.
Boston School of English has an outstanding reputation and a significant number of our students come to us by word of mouth. We are unique in offering our students an educational and cultural experience not found in other English language schools and programs. We take pride in maintaining lasting relationships with our students and have welcomed second, third, and fourth generations of the families of our alumni to study with us. Our motto is "English! Learn it, live it, LOVE it… at Boston School of English!"
Amazing Campus and Convenient Location
Our campus is in a historic and well-maintained granite stone building located in a residential neighborhood adjacent to Harvard University's Arboretum, which provides a beautiful setting for walking, hiking and jogging with beautiful views of the city. The area of Boston is called "Hometown U.S.A." because of the small-town atmosphere and typical American lifestyle. Boston School of English's campus is conveniently located within walking distance of all our Boston School of English specially selected American families and student apartments.
Boston School of English is just minutes from:
Homestay and Students apartment: 10 to 50  minutes
Back Bay and Copley Square: 9 minutes
Logan Airport: 28 minutes
Harvard University: 24 minutes
MIT: 20 minutes
Downtown Crossing: 21 minutes
Our campus offers the following facilities to make your stay more productive and enjoyable:
24 Classrooms
Performance Theater
Video Entertainment Room
Cafeteria and Dining Hall
A state-of-the-art computer Lab and a fully equipped TOEFL lab where students can take the official TOEFL test
Free Wi-Fi
Several Ample student lounge areas 
Nationality Mix
Boston School of English believes that a diverse population, composed of students from all over the world, enhances and facilitates the language-learning experience. To achieve this intercultural and international experience for our students, we strive to balance the nationalities and language groups in our classes, housing, and extra-curricular activities. Visit our website to see the current nationality mix.
Expert Teachers and Small Classes
Our teachers are university-educated professionals with many years of experience. In addition to being experts in English language instruction, many of our teachers are also experts in other interesting areas, such as law, real estate, fitness and yoga, and politics. Our teachers use our customized instructional books for all 12 learning levels. Small classes mean more individual attention and faster learning.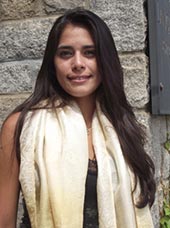 "... While I was here I had the chance to meet not only native US citizens, but also other international students who were just as far or more from home as myself. Here I was able to see that cultural differences are more than just differences in language, food, appearances, and personal habits. . I have nothing but praise for those teachers that encouraged me with a lot of patience to seek for more knowledge. Every class was a constant challenge and I found myself learning something new every day. I absolutely could not have asked for a better, more eye-opening experience. This summer was an amazing time and I feel as if I have grown a lot as a person and in my language skills. I will miss my host family, friends and teachers..."

Rebeca, Argentina ​
Intensive & Semi-Intensive Programs All Year
Boston School of English, Your Path To Success!
Learn more in less time with our exceptional methodology.
Enjoy total learning immersion and flexibility.
Courses available year round.
Begin any Monday.
Choose your length of study from 2 weeks to an entire year
Learn in comfort.
Choose from Group or individual instruction.
Boston School of English's curriculum offers 12 English skill levels from beginner to advanced. Each level lasts four weeks and consists of a combination of required core classes and specialized courses, allowing students to integrate their English language studies with their personal interests and individual needs.
Learning Guaranteed
Helping you achieve your goal is our mission, and we will stand by your side until you do!
Boston School of English will provide you with an outstanding, high quality program with the best tools to reach your personal, academic, or professional goals.
If you are not progressing as expected, we will provide you with additional materials, support and class time at no additional cost. You only need to do your part by speaking only English, attending and participating in all your classes, doing your homework, and taking advantage of all the additional resources and opportunities offered to you.
Housing Options for Everyone
We offer more than just dormitories to our students.
American Homestays: Our American Homestay families are close to the school and will make you feel welcome during your stay. Perfect for younger students or those who want to experience culture in an American household, available to all ages.
Shared Student Apartments: Our furnished apartments are within walking distance of the school. These apartments are equipped with everything you will need to be comfortable while your English improves. Perfect for students who want some independence.
Fun Activities
Boston offers a wide variety of stimulating and enriching activities. The Boston School of English Student Services Department plans and coordinates regular outings. Every new student is given a complimentary tour of Boston and provided with complete orientation to transportation, entertainment, shopping, dining, social, and cultural events. Additionally, our whale watching trips, cookouts, ski trips, shopping trips, parties, talent shows, and weekly movies will keep you laughing and making friends as you learn American English and culture.
Watch our Video:
Read more
Read less
Tuition
$500-$1,000 Session
Fast facts
Affiliation
Private
Top Programs
English for Academic Purposes, English for Professionals, Summer Camps/Programs
Type of School
Intensive & Semi-Intensive English Program
---
---
School Size

Small

Student Body Gender

Co-ed

Religious Affiliation

No Affiliation

Scholarships for International Students

No

Conditional Admission Available

Yes

Setting

City

Accreditation and Certification

ACCET Accredited, EnglishUSA Member

Type of Housing

Homestay, Apartment, Dormitory
---
Visit us
814 South Street Boston, MA