Interlink Language Centers
INTERLINK provides unique intensive English programs which help students develop superior English and academic skills as well as cultural sensitivity and understanding.
University Campus Locations in the USA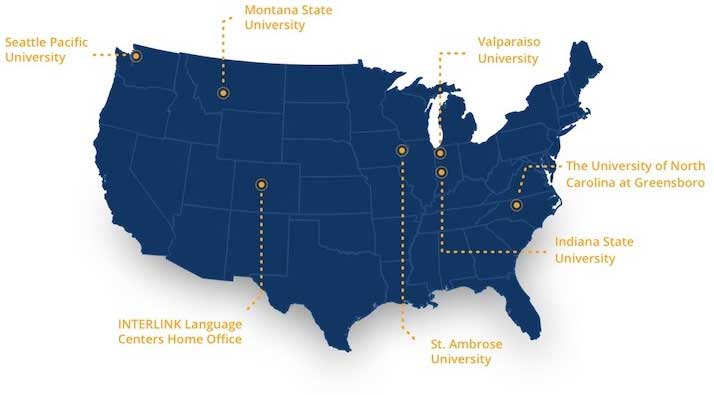 INTERLINK at Indiana State University - Terre Haute, Indiana
INTERLINK at Montana State University - Bozeman, Montana
INTERLINK at Seattle Pacific University - Seattle, Washington
INTERLINK at St. Ambrose University - Davenport, Iowa
INTERLINK at The University of North Carolina at Greensboro - Greensboro, North Carolina
INTERLINK at Valparaiso University - Valparaiso, Indiana
INTERLINK provides unique, intensive English programs which help students develop superior English and academic skills as well as cultural sensitivity and understanding.
As a member of the American  Consortium of Universities, INTERLINK is located on the campuses of top-ranked U.S. universities which offer students full access to all facilities and many academic services, including conditional admission. Dedicated faculty and staff assist students with their personal, cultural, and academic goals.
Program Highlights
Intensive English language, academic, and cross-cultural skills development
Conditional admission (TOEFL waiver) to partner universities for qualified students
Opportunities to take concurrent university courses
6-level program prepares students for university admission and professional growth
18-25 class hours per week of reading, writing, speaking, listening and grammar
Project-based curriculum
Faculty with advanced degrees in TESOL or related fields
Full access to campus facilities - library, health center, gym, etc.
Regularly organized cultural and social activities
Small classes (maximum 12-15)
Housing assistance
Conditional Admission
Conditional admission to our partner universities is available to academically qualified students who graduate from the INTERLINK program.
TOEFL Waiver
Successfully completing the highest level of the INTERLINK program fulfills the English language requirement at our partner universities.
Accreditation
All US INTERLINK Language Centers are accredited by the Commission on English Language Accreditation (CEA).
Tuition Costs (2017)
$2700 for 6 and 8 weeks at INTERLINK at MSU
$1800 for 5 weeks at INTERLINK at SPU
$3000 for 9 weeks at INTERLINK at ISU, SAU, UNCG, VU
Location Descriptions
INTERLINK Language Center at Indiana State University (ISU) is located in Terre Haute, Indiana. ISU is a comprehensive state university whose 11,000 member student body includes approximately 600 students from some 81 countries. The community of Terre Haute offers the friendliness and safety of a small town with the attractions of a Midwestern city. Terre Haute boasts scenic parks, theater, and a symphony orchestra. It is also just hours away from major cities such as Chicago and St. Louis.
INTERLINK Language Center at Montana State University (MSU) is located in Bozeman, Montana, a small city with big energy, central to an all season outdoor-adventure hub. In the summer, students enjoy hiking, canoeing, fishing, white water rafting, and visits to Yellowstone National Park. In the winter, students often spend free time skiing or snowboarding at resorts just 30 minutes from town. MSU ranks in the top tier of all research universities in the U.S. and specializes in sciences and engineering.
INTERLINK Language Center at Seattle Pacific University (SPU) is located in Seattle, Washington. The campus is in a safe residential neighborhood, just a few minutes north of downtown. SPU is a small, private university with an active campus life, and is known for academic excellence. Seattle is famous for its high-tech industries, music scene, coffee shops, and shopping districts. It is home to famous companies such as Microsoft, Boeing, Amazon, and Starbucks.
INTERLINK Language Center at St. Ambrose University (SAU) is located in Davenport, Iowa, just a few hours away from major metropolitan areas such as Chicago, St. Louis, and Minneapolis. The city of Davenport has charming art galleries, restaurants, pubs, shops, and affordable apartments. Rated among the top regional universities, the most common areas of undergraduate study for SAU's international students are Engineering, Computer Science, Business, and Management.
INTERLINK at The University of North Carolina at Greensboro (UNCG) is located in Greensboro, North Carolina. Greensboro's mild climate, moderate cost-of-living, excellent medical services, six colleges and universities, shopping centers and diverse international population make Greensboro a safe and enjoyable place in which to live and study. Dedicated to a global education for its approximately 18,500 students, UNCG is a comprehensive university providing excellence in undergraduate and graduate education.
INTERLINK at Valparaiso University is located in Valparaiso, Indiana, a safe, friendly community of 31,000. Only one hour from Chicago and 20 minutes from beaches, it is a convenient location to experience arts, culture, and the outdoors. Valparaiso features an attractive downtown with a shop-lined main street, historic homes, an opera house, and many parks. Consistently ranked by U.S. News and World Report as one of the best comprehensive universities in the Midwest, VU is well known for its rigorous academic programs and strong support for international education.
Read more
Read less
Tuition
$1,000—$5,000 Session
Fast facts
Affiliation
Private
Top Programs
Bridge Programs, English Language (ESL), English for Academic Purposes
Type of School
Intensive English Program
---
---
School Size

Medium

Student Body Gender

Co-ed

Religious Affiliation

No Affiliation

Scholarships for International Students

Yes

Conditional Admission Available

Yes

Setting

City, Small/College town, Suburban

Accreditation and Certification

CEA, EnglishUSA Member

Type of Housing

Residence Hall, Homestay, Apartment, Dormitory
---
Visit us
890 W. Cherry St., Suite 200 Louisville, CO