Maricopa Community Colleges
Maricopa Community Colleges is decidedly distinct, serving over 168,000 students every year through ten colleges, one skill center, and multiple campuses and sites in Arizona's metropolitan Phoenix area. Maricopa Community Colleges has an excellent reputation for providing a top-notch education for students with over 1,000 business partnerships, advanced health care training, biotechnology opportunities, and unique career offerings.
Study in Arizona at One of the Ten Maricopa Community Colleges
Maricopa Community Colleges is decidedly distinct, serving over 168,000 students every year through ten colleges, one skill center, and multiple campuses and sites in Arizona's metropolitan Phoenix area. Maricopa Community Colleges has an excellent reputation for providing a top-notch education for students with over 1,000 business partnerships, advanced health care training, biotechnology opportunities, and unique career offerings.
Each year, our colleges welcome hundreds of international students from more than 60 countries, who come to participate in a wide range of programs, from English language training to university transfer programs. Our colleges offer international students superior academic opportunities, unique cultural experiences, and friendly campus environments.
Whether your interest is in information technology, business, film making, tourism, culinary arts, computer technology, or many other varied fields, we encourage you to consider Maricopa Community Colleges for your international education experience. As an institution that celebrates diversity and embraces global education, we would welcome you with open arms.
What is a Community College?
Maricopa Community Colleges is a system of two-year colleges that provides affordable education and a pathway to a four-year university. Our ten colleges offer several programs, including:
University-transfer programs
Technical programs
Job training programs
Basic skills programs
Special-interest programs
Most international students are interested in enrolling in a university-transfer program where they can take their lower-division courses to complete the first two years of a bachelor's program and then transfer to a university to complete it. 
Why Study in Arizona at a Maricopa Community College?
Choice of 10 nationally accredited colleges and one skill center
Flexible and convenient day, evening, and weekend class schedules
Easy and open online admission process
Multiple learning formats, including in-person, online, live online, and hybrid
Over 1,600 degree and certificate programs
Personal attention and small class sizes
English as a Second Language (ESL) programs
Support services for international students
Accessible technology
Innovative transfer programs to 40+ U.S. universities and colleges
Low tuition cost
Quality education experience
Locations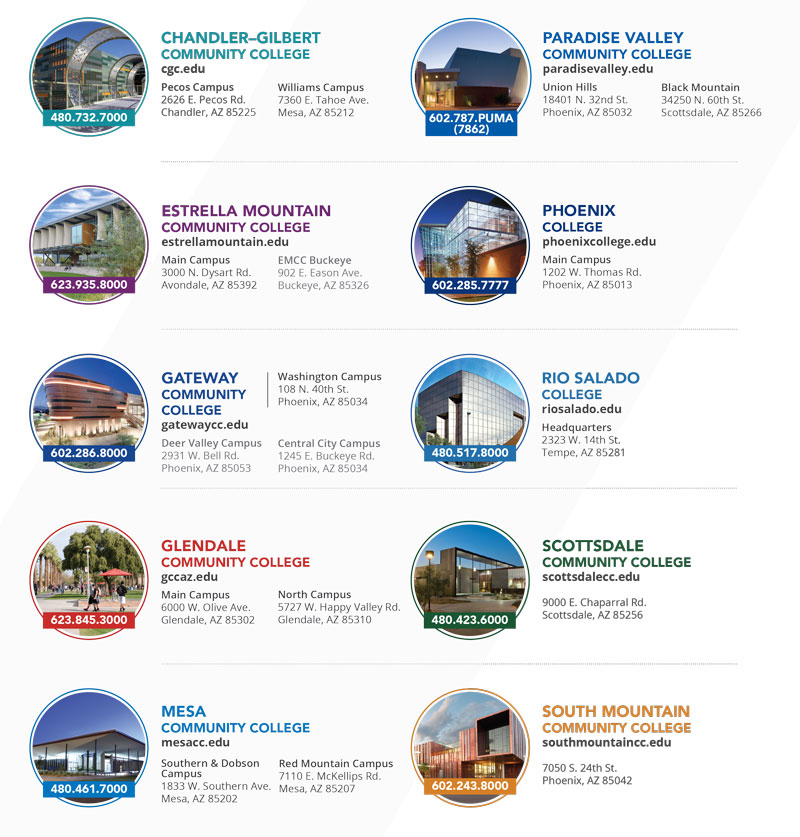 Transferring from a Community College: 2 + 2 Agreements
2 YEAR COMMUNITY COLLEGE + 2 YEARS AT A UNIVERSITY = 4 YEARS (BACHELOR'S DEGREE)
In a 2+2 program, a student attends a community college for two years, then transfers to a university for another two years and can earn both an associate and a bachelor's degree in just four years.
Maricopa Community Colleges has over 40 transfer agreements with U.S. universities and colleges, including Arizona's state universities making transferring to these institutions easier.
Our Colleges
Each of the ten colleges in Maricopa County Community Colleges District is individually accredited, yet part of the larger system. The District is one of the world's largest higher education systems and a major resource for business and industry and individuals seeking education and job training. Learn more below about each of our community colleges.
Chandler-Gilbert Community College
2626 E. Pecos Rd Chandler, AZ 85225
Chandler-Gilbert Community College (CGCC) is a dynamic learning environment for more than 19,000 students annually. Ranked as one of the best community colleges in Arizona, CGCC is fully accredited and serves the needs of Chandler, Gilbert, Queen Creek, and other communities. CGCC has three locations: its main Pecos campus, the Williams campus, and Sun Lakes Center..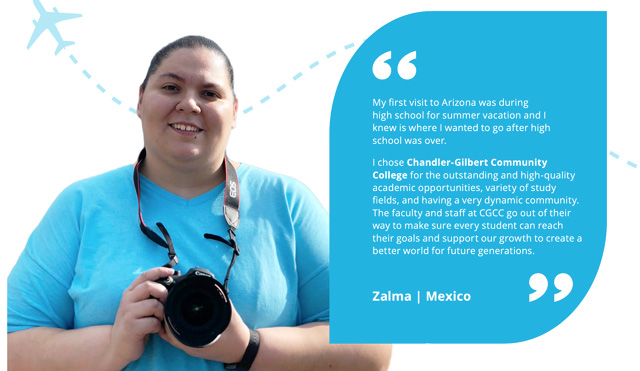 International students who want to improve their English language proficiency can complete English as a Second Language (ESL) courses to prepare them for their academic program.
CGCC has a full-service Transfer Office to help students move on to a university to complete a bachelor's degree. In addition to university transfer and general education degree options, CGCC has unique signature programs, which include: Aviation, Mortuary Science, Automated Manufacturing Systems, Electric Utility Technology, and Crime and Intelligence Analysis.
CGCC also has a successful baseball program that attracts players and coaches from all over the nation and other countries. In addition, our performing arts program, student clubs, and organizations, nationally awarded Service-Learning, and learning communities make CGCC a great place to earn a college degree.
Other campuses:
Williams Campus | 480.988.8000
7360 E. Tahoe Ave., Mesa, 85212
Estrella Mountain Community College
3000 N. Dysart Rd. Avondale, AZ 85323 
Estrella Mountain Community College (EMCC) is a locally and nationally recognized leader in higher education, distinguished for its innovative and experimental programs and practices. The campus, which opened in 1992, has provided educational and workforce training opportunities for western metropolitan Phoenix residents. Designated a Hispanic Serving Institution (HSI), Hispanic students comprise approximately 30 percent of Estrella Mountain's enrollment. As a result, the college has secured federal grants and funding to support underrepresented groups and established the NASA Center for Success in Math & Science in 2002. 
Other campuses:
EMCC@West-MEC Southwest Campus | 623.935.8445 
500 N. Verrado Way, Buckeye, AZ 85326
 
GateWay Community College
108 N. 40th St., Phoenix, AZ 85034
GateWay Community College is one of the most innovative and comprehensive colleges in the Maricopa Community Colleges system. With the Center for Entrepreneurial Innovation, an Early College High School, and a Children's Learning Center, along with more than 150 degree and certificate programs in occupational and professional education, trade and technical training, university transfer, and workforce training options, we are uniquely equipped to find the best fit for students.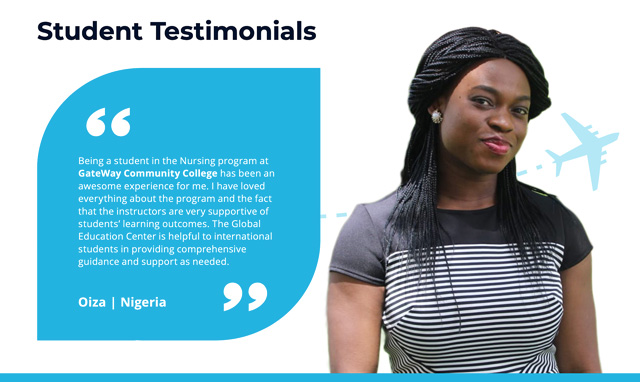 With more than 50 years of educational excellence and service, GateWay has emerged as a leading institution in the development of occupational programs designed to meet the demands of business and industry. With partners in all segments of the workforce, GateWay exposes students to a variety of career training opportunities. GateWay has multiple locations across the Valley and offers a variety of student services to help students have a successful college experience.
Glendale Community College
6000 W Olive Ave, Glendale, AZ 85302
For more than fifty years, Glendale Community College (GCC) has been serving the higher education needs of the Northwest Valley of the Phoenix metropolitan area. Today, GCC offers more than 100 degree and certificate programs and enrolls approximately 34,000 students per year. GCC is committed to preparing students to participate responsibly in a culturally diverse, technological, and global society; to transfer successfully to colleges and universities; pursue lifelong learning; and gain employment and advance within their chosen careers.
For international students, GCC offers a high-quality undergraduate education and full services to help students transfer to the university of their choice. There is also an intensive English as a Second Language program to help students develop their language proficiency before beginning their major field of study.
Mesa Community College
1833 W Southern Ave, Mesa, AZ 85202 Phone: 480.461.7756
Mesa Community College (MCC) is nationally recognized as an Aspen Prize Top 150 U.S. Community College and is known for its service-learning, career and technical programs, civic engagement, and innovative approaches to education. The college has served as a resource for career readiness, transfer education, workforce development, and lifelong learning throughout its 50-year history.
Host to more than 30,000 students annually, MCC offers 195 degree and certificate programs on campus and online, at its main campus and additional locations. MCC is a Hispanic Serving Institution and more than 50 percent of its students are the first in their family to attend college. The diverse student body includes more than 400 international students representing over 60 countries. Award-winning faculty are dedicated to student success, providing the education and training that empowers MCC students to successfully compete in the workforce. Located in Mesa, Arizona in the East Valley of the Phoenix metropolitan area, MCC is the largest of the 10 colleges in the Maricopa County Community Colleges District.
MCC offers an English as a Second Language (ESL) program and a comprehensive range of student support services. It provides a cost-efficient guided pathway for an international student to complete the first two years of a bachelor's program before transferring to a university to complete their four-year degree.
Other centers & campuses:
Red Mountain | 480.654.7200
7110 E. McKellips Rd., Mesa, AZ 85207
Paradise Valley Community College
18401 N. 32nd Street Phoenix, AZ 85032
When you choose Paradise Valley Community College (PVCC), you are choosing excellence in higher education. For more than 30 years, PVCC has offered quality educational programs to the community in which we live and work. Whether your goal is to prepare to transfer to the university, enter the workforce, or simply continue your lifelong learning, PVCC is the right place to start. As one of 10 colleges in the Maricopa County Community College District (MCCCD), PVCC has created a learning environment that promotes inclusion, positive social change, and community engagement for residents of northeast Phoenix and northern Maricopa County, including Cave Creek, Carefree, and North Scottsdale. In 2009, we opened our second campus – Black Mountain – serving residents in the northern outskirts of the Valley.
We know that it's not just about what you learn, but how you learn it. As part of the nationally recognized Learning-centered College movement, you will experience active and engaged learning, opportunities to enhance your critical, creative, and entrepreneurial thinking, and apply learning to meaningful societal issues. Our goal is to enrich learning through relevancy and rigor, develop strong leaders, and prepare students to have a lasting positive impact on our community. At PVCC you will develop your full potential.
Black Mountain Campus | 602.493.2600
34250 N. 60th St., Scottsdale, AZ 85266
Phoenix College
1202 W Thomas Rd., Phoenix, AZ 85013 
Founded in 1920, Phoenix College (PC) is Arizona's first two-year college and has celebrated more than 100 years of commitment to the community. In 1962 Phoenix College became the model for the state's public community college system, and today, it continues to grow to meet the community's needs.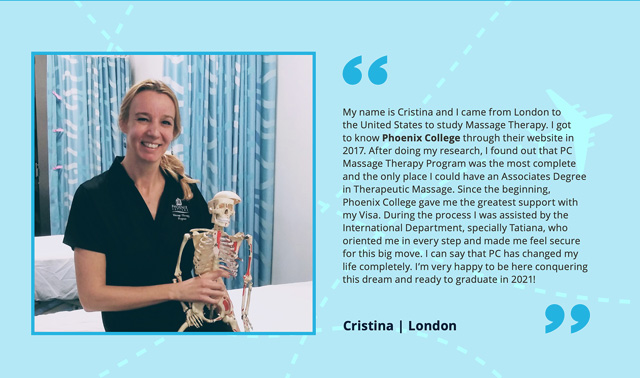 The student body reflects the diverse, multicultural central city it serves, with 15 percent of our students (almost 2,000) being immigrants, refugees, or foreign visitors. Phoenix College offers an array of classes geared toward cultural betterment and awareness.
More than 12,000 students attend Phoenix College each semester, taking advantage of nationally recognized programs in nursing, dental hygiene, fire science, emergency medical technology, interior design, fashion merchandise, art, graphic design, creative writing, and administration of justice, as well as coursework leading to a bachelor's degree. Phoenix College has articulation agreements with state universities in Arizona that allow students to transfer to a baccalaureate degree. Classes are small to allow for more meaningful interaction between the instructor and student, and tuition is reasonable.
Rio Salado College
2323 W. 14th St. Tempe, AZ 85281 
Rio Salado College (RSC) is the college within everyone's reach. You can study in the United States or study from your own country, and earn an American degree in the most convenient and efficient way possible. Rio Salado uses a format that works as easily as email. You can participate anytime and anywhere that works best for you.
When it comes to innovation in higher education, Rio Salado College is a recognized leader that serves students around the world through e-learning and accelerated formats. Today, Rio Salado offers over 450 unique courses online and utilizes technology and partnerships to deliver education opportunities to diverse populations in nearly every state and on six continents.
Scottsdale Community College
9000 E. Chaparral Rd. Scottsdale, AZ 85256 
Scottsdale Community College (SCC), founded in 1970, is located in Scottsdale, Arizona, on 160 acres of Salt River Pima- Maricopa Indian Community land. The college, just minutes away from all the urban amenities of downtown Scottsdale, serves more than 8,000 students each year and offers more than 100 associate degree and 60 certificate programs, including award-winning programs such as Hospitality & Tourism Management, Business, Nursing, Film, and Theatre. SCC prepares its students for an occupation or for easy transfer to a university by having transfer agreements with colleges and universities across the state and nation.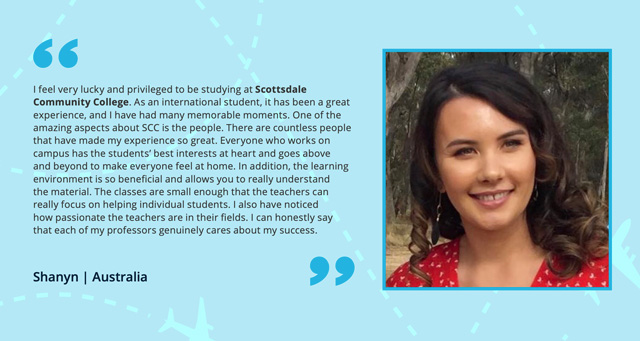 With a focus on active, engaged, and intellectually-rigorous learning, SCC is a leader in Open Education Resources, Undergraduate Research, and Service-Learning. Learn from highly-regarded faculty and experts in your field who focus on you. Add to your curriculum vitae, gain leadership skills, and participate in multicultural and community service activities sponsored by our clubs, the Center for Civic & Global Engagement, Service-Learning & Leadership, and American Indian programs.
Free services include tutoring, personal development workshops, and academic and career advising. Services for international students include personalized admission assistance, academic and registration advising, new student orientation, visa counseling, issuance of I-20's, and university transfer assistance.
SmartAsset has named SCC the 4th Best Community College in the U.S., and for the third consecutive year, SCC was among only 150 community colleges nationally to be eligible for the prestigious Aspen Award for Community College Excellence. Join us in beautiful Scottsdale, Arizona!
South Mountain Community College
7050 S. 24th St. Phoenix, AZ 85042
From its beginnings in 1979, South Mountain Community College (SMCC) innovations have garnered national notice. Many of its innovative programs have been emulated by colleges throughout the United States. The main campus of SMCC hugs the outer edge of one of the nation's largest cities, but the college has a distinctly small-town feel that adds to the college's reputation of being "the college with a personal touch."
South Mountain Community College offers a wide variety of courses, Associate of Arts Degrees and certificates. In addition to four levels of English as a Second Language Program, SMCC offers courses in CISCO Technology, Bioscience, Nursing, Engineering, Information Security, Business, and Performing Arts.
Read more
Read less
Contact Maricopa Community Colleges Now
Tuition
$5,000—$10,000 Semester
Fast facts
Affiliation
Public
Top Programs
Type of School
2yr/Community College
---
---
School Size

Medium

Student Body Gender

Co-ed

Religious Affiliation

No Affiliation

Scholarships for International Students

No

Conditional Admission Available

Yes

Setting

City

Accreditation and Certification

HLC

Type of Housing

Homestay, Apartment

Test Scores

TOEFL: 61+
---
Visit us
2411 W. 14th Street Tempe, AZ
Learn about the U.S. education system and how to apply, read interviews with international students, and more.