Reaching

Students Worldwide
Study in the USA is a media company that helps colleges and universities attract and engage students through print and digital media.
First Founded, Most Respected
For 40 years, Study in the USA has made U.S. colleges, universities and English programs the focus of international student's dreams through print and digital media.
Go Global. Be Seen

Captivate
We traverse the globe for you: unparalleled circulation, prominent international fair attendance, social media, robust email campaigns, and mobile accessible content.
Engage
Study in the USA sets the stage for schools through customizable online inquiry forms, real-time response targeted search tools, social media engagement and much more.
Direct
Study in the USA funnels students to your profile and website, leads are sent in real-time, you receive monthly analytics, and we give good old-fashioned personal recommendations to students.
Engagement across every medium
Promote your programs through award-winning magazines, websites, print and digital content.
Our Reach
9.7 million and counting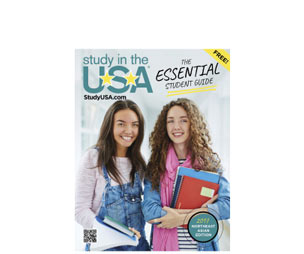 1.4 million
Magazines
distributed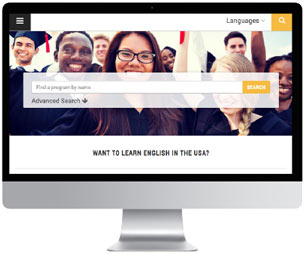 7.6 million
Unique visitors to StudyUSA.com annually
600k+
Social media
followers
Lead Generation & Engagement
Driving highly qualified students to you.
Multi-platform: Search tools, campaigns, print media, social media, content & app
Targeted and customizable lead form
Detailed analytics including demographics and personal contact information
Real time student engagement and counseling
240,000
quality student inquiries

205
countries of origin

1 million+
targeted emails sent to students annually
Featured Profile
One page to make you shine.
Annual membership with unlimited leads, page views and clicks
Lead capturing targeted inquiry form
Social media integration
Mobile optimized
Direct links to site
Selection of 14 fully supported languages translated by professional native speakers
Monthly inquiry report
Award-winning design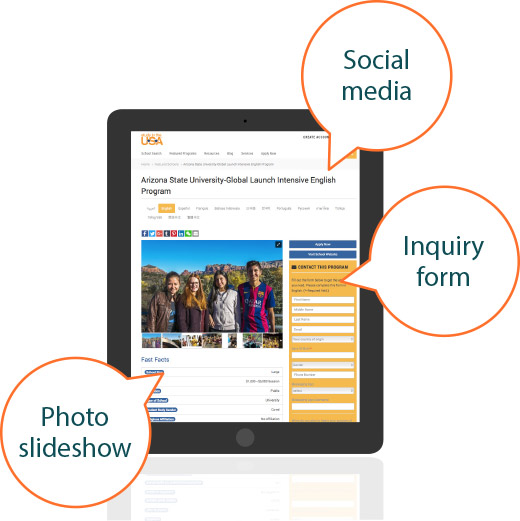 Display Advertising
Put your school out in front.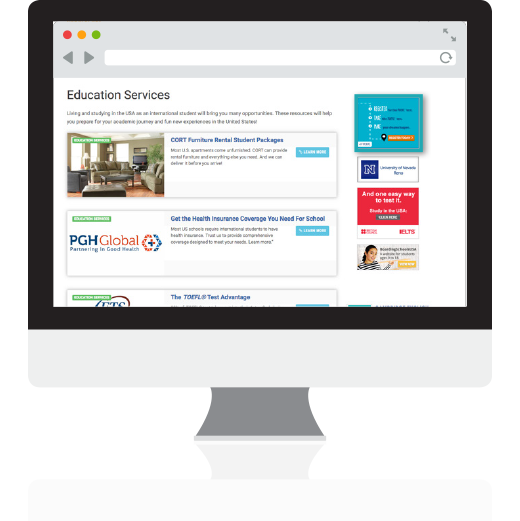 Build your brand and increase recognition on the most popular pages
Enforce your message with strategic positioning
Target your niche markets and promote specific programs
Print Publications
Expanding your audience, engaging readers, creating a response.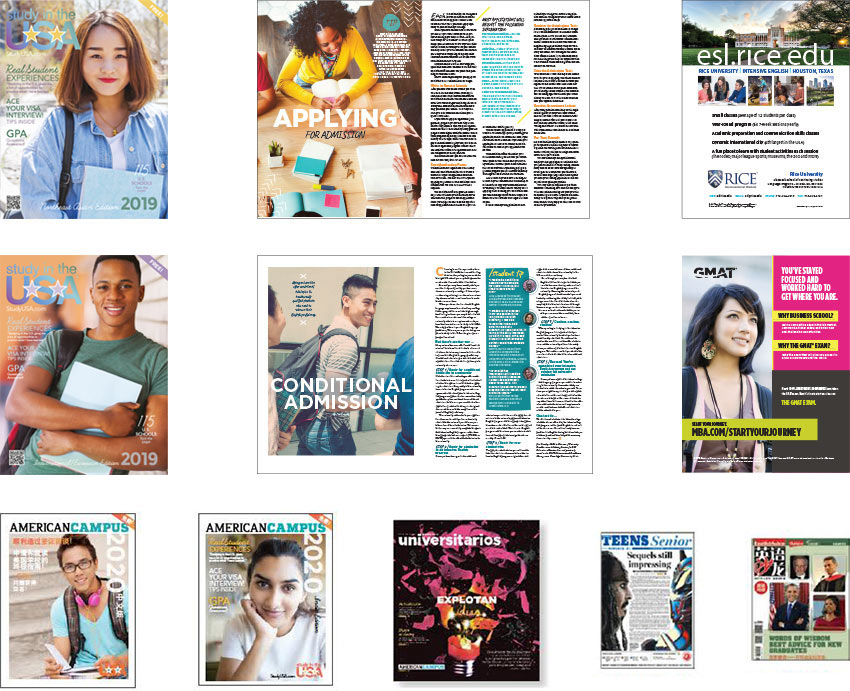 15 publications, 6 languages, distributed worldwide
Popular among students and parents, demanded by educational advisors
Works in unison with your digital marketing for a powerful advertising mix
Unparalleled circulation to top countries
Distributed to EducationUSA advising centers, fairs, agencies, schools and more
Award-winning design and content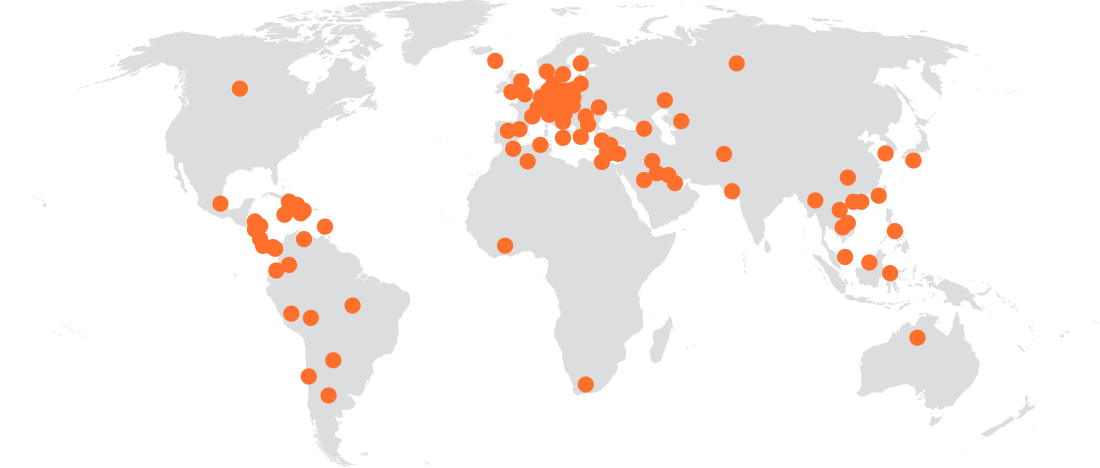 1.4 million
magazines distributed worldwide
165
fairs in 85 countries
Content Marketing
It improves SEO, builds community, establishes credibility and draws an audience—that's why it's king.
Email
Newsletters and campaigns
Blog
Original content
International student bloggers
School promotion
Social
Media
10 platforms
High quality engagement
100% organic Facebook reach
Original
Content
Articles for students
Student interviews
Areas of study articles
School and program features
1 million+
promotional emails delivered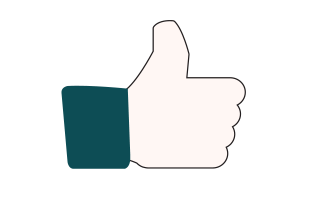 600,000+
active followers on social media
9 million+
article page views
Word of Mouth
What our distributors and clients are saying about Study in the USA.
I only advertise in one print publication and this is it! This is the one that is given out at all of the major recruitment fairs around the world ... I can justify investing in Study in the USA because I get a great return on my investment all year long. —James L. Goonan, International Admissions Director

Susquehanna University

Study in the USA has been an excellent partner for us. They offer outstanding customer service, and have an excellent reputation in the market and affordable prices. They provide great exposure through multiple tools such as print magazines, websites, and social media. —Petr Kandidatov, Director of ESL

Southern Arkansas University

It is a joy to work with the Study in the USA team! The inquiry tracking tools, monthly reports, and industry insights that the team provides, help achieve our enrollment goals. —Nadya Zhuravleva, Marketing Manager

UCLA Extension

StudyUSA.com is an excellent investment which will not only create a global footprint for your institution, it will help drive traffic, inquiries, and enrollment. I totally recommend their amazing products and services. —Luis Castillo, Marketing and Communications Manager

University of Arizona

Our local students love the magazines, many have traveled abroad thanks to them.

IMAC Spanish Language Programs, Guadalajara

It is extremely generous of you to provide these wonderful publications to our students who will be heading to the US for exchange in the coming year. They find the information within very useful

The Chinese University of Hong Kong
Contact Us
Contact us to learn more about how Study in the USA can help you reach your international student recruitment goals.