4 Tips to Make Your College Life Easier
College is hard. It is full of late nights and early mornings. Long study hours and challenging classes. Not to mention the stress of needing to work while attempting to maintain a social life. All while staying sane. It can be a tough time. But, I've got some tips to help you.
#1: Be aware of your time and get rest
I have early classes, so I try to go to bed early, but let's be real. That never works out. No matter how much I try, I always stay up late — either working on homework or watching Netflix while scrolling on Instagram. I never get to bed on time. But then I tried to implement a routine. I tried to be more aware of how I spend my time during the day. That way, I am not doing everything late at night. I know it can be challenging; I work multiple jobs, volunteer, and attend school full time, but trust me, it is possible. Everyone has the same 24 hours in a day; you choose how you spend them. While it is easier said than done, you will thank yourself in the end.
#2: Don't study where you sleep
Let me tell you, one of the best things that I have done since starting college is study outside of my room. I usually go to a coffee shop, or I study in my kitchen. That way, my room is for sleeping, not work and sleep. It helps keep the energy of my room stress-free and calm. I will be honest though, this does not always work out, and I often take naps. But when I do use this hack, I get so much work done and I sleep well. A good study hack is to go where you know that you won't get distracted. I know that if I have a lot to accomplish, I need to get outside of my space to get more done. Understanding how you study and learn will help you make the most out of your time.
#3: Be prepared
Another great thing is to have a solid backpack. I use one from Lululemon, and it is excellent because it has lots of space and compartments for all of my items, plus a bottle holder in between the pockets. Some of my friends like Swiss Gear and Columbia because they have lots of compartments, and they can hold lots of textbooks, notebooks, and binders. I keep an emergency kit in my backpack, and let me tell you, it is the best thing!! I keep mints, glasses cleaner, tampons, Band-Aids, hair ties, pain medication; you name it, I've got it! I also have a portable charger and phone cord stashed, which helps when I decide to stay at school and get some extra work done. My number one rule is to be prepared, so I don't get stuck without something.
#4: Save money whenever you can
The BEST college life hack is to take advantage of your student discount! So many places offer it; you just have to ask. They don't advertise it, so always ask. Also, the app UNiDAYS has lots of information and deals for students and ways to get money. On most college campuses, there are students doing research. Other students can participate, and often you will get compensated for your participation. It will usually be in food, school spirit things, or gift cards. It can be a good option if you need some opportunities for some extra money.
College is hard so it is helpful to hack the system. While school is challenging, I do not struggle as much as when I first started. I hope these hacks help you do a bit better! Just remember to take it day by day.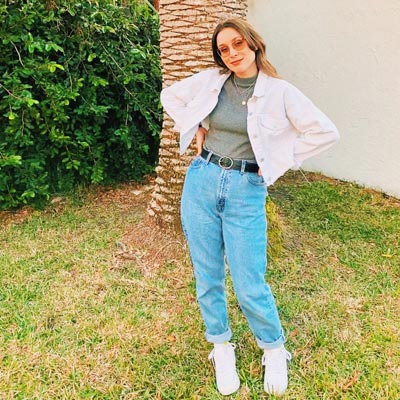 Katherine George is from the United States and is currently studying mass communications at Hillsborough Community College in Tampa, Florida.
Written by
Katherine George
Get matched to the best program for you
Let us know what you're looking for so we can find the best school for you.
$5,000—$10,000 Semester
Certificate/Short Term
Undergraduate
English Programs
$5,000—$10,000 Semester
Certificate/Short Term
Undergraduate
2yr/Community College - 2+2 Programs
$10,000 — $15,000 Year
Bachelor Degree
Undergraduate
Summer
Start your U.S. adventure with Study in the USA
What's your dream? We can guide, advise, and connect you with your perfect U.S. school. We can also help you with the application process.
Partner Services
Learn About U.S. education financing, housing, and more
ELSA - World's Best English Pronunciation App. Speak English like a native speaker. Get instant feedback on your speech from proprietary artificial intelligence technology. Learn more. Get a 10% discount using code: StudyUSA
Ready to make your MBA dreams a reality? Register now for a virtual or in-person event with The MBA Tour! Don't miss your chance to speak directly with leading business schools, such as Harvard University, Boston University, Columbia University, UC...
Most U.S. apartments come unfurnished. Make your move easy with a student furniture rental package from CORT. Flexible lease terms. Delivered before you arrive. Starting at $99 per month.* *with a 12-month lease
Testimonials
Study in the USA helped me to find a lot of Universities that I didn't know about and to be more specific about the different options I could choose and to contact the university and the departments faster than other ways
StudyUSA.com helped me in my research of universities using the school search, I've exchanged several mails with Ana Castillo, she was very helpful.
Study in the USA provided tons of helpful information about American education and the ways to make my dream into reality.
Resources
Learn about American culture and education direct from our experts at Study in the USA. Read more