In our effort to bring good content to as many people as possible the text in this blog post has been machine translated so please excuse any mistakes. Thank you!
Francesca Pieter tarafından
GCC'ye Geri Dönmenin Hayranı
2021 güz döneminin ilk ayı geldi ve çok hızlı geçti. SUNY Genesee Community College'da (GCC) açılış hafta sonu, oryantasyon günü gibi kampüs çevresinde eğlenceli aktivitelerle doluydu. Öğrencilerin kolej hakkında daha fazla bilgi edindiği ve fakülte ve personelle tanıştığı yer burasıdır. Öğrencilerin ödüller kazanabileceği eğlenceli trivia oyunları, GCC'nin maskotları, Genni ve G-Dub adlı Pumalar arasında bir dans ve farklı akademik programlarımız için okulda kişiselleştirilmiş turlar vardı.
Eğlenceli sonbahar etkinlikleri
Dönemin başlangıcı, College Village'da (GCC'nin kampüs içi öğrenci konutu) ve Öğrenci Katılım ve Katılım ofisinde (SEI) yerleşik asistanların ev sahipliği yaptığı programları da içeriyordu. SEI etkinlikleri arasında Giant Glow Voleybol, Paint Night, Patlamış Mısır Gecesi, Kafeteryada Öğle Yemeği ve Oyunlar ve Silent Blacklight Dance Party yer aldı. Boya gecesine ben ev sahipliği yaptım ve katılım beklediğimden çok daha iyiydi! Yeni sakinlerle sohbetler ederek, dostluklar kurarak eğlenceli bir resim gecesi oldu. Bu farklı etkinliklere ev sahipliği yapmak çok eğlenceliydi ve bu etkinlikler sırasında oluşan etkileşimleri ve bağları görmek çok güzeldi.
Kampüse dönüş
Tüm yaz, kampüste az sayıda öğrenciyle College Village'da kaldıktan sonra, tüm yeni yüzleri görmek canlandırıcıydı! Elbette herkes sosyal mesafeye ve maske takmaya dikkat ederek üzerine düşeni yaptı. Öğrencilerin yerleştiğini, arkadaşlık kurduğunu, kampüste farklı etkinliklere gittiğini ve kampüs çevresinde ders çalıştığını görmek güzel.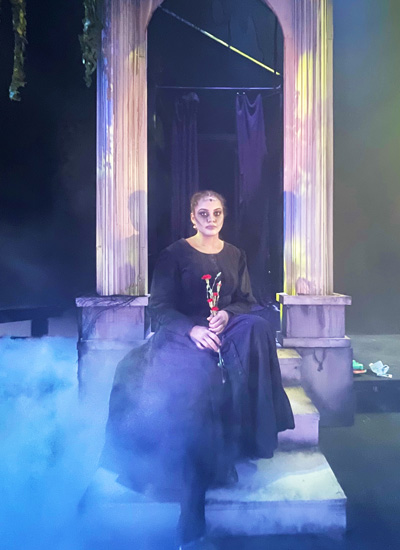 Sonbahar şovu için prova
Yeni öğrencilerle tanışmak ve RA'ları olarak onlarla bir bağ oluşturmak için eğlenceli bir dönem oldu. GCC'nin Forum Oyuncularının sahne alacağı sonbahar şovu - Edgar Allen Poe Afterlife Radio Show - için seçmelere katıldım ve "Gizemli Kadın" rolünü aldım. Provalar şu ana kadar harikaydı ve böyle harika bir iş çıkardıkları ve gösteriyi üç hafta içinde canlandırdıkları için oyuncu kadrosu ve ekiple çok mutlu ve gururluyum. Daha fazlası için bir sonraki blogumda bizi izlemeye devam edin!
---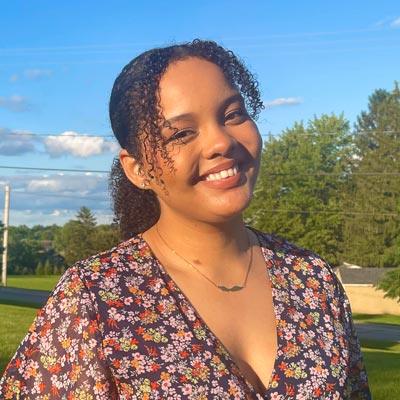 Karayip adası Curaçao'dan Francesca Pieter, Genesee Community College'da Tiyatro Sanatları okuyor.