In our effort to bring good content to as many people as possible the text in this blog post has been machine translated so please excuse any mistakes. Thank you!
Oleh Francesca Pieter
Kemeriahan Kembali ke GCC
Bulan pertama semester musim gugur 2021 datang dan pergi dengan sangat cepat. Opening weekend di SUNY Genesee Community College (GCC) diisi dengan kegiatan menyenangkan di sekitar kampus seperti hari orientasi. Di sinilah siswa belajar lebih banyak tentang perguruan tinggi dan bertemu fakultas dan staf. Ada permainan trivia yang menyenangkan di mana siswa dapat memenangkan hadiah, dansa antara maskot GCC, Cougars bernama Genni dan G-Dub, serta tur sekolah yang dipersonalisasi untuk program akademik kami yang berbeda.
Acara musim gugur yang menyenangkan
Awal semester juga termasuk program yang diselenggarakan oleh asisten residen di College Village (rumah mahasiswa di kampus GCC) dan kantor Student Engagement and Inclusion (SEI). Acara SEI termasuk Giant Glow Volleyball, Paint Night, Popcorn Night, Makan Siang di Kafetaria dan Permainan, dan Pesta Dansa Cahaya Hitam Senyap. Saya sendiri menjadi tuan rumah malam cat dan jumlah pemilih jauh lebih baik dari yang saya harapkan! Itu adalah malam yang menyenangkan untuk melukis, mengobrol dengan penghuni baru dan membangun persahabatan. Menyelenggarakan acara yang berbeda ini sangat menyenangkan dan interaksi serta ikatan yang terbentuk selama acara ini sangat menyenangkan untuk dilihat.
Kembali ke kampus
Setelah tinggal di College Village sepanjang musim panas dengan hanya sejumlah kecil siswa di kampus, sungguh menyegarkan melihat semua wajah baru! Tentu saja, semua orang melakukan bagian mereka dengan menjaga jarak dan memastikan untuk memakai masker. Sangat menyenangkan melihat mahasiswa menetap, menjalin pertemanan, pergi ke berbagai acara di kampus, dan belajar di sekitar kampus.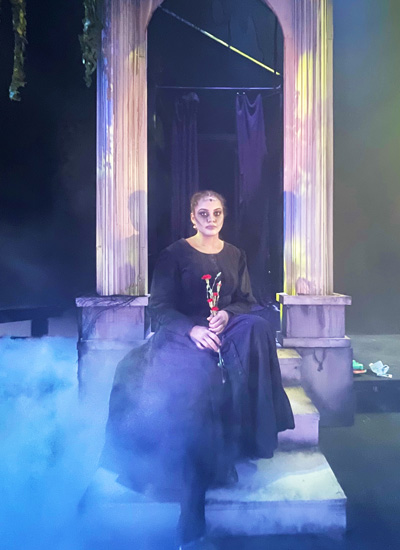 Latihan untuk pertunjukan musim gugur
Ini adalah semester yang menyenangkan untuk bertemu dengan siswa baru dan menjalin ikatan dengan mereka sebagai RA mereka. Saya mengikuti audisi untuk pertunjukan musim gugur yang akan dilakukan oleh Pemain Forum GCC — Edgar Allen Poe Afterlife Radio Show — dan mendapat bagian dari "Wanita Misterius." Latihan sejauh ini sangat bagus, dan saya sangat senang dan bangga dengan para pemain dan kru karena melakukan pekerjaan yang luar biasa dan membuat pertunjukan menjadi hidup dalam waktu tiga minggu. Nantikan lebih banyak tentang itu di blog saya berikutnya!
---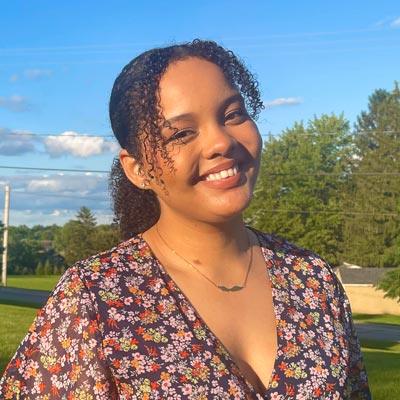 Francesca Pieter, dari pulau Curaçao di Karibia, sedang belajar Seni Teater di Genesee Community College .