In our effort to bring good content to as many people as possible the text in this blog post has been machine translated so please excuse any mistakes. Thank you!
Par Francesca Pieter
La fanfare du retour à GCC
Le premier mois du semestre d'automne 2021 est passé très vite. Le week-end d'ouverture au SUNY Genesee Community College (GCC) a été rempli d'activités amusantes autour du campus, comme une journée d'orientation. C'est là que les étudiants en apprennent davantage sur le collège et rencontrent les professeurs et le personnel. Il y avait des jeux-questionnaires amusants où les étudiants pouvaient gagner des prix, une danse entre les mascottes de GCC, les Cougars nommés Genni et G-Dub, ainsi que des visites personnalisées de l'école pour nos différents programmes académiques.
Événements d'automne amusants
Le début du semestre comprenait également des programmes organisés par les assistants résidents de College Village (logements étudiants sur le campus de GCC) et le bureau de l'engagement et de l'inclusion des étudiants (SEI). Les événements SEI comprenaient le volley-ball Giant Glow, la nuit de la peinture, la nuit du pop-corn, le déjeuner à la cafétéria et les jeux, et une soirée de danse silencieuse à la lumière noire. J'ai moi-même organisé la soirée peinture et la participation a été bien meilleure que ce à quoi je m'attendais ! Ce fut une soirée amusante à peindre, à discuter avec les nouveaux résidents et à nouer des amitiés. Organiser ces différents événements a été tellement amusant et les interactions et les liens formés lors de ces événements étaient très agréables à voir.
Le retour au campus
Après avoir séjourné à College Village tout l'été avec seulement un petit nombre d'étudiants sur le campus, c'était rafraîchissant de voir tous les nouveaux visages ! Bien sûr, tout le monde a fait sa part avec la distanciation sociale et en veillant à porter des masques. C'est agréable de voir des étudiants s'installer, nouer des amitiés, assister à différents événements sur le campus et étudier sur le campus.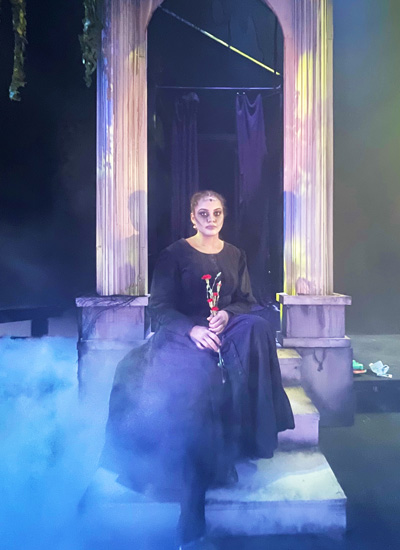 Répétition pour le spectacle d'automne
Cela a été un semestre amusant de rencontrer de nouveaux étudiants et de créer un lien avec eux en tant que RA. J'ai auditionné pour l'émission d'automne que les GCC's Forum Players joueront - Edgar Allen Poe Afterlife Radio Show - et j'ai obtenu le rôle de "Mysterious Woman". Les répétitions ont été formidables jusqu'à présent, et je suis si heureux et fier des acteurs et de l'équipe d'avoir fait un travail aussi incroyable et rendu le spectacle vivant en trois semaines. Restez à l'écoute pour en savoir plus dans mon prochain blog!
---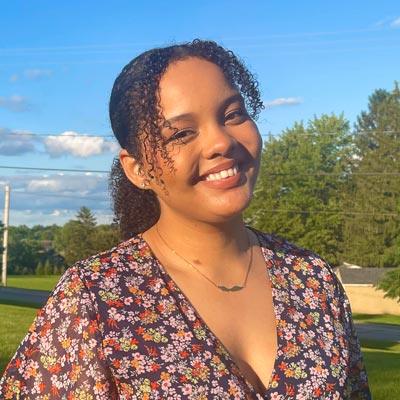 Francesca Pieter, originaire de l'île caribéenne de Curaçao, étudie les arts du théâtre au Genesee Community College .