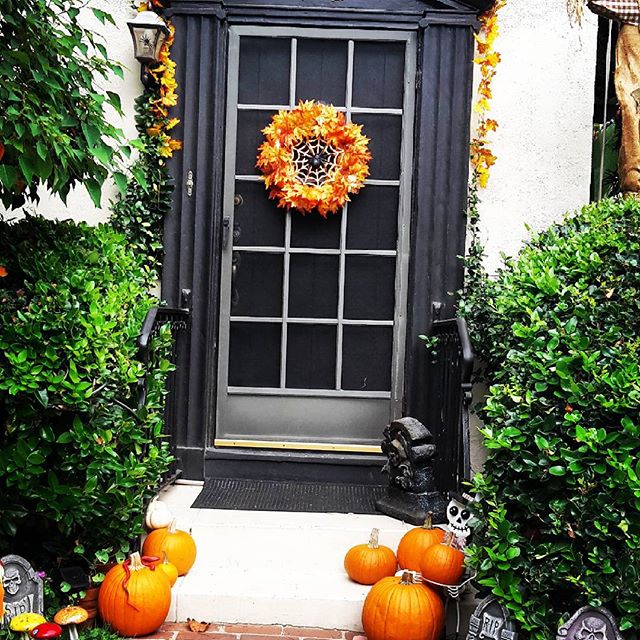 In our effort to bring good content to as many people as possible the text in this blog post has been machine translated so please excuse any mistakes. Thank you!
In Los Angeles/Beverly Hills
One of the easiest ways to adapt to the foreign country is celebrations! I think all celebrations are so significant and special for people to be together. Halloween is one of them and it's vastly fun and amazing, especially for children to get more candy Also, international students need more celebrations to meet new people and spend a wonderful time with friends. That is really helpful and a good opportunity to practice more in English and Halloween is one of the funniest ways to do that.
This will be my second Halloween in the U.S. and I am so excited to go to see marvelous costumes on the streets. I would like to share with you my first observations of Halloween from last year. Actually I was lucky to see Halloween's decorations on the street and houses in three different places: Los Angeles, Napa Valley and Castro Street in San Francisco. I loved people's creativity on costumes and house decorations. People always treated candy and made a joke that makes you smile. Children looked happy and had different costumes, which were chosen by them. I participated in the Halloween Ghost Walk at City Hall in San Francisco and got some information about Halloween. And then I went to Castro Street, which is one of the biggest Halloween parties in San Francisco, with my friends at Halloween night. I saw a lot of incredible costumes. It was really fun. I'll never forget this day because it was my first celebration in San Francisco with my friends.
These are some links to reach where Halloween parties will be in San Francisco:
https://www.timeout.com/san-francisco/nightlife/san-francisco-halloween-party-guide
http://www.sfstation.com/halloween/
These are some links to find Halloween costumes in San Francisco:
https://www.spirithalloween.com/section/1326.uts
http://sanfrancisco.cbslocal.com/top-lists/best-places-for-halloween-costumes-in-san-francisco/
Blood is thicker than water: Family is more important than anything.
Whistle past the graveyard: Attempt to stay happy in a bad situation.
Don't forget to drink Pumpkin Spice Latte at Starbucks and eat pumpkin pie, and of course eat more candy!!
Happy Halloween!
See below for more cool photos.
Halloween collage
At Powell Street Station in San Francisco
Taken at a Napa Valley shop
In the 24th / Mission Street neighborhood - San Francisco
At a supermarket on Castro Street
Castro Street, San Francisco - Halloween Party!